Web Script Lab's Ajax Loading GIF Generator options for it's loading icon are background and foreground color and three predefined speed which are normal, fast and slow.
Badges are one of the characteristics of Web 2.0. I have a collection of some online services allow you to create them without using any adding other software.
Badges Generator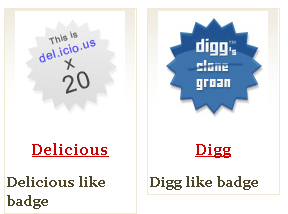 Web20Badges is a set of free and very cool web badges.
They are probably one of the most popular trend in Web 2.0 time. It's most over-used trendy little design technique in our days, they immediately attract visitor's attention. Web badges have various round or square corners and eye-catchy colours.