Here is NARGA's Freebies of the month issue #2. There are lots of great freebies coming up; so we wanted to put them all in one post for quick reference, so you don't miss any freebies. Save yourself the hard work of finding great items and discover items recommended by NARGA.NET in our collection, NARGA's Freebies of the month.
Notes:
Some packages are for registered members only, but don't hesitate, all of them are FREE, just register, login then download.
By downloading these items, you agree to the terms of their owned licenses. Support and updates may not provided for free files.
All the FREE Premium Files have limited time offer, grab them while you can!
These items are available free until March 02, 2018 17:00 AEDT +11:00!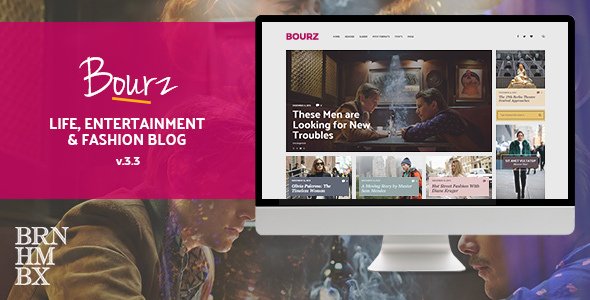 While using Bourz, you'll feel like you're able to do everything. Please have a look at the customizer screenshots to see how detailed the Bourz is.
Features
Mobile Friendly & Responsive Design
Bourz Slider: A sleek slider that can be used with 3 different styles, lots of extra options and in 3 different positions: Fullwidth, Cover and Among the Posts.
7 Different Layout Options: 1 Column, 1 Column + Sidebar, 2 Columns, 2 Columns + Sidebar, (1 + 2) Columns + Sidebar, 3 Columns and (2 + 3) Columns. Fullwidth versions of them are also available.
Unlimited Header Views with settings like paddings, logo size, sticky header trigger time etc.
Leaderboard Banner Management System: Excluding the widgetized areas, you can place up to 6 different banners into 15 different positions. It's as flexible as a visual composer!
Combinable Listing Styles: You can use and combine different styles for indexed views or widgets!
Separated Sidebars: You can use different sidebars for Blog Homepage, Archive Pages, Pages and Post Pages.
Post Format Based Sidebar: Hide the sidebar on gallery posts for example.
Fixed Sidebar (Q2W3 Fixed Widget Support)
8 Widget Areas: Sidebar-Blog Homepage, Sidebar-Archive, Sidebar-Page, Sidebar-Post, Header Widgets, Upper Widgets, Blog Homepage Widgets and Footer Widgets.
13 Custom Widgets:
Bourz is a multi-styled blog theme for life, entertainment and fashion. That means you always have the opportunity to choose from different views or options for almost every design material in your site.
No Plugins
High Accuracy Music Synchronized Design
12 Media & 12 Text Placeholders
FullHD
CS 5.5 and above
Font – Uni Sans Heavy free download
Sound LFMusic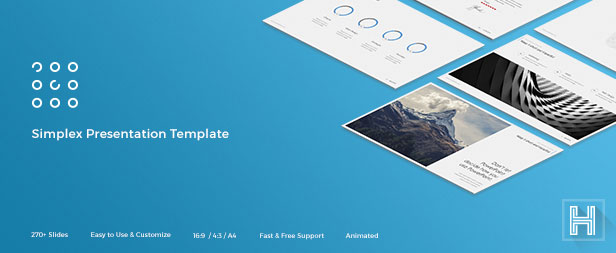 Make a Positive Impression with this Clean and Strong Powerpoint Template. With simplex you have everything you need for a powerfull and convincing presentation. This Powerpoint Template is charged with tons of elements, layouts, maps, infographics, charts editable in excel and vector icons.
This presentation is made for many different needs and challenges. But first and foremost for your ambitions. Be your best.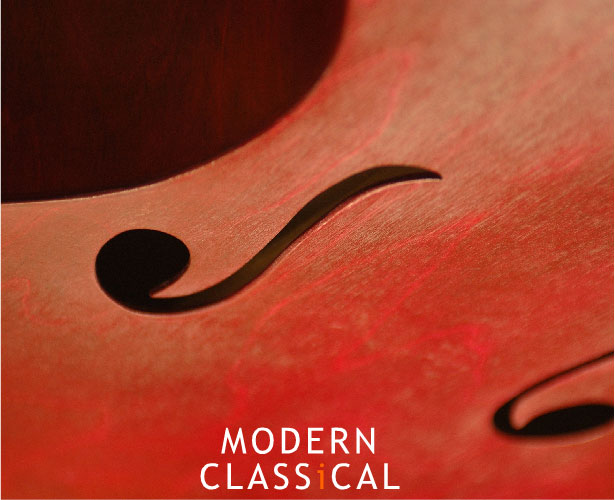 Express your creativity with this modern blend of musical genres in a beautiful melodic delight. As the title says, Modern Classical is a creative idea where classical instruments meet modern electronic synths, almost like a duet where every sound made by a certain instrument complements the other in a beautiful harmonic manner. The sound is warm, natural, sweet and relaxing. The song evolves slowly, introducing new elements that add to the melodic atmosphere, highlighting the main theme of the track until the last part where all elements work together in a perfect harmony. Inspiring, expressive, blissful, Modern Classical will be a delightful addition to any creative media project. Use this as a background or the main soundtrack in a timelapse video of a natural or urban environment, creative advertising, showcasing an inspiring product or service, in a showreel of your creative works, contemporary dancing videos, modern designs and architecture videos etc. The download package contains both mp3 and wav format of the following:
These items are available free until February 28, 2018 23:59 AEDT +11:00!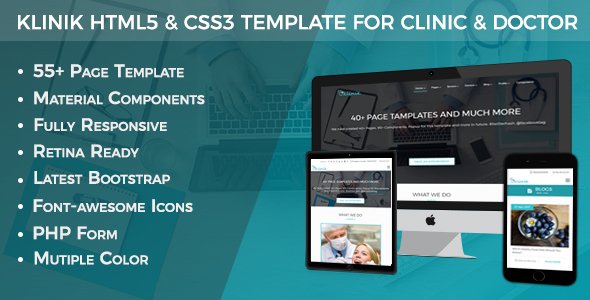 It is a fully responsive, feature rich and beautifully designed to host a website or create online identity. Klinik is a HTML5 & CSS3 responsive template created for clinic and hospital but also can be used for generalised website. They have created 55+ pages and 200+ components or shortcodes for this template and much more in future. It supports bootstrap framework and intergrated font awesome icon set so easy to customise and develop your own styles.
Main features
55+ Pages Created
200+ Components or Shortcodes Created Like Card, Slider, Accordion etc.
Fully Responsive or Mobile Friendly
Bootstrap 4.x
55+ Pages

6 Home Page
10 Service List Page
1 Single Service Page
8 Doctor List page
2 Doctor Detail page
7 Blog List Page
2 Blog Detail Page
3 Event Page
2 Department Page
Invoice Page
About Page
Contact Page
2 Gallery Page
Login Page
Register Page
My Appointment Page
My Request Page
My Profile

Popups

Login Popup
Register Popup
Appointment Popup
More

Fonts

Montserrat (Google Web Font)
Font-awesome Icons

Form (PHP Based)

Appointment Form Style 1 (Popup)
Appointment Form Style 2 (Sidebar)
Contact Form

Event page based on Fullcalendar Plugin
Invoice page with Automatic Calculation
Material Component
Multiple Slider (Flex Slider and Owl Carousel)
Retina Ready
Serch Engine Optimised
Mulitple Color Option
Easy to Customize
Cross Browsers Compatible
HTML5 & CSS3 Optimized
Semantic and SEO Friendly Markup
Responsive Menu with Dropdown
Google Maps
Fully Documented
Light weight
Clean & Simple
SASS (SCSS)
Much More

It's inspiring motivational indie pop track with acoustic and electric guitars, percussion, drums and warm background vocals. Perfect for your media projects, inspiring and motivational videos, cruise, travel, TV-shows, cinema production, advertising, films, commercials, radio, presentations, promotions, youtube videos..
Both WAV/MP3 files are included.
Duration:
Main – 2:34
Short version – 1:19 (2:34 – 3:53)
Extra short version – 0:39 (3:53 – 4:33)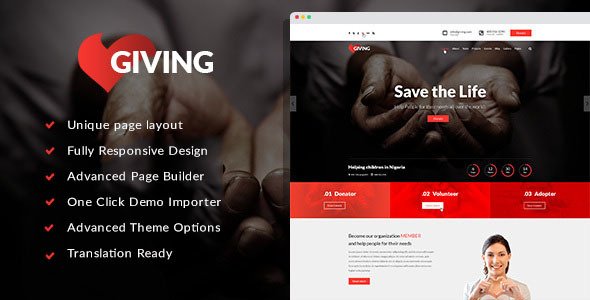 RedExp analysed hundred of existing websites to find real needs and necessary tools. The theme is popular content management systems. Giving Theme brings to you the best solution of WordPress Theme for Charixy, first aid, non profit organizations… After thorough research, with comprehensive and clean design, Charixy is generated ready for you to make your great theme.
With many years of experience in WordPress themes & plugins developing, a lot of time is invested to make giving WP including research features and optimize UI/UX. This theme has all necessary features for a giving site: create campaigns/projects/causes, donation system, non-profit events, fund raising, crowdfunding campaigns for cause or giving group/organization, call for volunteers, vision and mission page, and many more. These features are built with super friendly UX which offer you the best experience ever of a complete giving WordPress website.
Don't hesitate to buy Giving!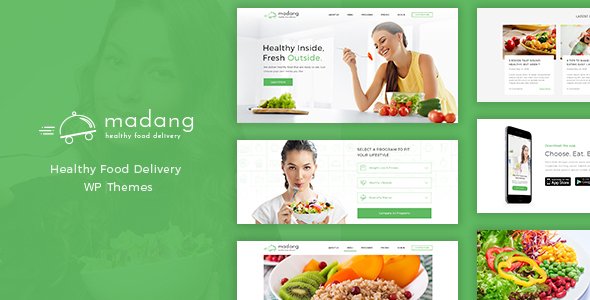 This theme includes nutrition program pages, dish menu details and nutrition facts calculations. It's completed theme that is ready for food delivery services with WooCommerce cart and checkout pages. The interface for creating custom meal plans is easy and intuitive. Set up pricing tables to compare and sell daily meals. It does not matter weather its Monday or Friday. Create different meal plans for every day of the week. You can specify as many dishes per day as you want. For example, for the first day of the week you can create breakfast lunch and dinner only and for all the next days you can add a dessert as well. In addition, nutrition tags will help your clients better navigate while searching for the best meal plan or nutrition program online. Easily create vegetarian, organic, dietitian eating programs for clients and sell them. Check live preview to see all features included.
You can define as many nutrition programs as you need and split them by different categories. Your visitors will then be able to find appropriate meals plan according to their dieting goals. For example, there can be daily meal plans for vegetarians, fitness active people, people with diseases or people with overweight or those who want to gain some muscle weight.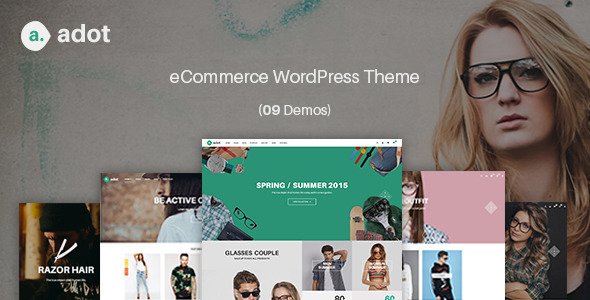 This eCommerce WordPress Theme developed for the best eCommerce WordPress Plugin – WooCommerce that you can use to build a eCommerce shopping cart website for selling fashion items or any kind of non-digital products. eCommerce WordPress Theme – adot comes with an advanced customization panel that enables you to setup your website just in minutes. You shall have full power for site creation with 9 demos and 5 blog styles in adot eCommerce WordPress Theme. The typography options of adot eCommerce WordPress Theme are overwhelming, as there are over 600 awesome Google Fonts, custom logo and favicon and infinite color options are waiting for you.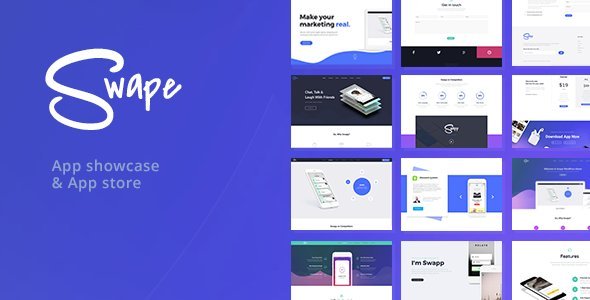 Perfect theme to show your App to the world! Swape is based on twitter bootstrap framework. This All-In-One package includes the awesome Revolution Slider Plugin (19$ Value), Visual Composer Plugin (34$ Value), Ultimate Addons Plugin (18$ Value) unlimited customizability, built-in mega menu, full WooCommerce design integration, premium Cube Portfolio plugin (16$ value), typographic options with over 600+ Google fonts, robust admin panel with hundreds of options to make it your own, tons of useful visual page builder elements and ready layouts available with just 1 click!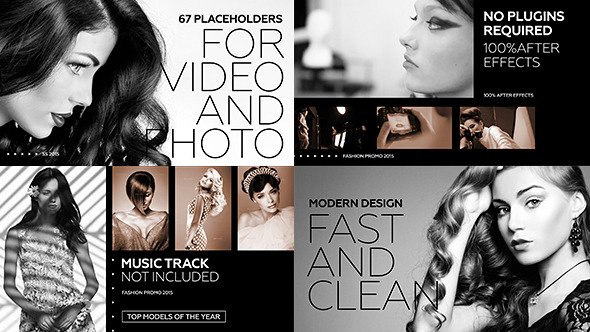 Very easy color control
Modular structure, add/remove scenes easily
Very well orginized template
No plugins required
67 Placeholders for video or photo
26 Placeholders for text
Full HD resolution (1080p)
After Effects CS5 or above
Pictures and music track are not included
Great soundtrack by LumenMedia you can find here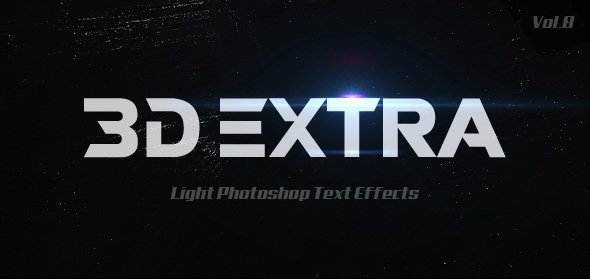 Change the text into 3D. Created with high-quality professional and very detailed. There is no requirement of skills to transform your design into 3D, everything works just with smart object. In this set includes source .PSD, .ASL & Help! file.
Easy to use
Fully editable
100% Scalable
10 Different styles
High resolution 300 DPI
Well organized layers
Smart object replacement
Work with any font & shapes
No skill requirement

File Included

PSD file
ASL file
Help! file

Note:

Link font in the Help! file.
High resolution environment map. Realistic space, stars and nebula. Perfect for cosmic visualisations and games.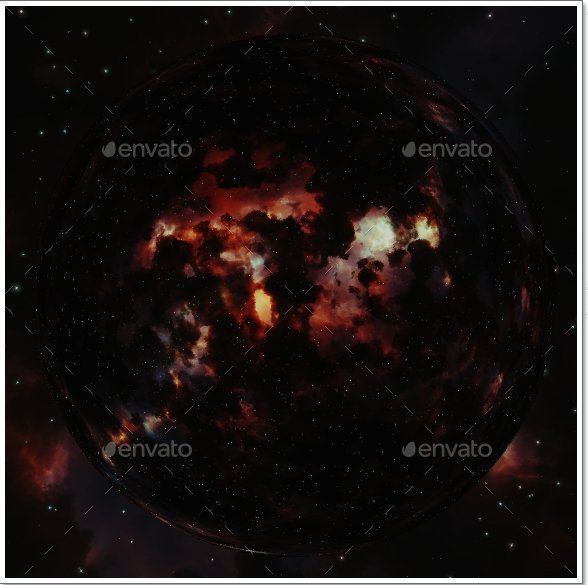 Features
Spherical panorama;
HDR, PNG, JPEG file format;
16384×8192 resolution.
Also included 6-sided images: 4096*4096 resolution in PNG file format, for skybox which are used in game engines.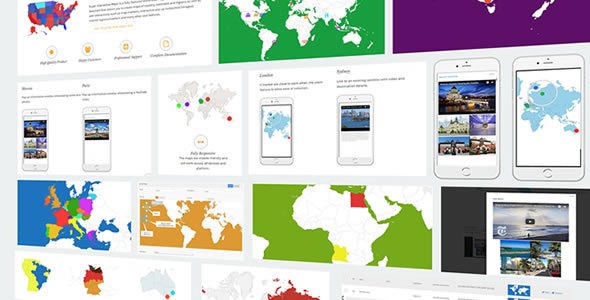 This is a responsive plugin and fully compatible with the latest WordPress version and Visual Composer. Super Interactive Maps is a fully-featured WordPress Plugin integrated with Google Geochart API that allows you to create maps of country, continent and regions. Create custom markers on top of your map to show location of interest such as hotel, cafes, airport and others. You can add interactivity to your map such as displaying interactive tooltips, lightbox window or linking to a web page content.
Main Features
Includes over 300 maps all in a one plugin
All 195 countries world-wide included
Easily create SVG and vector maps on your WordPress site
Fully responsive and works on all mobile devices (cross device and browser compatible)
Vector Maps of World Map, Continent or Subcontinent including Africa, Europe, Asia, Oceania, Africa, South America, and Americas
Vector Maps of India, China, Turkey, Romania, Japan, Spain, Italy, France, Canada, Germany, UAE, Syria, Iceland, Poland, Malaysia, Australia, Mexico, Brazil, Indonesia, Nepal, UK, US, Russia and all countries included
Vector Maps of all countries divided by regions
Autocomplete Search to easily add locations
Pin point to the exact location using the drag and drop marker feature (Admin integrated with Google Maps API)
Customizable map designs, styles and colors
Choose your display styles (Regions, Markers or Text Labels)
Interactive responsive lightbox popup to showcase rich content such as text, images and videos
Add interactive tooltip to maps
Zoom and Pan your map display
Display custom map markers on your map
Post shortcodes anywhere on your website including posts, pages and sidebar widgets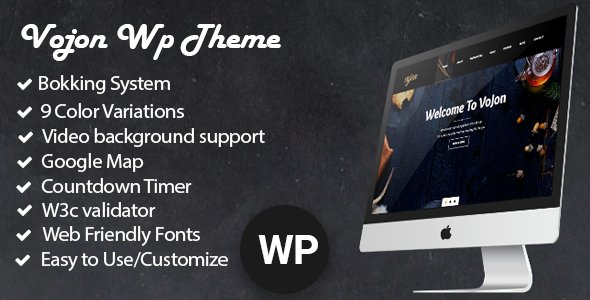 This theme is fully responsive perfectly suitable for any device. Vojon design is very interactive and beautiful. A drag & drop page builder is included in this theme so you can customize/modify easily your needs. Vojon is a premium wordpress theme with some awesome features for restaurants or any kind of food business. This theme is very fast loading with different layouts.
Template Features
Powerful WP Admin Panel
Fully Responsive
Clean Code & Speed Optimization
Video background support
Booking system
Mainpage slideshow with CSS3 effects
Unique effects and functionality
Social media Profiles Support
Filterable Portfolio
Google Web Fonts
Smooth transition effects
Facebook, Twitter and Google+ integration
Working PHP / Ajax Contact Form
Valid HTML5 & CSS3 standard
Cross Browser Optimization
Well docummented
These items are available free until February 221, 2018 17:00 AEDT +11:00!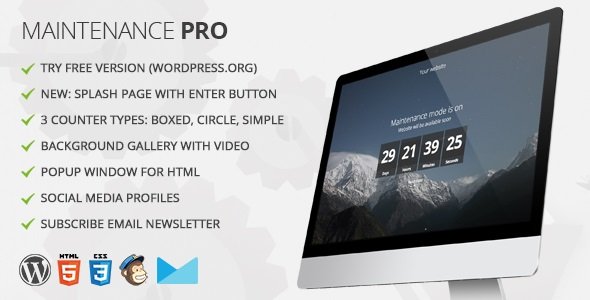 When developing a new site, or making big changes to your existing one, it is sometimes necessary to take it offline for a period of time, but there's no reason why you can't still attract visitors and give them a taste of what they've got to look forward to. A customized and engaging "maintenance mode" splash page can say a lot about your brand or business while you're getting on with the hard work behind the scenes, and can prompt interaction from your users before your site even goes live!
Maintenance PRO builds on everything you loved about the free Maintenance WordPress plugin (available on wordpress.org), and takes your "Coming Soon" or "Under Construction" page to a whole new level.Both versions tested to WordPress 4.8.
Main plugin features
Video Autoplay Support For MOBILE Devices – Brand new feature that allows you to set a YouTube video as the background and this video will be auto-played on mobile devices
Full Screen HD Background Gallery – Add your own images, or gallery of images, and customize the delay time for each transition. You can even upload a YouTube or Vimeo video loop, for an original, immersive and dynamic splash page background.
Customizable Text and Branding – Easily incorporate your own branding with the color picker and font library. You can add your own logo and headline, and edit the "Maintenance Mode" text, for a personalized holding page that reflects your business.
Unique Scheduler Countdown – Ramp up the anticipation and make sure that your users come back when you're ready for them! The overlay counter can be set to a maximum of 365 days and you can choose a simple, boxed or circle format, to suit your style.
HTML Pop-Up – Use the custom HTML area to embed a YouTube video, keeping your users engaged while you work on your site, or a contact form so that you can let them know when you're going live!
Mailing List Subscription –
With MailChimp and Campaign Monitor integration, you can start growing your subscriber base even before your site goes public. Set up a subscription form and mailing list simply by checking a few boxes on your admin page.
Social Media Icons – Add social media buttons so that your users can connect with you in a single click: Facebook, Twitter, Flickr, Instagram, Dribbble, LinkedIn, and more! Icons will link directly to your various social profiles, opening up in a new window.
User Roles and Permissions – Assign multiple user roles, with set permissions and restrictions, so that you can share certain pages with clients or colleagues before the site goes public.
Responsive and Retina Ready – Maintenance PRO guarantees that your full screen, HD and retina ready splash page will look stunning and flow seamlessly on all devices, for a professional and engaging "maintenance mode" experience.

Easy to Configure – The simple and intuitive checkbox admin page allows you to create, customize and configure your unique maintenance page in minutes. Upload and install the plugin to your existing WordPress site and get started today!
This modern inspirational cinematic epic and powerful track with the dynamic development and emotional content will give a life to your project!
In this track you can hear conjunction of orchestral instruments and electronic elements.
The mood of the track is upbeat, epic and motivational.
It will perfect sounds in:
epic commercials;
adventure videos;
cinematic and inspirational trailers and teasers;
energetic showreels;
presentation videos;
atmospheric timelapses;
motivation video;
sport videos;
action openers;
movie trailers
video games and films
This song is highly versatile. That's why we included several versions all in both WAVand MP3 quality so you can easily use or arrange the track however you need.

Get it now! a Useful Powerpoint Template for your Presentation business or personal use, such a creative industry, Technology, Finance, IT, Networking, Environment and many more. Deluxe has 500 Unique Custom Slides that consist from Handmade Infographic, Chart, Process, Diagram, Flowchart, Mindmap, Timeline, SWOT Analysis, Portfolio, Gallery, Maps, General Information, Meet The Team, and another things that useful for your presentation. All elements are editable from a shape to colors no need another software to edit it, just use a powerpoint, all presentation include an animated slide and transitions.