Just about 3 months since I did a free theme roundup posts since May 2013. WordPress 3.6 has been released and it's popularity is still growing. When you start a WordPress blog, you start looking for WordPress themes. It is easy to find a premium theme for your website, but usually you will have to pay quite a high price for one.  If you are looking for best free and high quality WordPress theme, this collection is great for you.
All themes in the collection are released under the GPL license, comes with cool and useful features and options. They can be used for various website types such as business, corporate, portfolio, gallery, photo, or whatever you want to use them for!
In FREE Premium & Beautiful WordPress Themes series: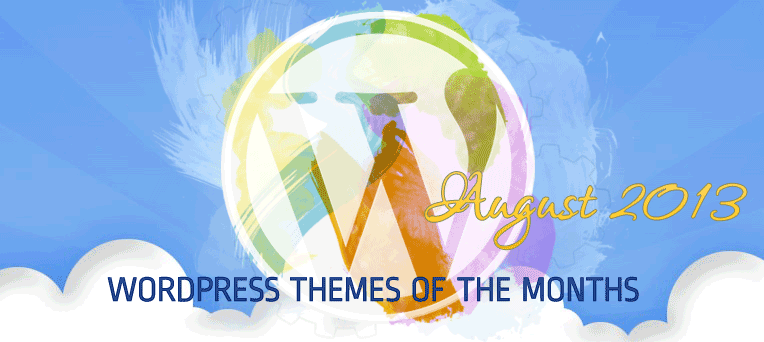 1. Luminus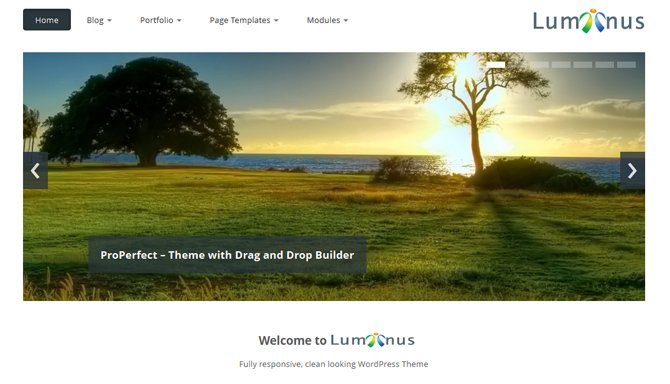 Luminus – Responsive WordPress Theme built with twitter bootstrap
Features
100% responsive
Retina Ready
Extensive theme options
3 page templates
Support Drag and Drop Builder plugin
Luminus Demo Downloads Luminus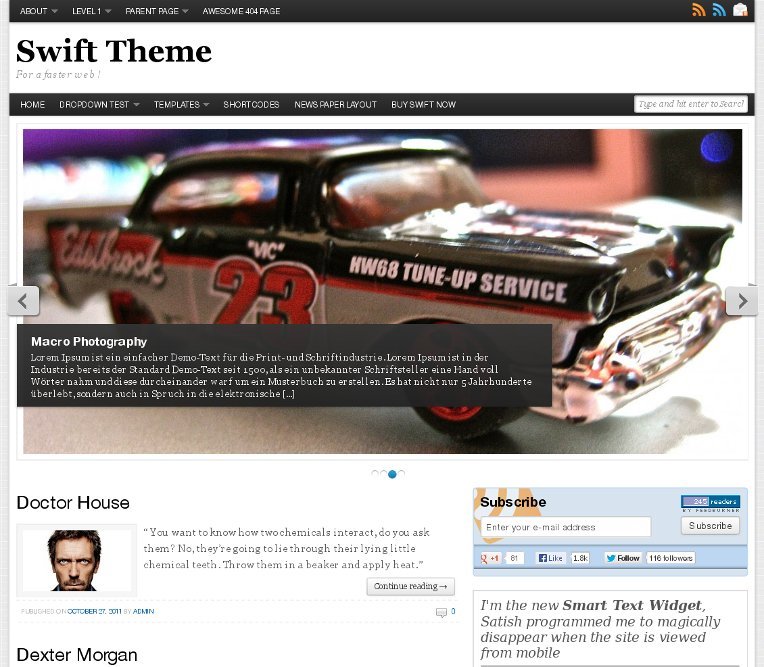 Swift Basic is the free version of Swift, the fastest loading, developer friendly and most advanced SEO WordPress theme with loads of intutive customization options, giving you infinite number of layouts. It supports all the awesome WordPress features like menus, post types, post formats, you name it and it will be there in Swift.
Swift Basic Demo Downloads Swift Basic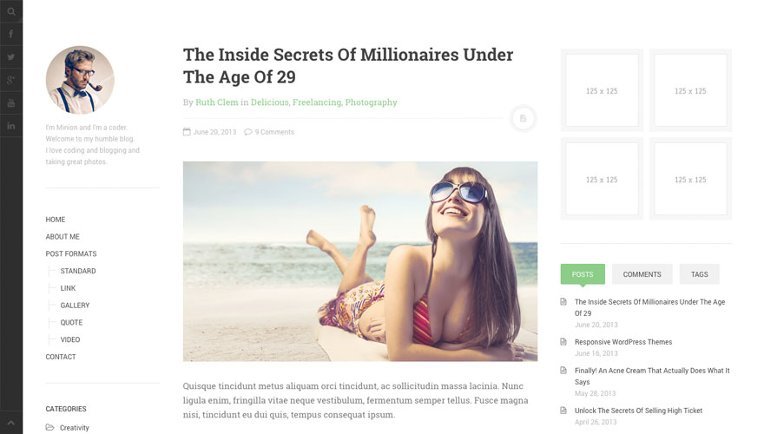 [adsense ad_client=ca-pub-0297902515090400 ad_slot=3999285131 width=336 height=280]
DW Minion is a simple and clean WordPress Blog Theme. This theme is designed which aims for a minimal and simple blog while showing off the most of your content. DW Minion supports responsive design and it's great to blog anytime anywhere you want. Social sharing is focused and various post formats are supported. The theme is available for free, so grab it and start blogging.
DW Minion Demo Downloads DW Minion
Ameyso is the first free fully best free responsive wordpress theme from chrisamdesigns. This theme got a beautiful slider which is powered by flex slider. Totally Ameyso got a simple,beautiful,elegant design.
After installing the theme make sure you install the Option Framework plugin. Once done,go to theme options and set the slider, site description and save it.
Ameyso Demo Downloads Ameyso
Quark is a Starter theme; what you might otherwise call a framework. It was build with the altest compliant HTML5 and CSS3 code and is fully responsive. In short, it is a beautiful blank slate with which you can build just about anything you want.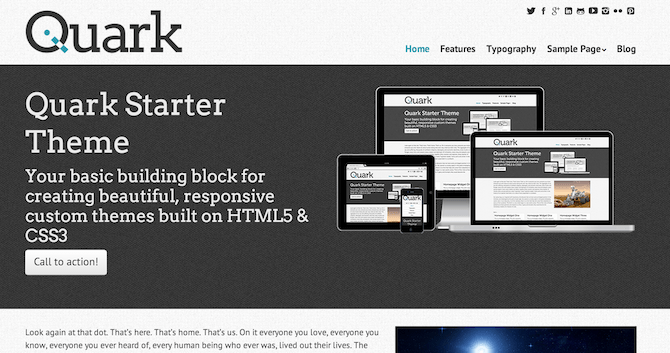 It's not a convoluted or confusing framework that's hard to learn or even harder to modify. It's a simple and elegant starter theme built on HTML5 & CSS3. Its base is a responsive, 12 column grid. It incorporates custom Theme Options that are easy to modify, a set of common templates, support for WordPress Post Formats and the gorgeous, retina friendly Font Awesome icon font.
Quark Demo Downloads Quark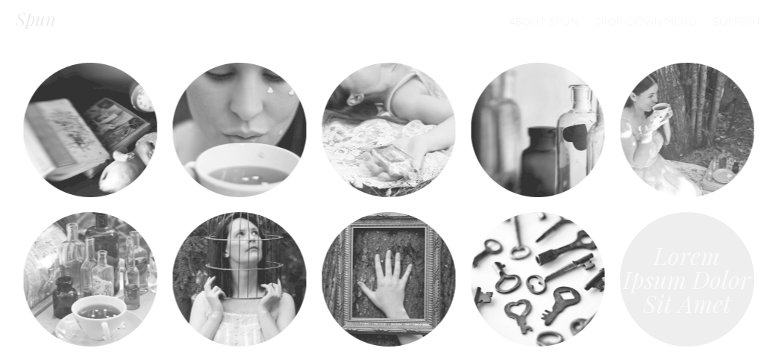 Spun is a clean, lightweight, responsive theme that steps out of the way to put the focus on your content. The theme's navigation is hidden — hover anywhere to the far left or right of your screen to see links to previous and next pages or posts.
Likewise, most elements in the theme – the header, entry information, and footer – are grayed out until you hover over them.
Spun Demo Downloads Spun
Gridster has been designed with simplicity in mind, it has a left-aligned sidebar which also serves to display the menu and site logo. The homepage is made up of a grid of your images which is responsive meaning it will change dimensions depending on what size screen you view it on. Simply create your categories and start adding images to create your site – no other configuration is needed.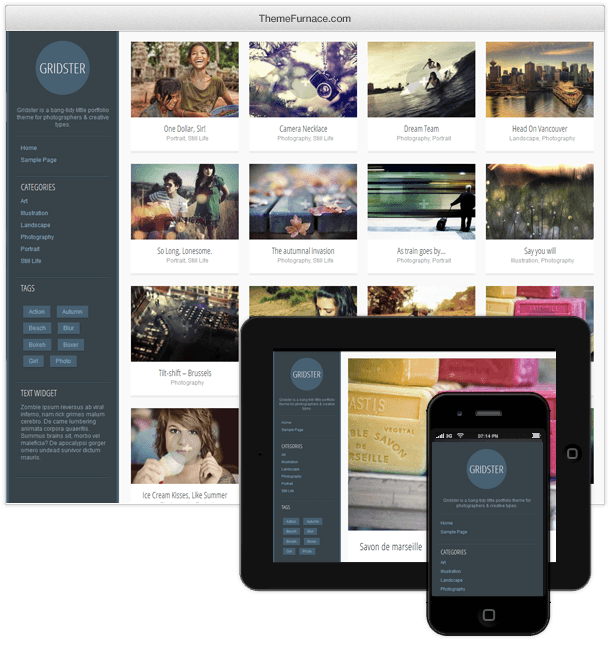 Gridster is a tidy little portfolio theme for photographers and creative types. It has a grid-based homepage, left sidebar and space to show off your images in style. Full version of this theme includes a full-featured theme options panel and customer support. This is the "lite" version of the theme, free to download.
Gridster Lite Demo Downloads Gridster Lite
Pronto is a very clean and minimal jQuery Masonry WordPress theme that's perfect for showcasing your posts in a grid like fashion, that will re-adjust depending on your visitors browser size. Everything is set to work right out of the box, simply install, add your posts and you are set. The theme includes a custom logo upload field, Symple Shortcodes, threaded comments… and some other sweet features.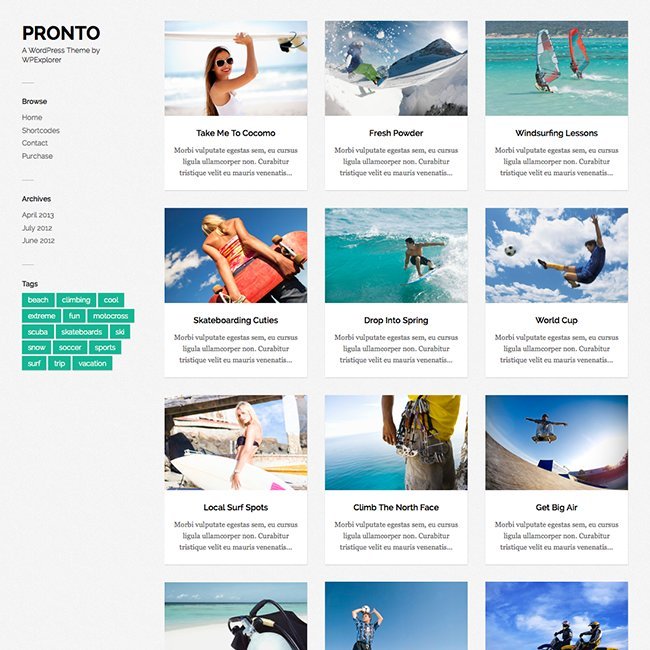 Mesocolumn is a blog, magazine, community and ecommerce theme for WordPress. You can choose a blog style layout or featured category magazine grid layout for homepage. The Theme is built with semantic HTML5 and CSS3 for modern browser. With the responsive layout, it will look good in any mobile device such as android phone, iphone or ipad.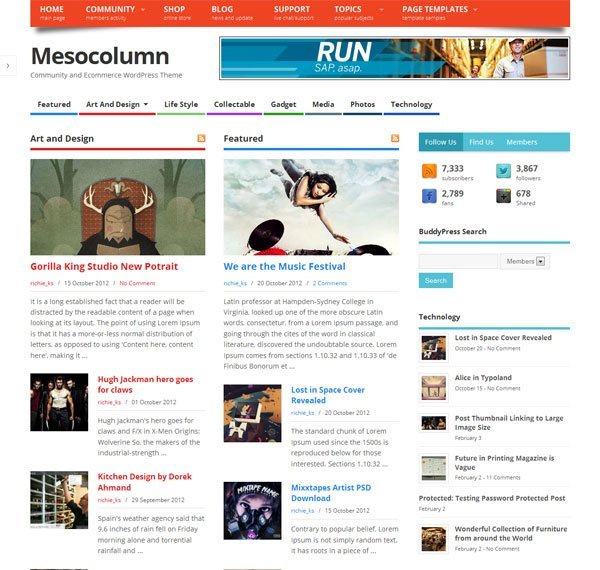 On top of that, the theme also support popular community WordPress plugin, BuddyPress and popular ecommerce WordPress plugin, WooCommerce. Need to setup forums? No worry, the theme also support WordPress Forums plugin, BBPpress.
Mesocolumn Demo Details/ Download
Tuesday is responsive and customizable theme. It's inspired from minimal and flat design. Choose between three available layouts and add blog logo. The theme allows you to control your typography. With font settings you can choose the font you like from Google Web Fonts, and use it instantly on your blog. Tuesday supports header images and background settings.The theme also adds two new widgets, and it's optimized for phones and tablets.

The theme was tested up to WordPress 3.5.1; it features the drag and drop GT3 Page Builder; it's fully responsive and retina ready; it's coded with SEO and best practices in mind; Google webfonts are supported; different header layouts are available; custom menus, backgrounds, modules, shortcodes and widgets are all included; there's a premium slider plugin; complete documentation; and much, much more…
Tuesday Demo Details / Download
Conclusion
Do you need more themes? Check out the previous installments: May, June, July.
If you are a free theme producer and would like to feature your themes in our monthly roundups then please get in touch!