You're in the last month of this year: Year of the Horse in Asia. The Black Friday and Cyber Monday has been passed, do you miss any interesting items? Don't forget to check Envato Giving Away Premium items per days until Dec. 24th 2014.
And today, We roundup of the TOP 10 of Beautiful & FREE WordPress Themes for Dec. 2014 and we hope that you will find among them a good one for you.
All themes in the collection are released under the GPL license, comes with cool and useful features and options. So I would like to make it easier to find the best WordPress themes what you are looking for?

1. Gridsby – A pinterest style gallery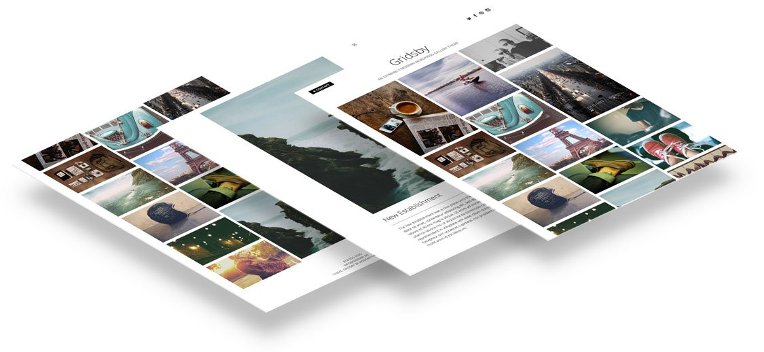 Gridsby is a powerful and modern one-page pinterest style gallery theme. Images open up in a full-screen overlay lightbox effect with social sharing.
2. IH Photographer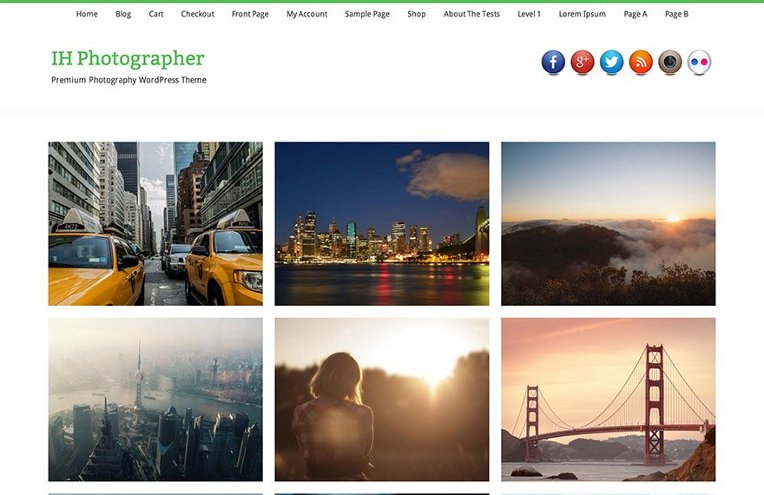 IH Photographers WordPress Theme was designed keeping a Portfolio kind of website in Mind. Although, it may seem that this theme is suitable for Photographers. But, it is not. This theme is highly suitable for any kind of artist who wants to showcase his talent. Also, you can use this to create a regular blog/site without any problems.
3. Isola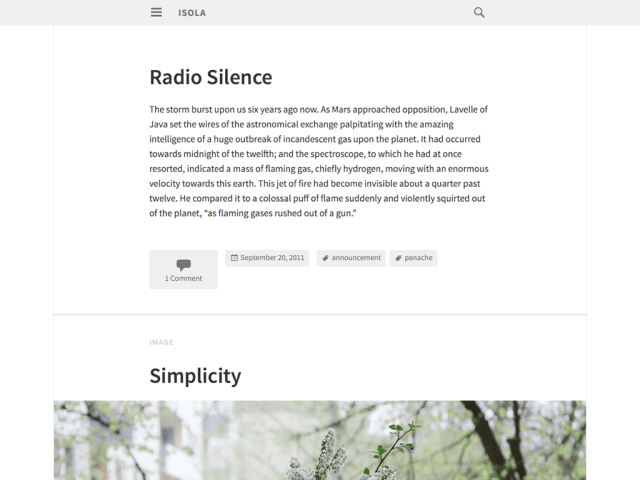 Isola gives you a fresh, clean slate to showcase your writing, photographs, or videos. Its primary menu and widget area are tucked behind a handy button, giving your content plenty of room to breathe, and Isola looks beautiful regardless of the device or screen size.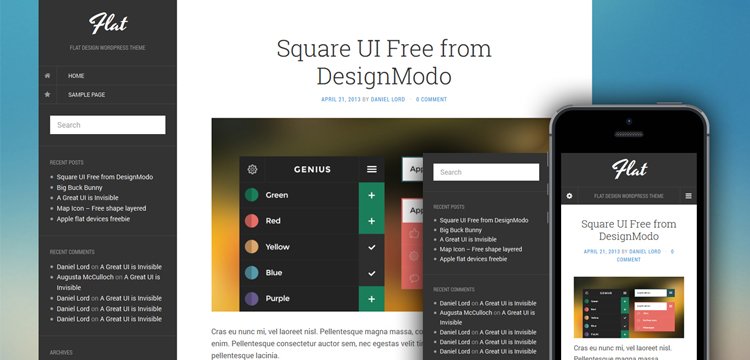 Flat is a charmingly flat and minimalist design that is new to the WordPress Theme Repository. It has a customizable blurred background, off-canvas sidebar and uses Twitter Bootstrap and Font Awesome
5. Phogra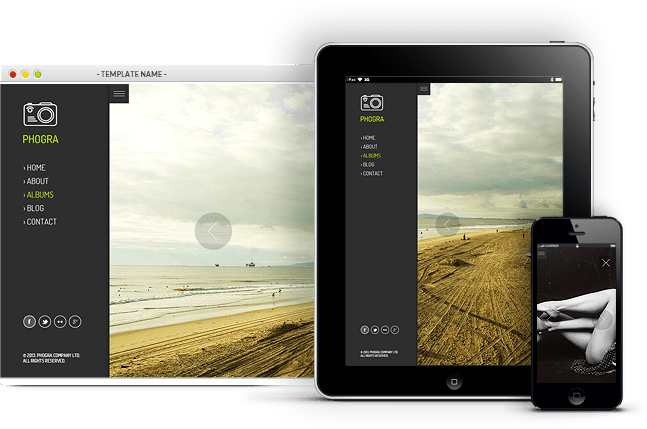 Phogra is a responsive and customizable photography portfolio. It is our interpretation of how a photofolio should look like. As with all of our templates, we focused on usability across various devices, starting with smartphones. This is what a photography portfolio should be about: showing off your photography skills through the display of large photos. So we focused on that and we added a nice little menu to wrap things together.
6. Omega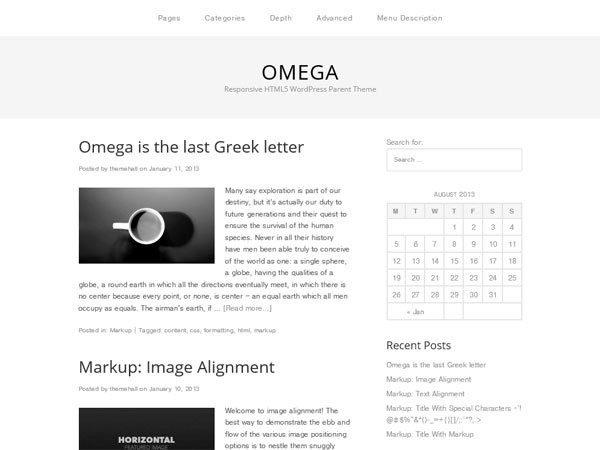 Omega theme is a Responsive WordPress theme framework, serving as a robust WordPress Parent Theme. Omega theme supports HTML5 and schema.org code, the semantic foundation for SEO best practices. Omega theme is designed to be simple, yet powerful, flexible to create any type of site you want via omega child theme. The framework allows theme designers to quickly build child themes without having to code complex functionality for features that are often needed in themes. Omega framework does these things for theme developers / designers to allow them to get back to what matters the most: developing and designing themes. Child Themes handle all the markup, style, and scripts while the framework handles the logic.
7. Cutlass
Cutlass is a WordPress Starter Theme with the power of Laravel's Blade templating engine included, allowing you to develop WordPress sites more quickly then you ever have before. It includes HTML5 syntax, Bootstrap and Font Awesome by default.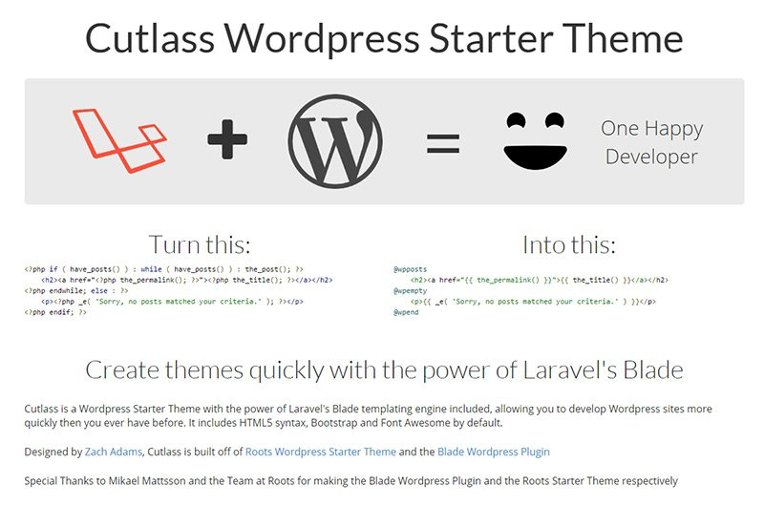 Download Cutlass
Live Preview
8. Storefront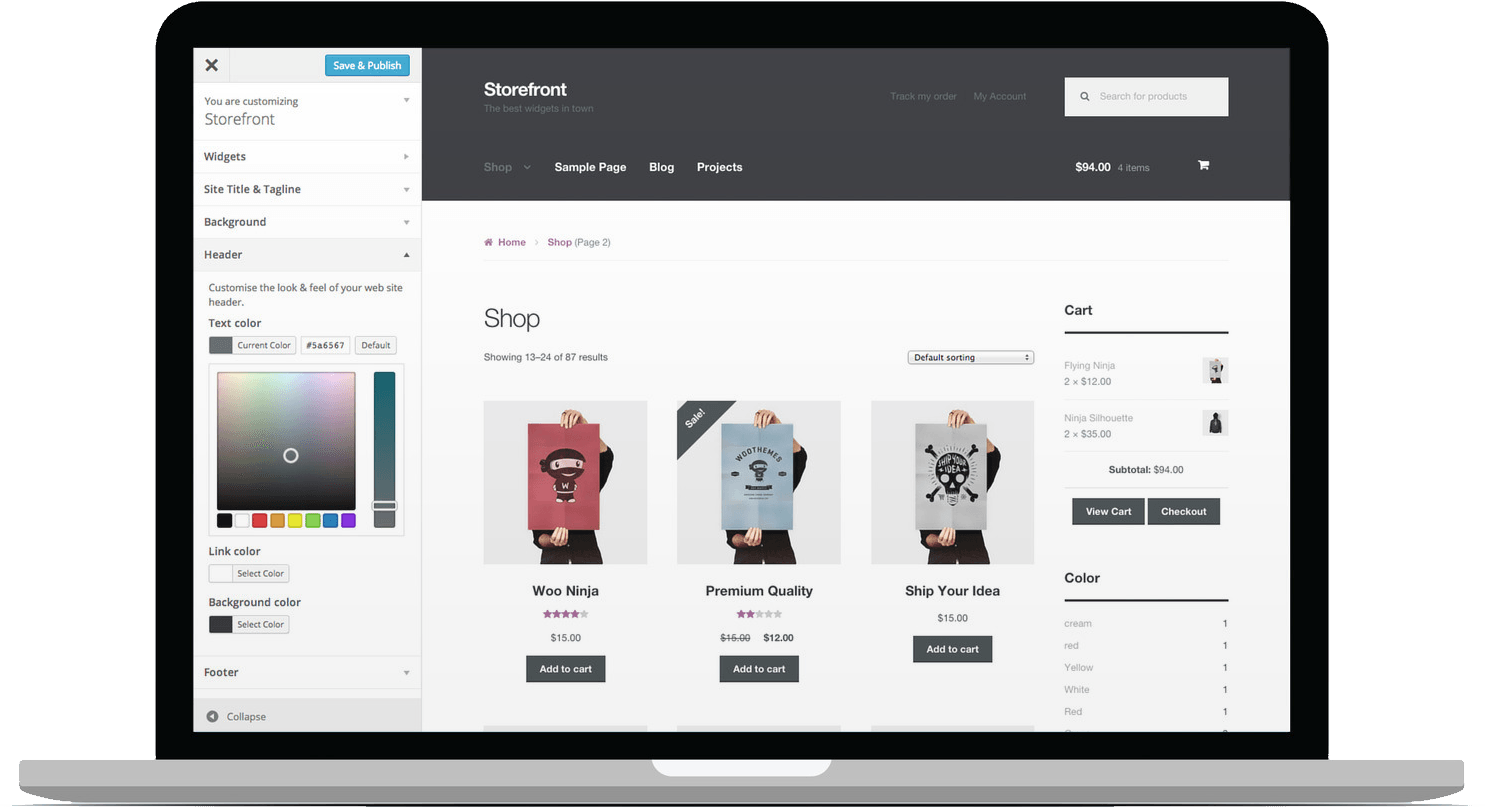 Storefront is an intuitive & flexible, free WordPress theme offering deep integration with WooCommerce.
It's the perfect platform for your next WooCommerce project.
Storefront is the perfect theme for your next eCommerce project. Designed and developed by WooThemes, it features a deep integration with our market leading WooCommerce plugin, several layout & color options to personalise your shop, multiple widget regions, a responsive design and much more. Developers will love it's lean and extensible codebase making it a joy to customise and extend.
9. Torch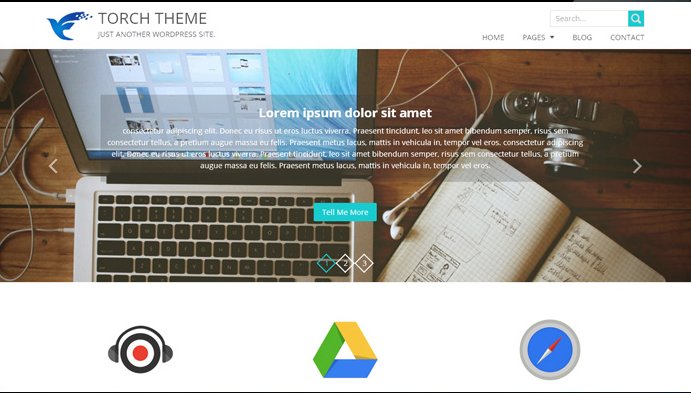 Torch is a 100% responsive business wordpress theme. As a lightweight free WordPress theme, Torch steps ahead a lot compared with similar free themes. Built with Bootstrap, this theme can works well on browsers in desktops, tablets, and smartphones. With 12 custom widgets which can be added to the homepage, you can easily add different elements such as Slogan, Service, Portfolio, Testimonial, etc. to the homepage. Other features include full-screen slider, custom sidebar, flexible page and post layouts, and so on. With these features included, this theme can be used for different purposes such as business, food, sports, travel, and other topics.
10. Cody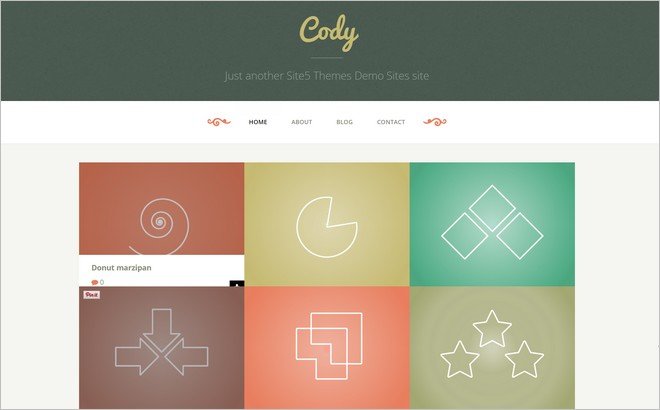 Cody is a new free WordPress theme releas from Site5 WordPress Themes. This is a minimalist theme beautiful look and feel. This is a theme perfect for all blog and portfolio websites. Features included are a user-friendly theme admin panel, built-in pagination, jQuery PrettyPhoto Lightbox. Custom menu, widgets, Google web fonts, custom logo and favicon.