Every month we'll be bringing you our pick of the best free WordPress themes released in the previous four weeks. This month we've had some excellent themes to choose from and had a tough time narrowing them down! They are all simple to use and customize ensuring that you can easily convey a unique style and brand on your site.
All themes in the collection are released under the GPL license, comes with cool and useful features and options. They can be used for various website types such as business, corporate, portfolio, gallery, photo, or whatever you want to use them for! Here are our favorites for October:
Luminescence offers some unique features whether it's a personal or business based blog, you will definitely rise to the level of great looks! It's scalable, compatible, and definitely gives you stability by focusing on WordPress standards.
Luminescence Lite has a super-modern and attractive look built in a responsive format. The blog theme is built in an easy-to read classic style with modern type and detailing. The theme contains social sharing widgets and other fun extras such as custom gallery styling and multiple post formats. The responsive theme is Bootstrap-based and includes a child theme.
Luminescence Lite Demo Details / Download
Fancier is a dark, responsive theme with 4 columns. The theme displays excerpts, custom menus and thumbnail images on the your blog. This theme supply your blogging From beginners to a specialist.
If you love the look of Pinterest, Fancier is a theme after your own heart. The theme uses a four-column card-style grid to group blog entries. While the theme has a nice look and feel, it is not responsive and you do need strong images to make the most of this theme.
Fancier Demo Details / Download
Tribbiani is a stylish WordPress theme with a Magazine style design. It is apt for Entertainment Blogs, but with proper customization can be used on any genre. It is a very easy to set up theme. Tribbiani depends heavily on the featured-images. So, if you are not in habit of using featured images on your blog, this theme is not for you.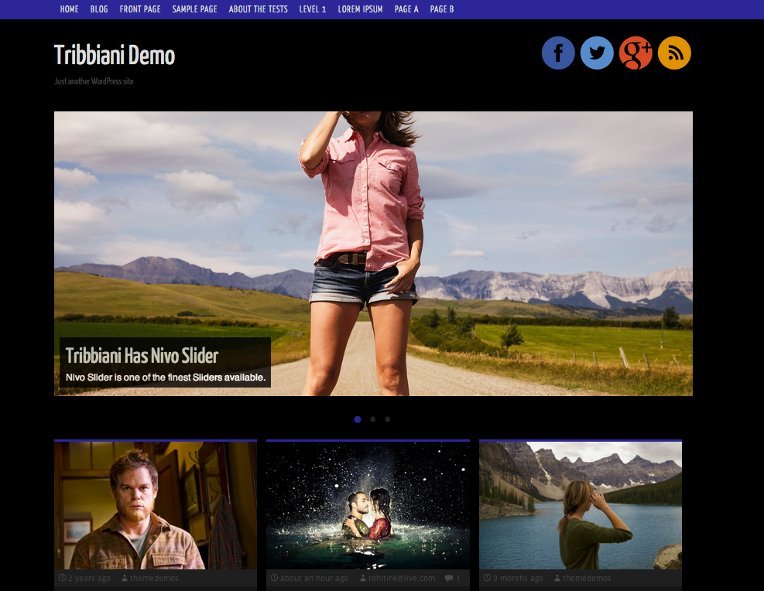 This high-color, high-contrast theme has an uber-modern look and feel. Tribbiani is a good option for image heavy site design; it is not the best option for sites that lack images. One of the key features of the theme is the giant image slider as part of the retina-ready template. Tribbiani is also has embedded SEO tools, supports galleries and commenting, and has several neat CSS transition effects available. The theme also integrates social media sharing and has some customization options.
Tribbiani Demo Details / Download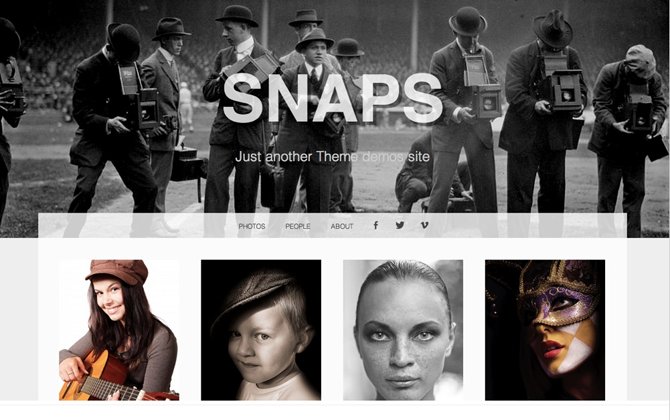 Snaps is a clean, simple, and responsive theme that looks great on any screen size. It has been developed with the single goal of showcasing a portfolio of work by visual artists. While it will look great with any style of artwork, the design is especially suited to photographers and artists who specialize in portraits.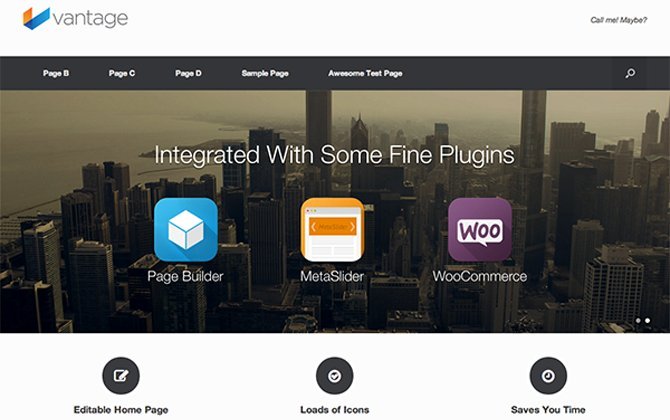 Vantage is a flexible multipurpose theme. It's strength lies in its tight integration with some powerful plugins like Page Builder for responsive page layouts, MetaSlider for big beautiful sliders and WooCommerce to help you sell online. Vantage is fully responsive and retina ready. Use it to start a business site, portfolio or online store.
Vantage Demo Details / Download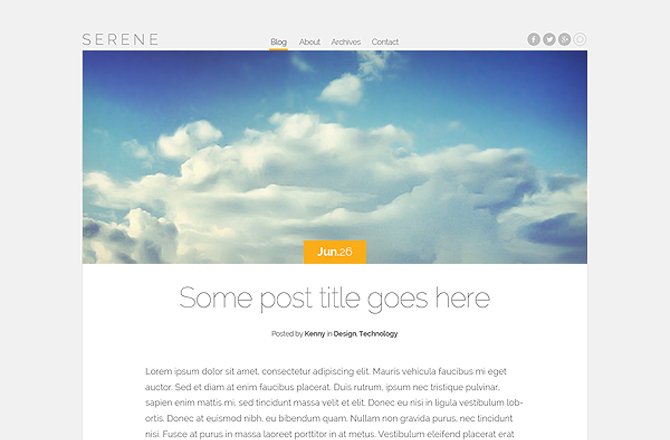 Serene is a truly beautiful blogging theme with post format support. The design's elegance stems from its simplistic and spacious design. Browsing the theme is easy on the eyes and on the mind, each new post arriving like a breath of fresh air.
The theme displays post featured images in a large bold manner at the top of each post and looks incredible when high-resolution images are used. This area can also be used to showcase videos by allowing you to embed content from sites such as Youtube.
Serene Demo Details / Download
Socially Awkward is a responsive CSS3 and HTML5 media theme. The Web is an ever-changing place to interact with others socially. You need a theme that represents who you are on the Web. The theme is fully loaded to display self-hosted media (images, audio, video) and media from third-party social media sites.


Socially Awkward Demo Details / Download
8. Revera


Revera


Revera is a 3-column fluid layout theme ideally meant for portfolio websites. It is fully responsive and is based on Twitter Bootstrap. The theme comes with features like, custom menu, featured images, custom homepage template, portfolio page template , widgetized sidebar and footer, custom widgets on homepage, theme option page etc.
Revera Demo Details / Download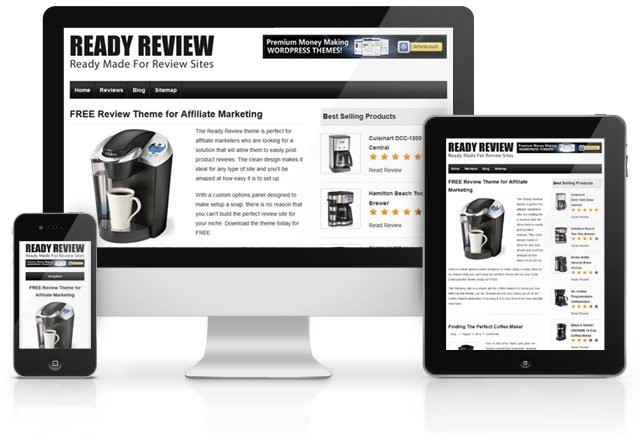 Ready Review is a WordPress theme for a very specific audience: product review and affiliate websites. It is fully responsive, comes with unlimited color schemes, and also offers custom widgets for "Top or Best Selling Products."
If you are looking for a review theme that will allow you to build a clean & powerful review site, Ready Review is the theme for you. You won't find a theme anywhere that is as powerful as Ready Review and for FREE!
Build a high performing review site easily with this theme. All you need is a niche to pursue and some great products to promote and with this theme, you'll be well on your way to creating a high quality, money-making web business.
Ready Review Demo Details / Download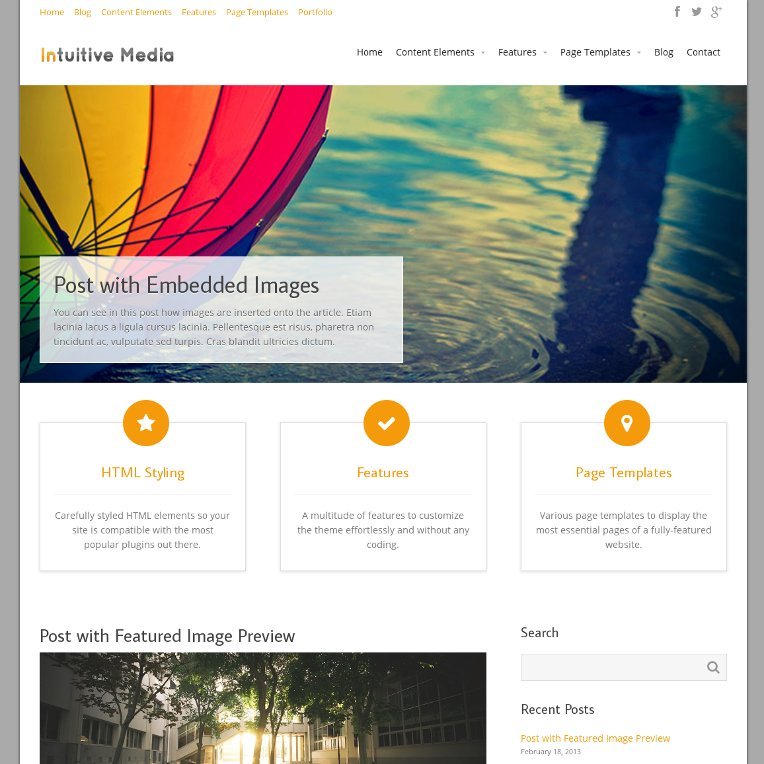 Intuition is an elegant, all-terrain blogging WordPress theme focused on showcasing your best content effortlessly. It comes with the ability to feature your posts and pages, creating a fully featured homepage complete with an animated slider and featured content blocks. This theme is fully responsive and makes use of retina-ready graphics, so it will look great on any device.
Intuition Demo Details / Download
Conclusion
Do you need more themes? Check out the Free Premium WordPress themes of the month series.
If you are a free theme producer and would like to feature your themes in our monthly roundups then please get in touch!