NARGA.NET Updates
---
Oct 14, 2009 – Today, Paypal support Vietnamse completely
From Sep 22 2009, I've logged to my PayPal account then get a notice about PayPal Policy Update:
Beginning Effective date: October 14, 2009, the PayPal User Agreement, Payments policy and buyer protection policy will be modified to include several new currencies as holding currencies and add additional withdrawal countries and the related fees and charges have been modified to include these new currencies. New currencies include: Filipino Peso, Taiwanese Dollar, Thai Baht, Malaysian Ringgit, Argentinean Peso, and Brazilian Reais. Bank account withdrawal countries being added include Vietnam, Malaysia, Argentina, and Brasil. Several of these currencies are restricted currencies and not all PayPal features will be available with regards to a restricted currency and not all customers will have access to restricted currencies.
This is really interesting, Before Oct 14, Vietnam PayPal accounts only for the purpose of payment but not allowed to receive money. Today, Today, Vietnamese PayPal accounts can send, receive and in-country bank withdraw funds from Oct 14.
If you are a Vietnamese, when you come to PayPal sign-up page: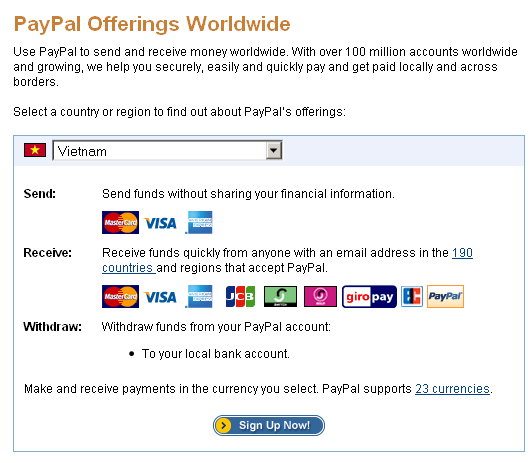 Flag of the Vietnam appeared in the Send and Receive Payments Worldwide securely, although there are some limitations and features are not like other countries in ASEAN but it is not that not too important, we have the world recognize of e-commerce, meet the provisions and requirements of e-commerce world.

With me, paying and receiving money has become easier. Thanks PayPal!
---