For two weeks running the ThemeFuse Themes Giveaway. We got 3 comments and 15 retweet with 4 twitter users. Before we proceed, We'd like to thank our sponsor ThemeFuse, for providing the three premium WordPress theme licenses and making this giveaway possible and everyone who participated.
As I mentioned in the Giveaway condition:
Post a comment here and tell us why you think you should be a winner and what you'll do with your (free!) ThemeFuse theme if you're chosen.
Retweet this message:


Win a free copy of @ThemeFuse #WordPress Theme from @Narga (RT to Enter) #giveaway

and let the Twitterverse know about this awesome opportunity!

Like the ThemeFuse Facebook page, and tell all of your friends to like it, too.
To find the winners, we're using Random.org to generate the set 3 numbers from 1 to 7, and here is the results.
As the order of ways to become the winner, the winner is number 2 in comments list:
Congratulations to Stocky has won for leaving a comment on this post. Of course, I have also verified if they have performed the mandatory action to qualify for the draw (which is to leave a comment on the original post), and he / she have:



And here is twitters who has been tweet about this giveaway: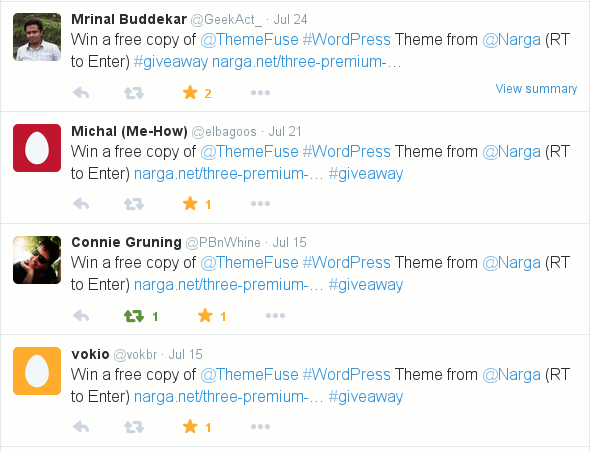 The twitter users are: Mrial Buddekar & Michal (Me-How).
To the winners: I'll be sending each of you an email / direct messages on winning. Please reply me with your contact details so that I can get the gift to you.
To those who didn't win: don't give up! There will be more giveaways on NARGA in future, so do stay tuned, especially via your blog subscription, to be the first to know about latest posts, freebies, and giveaways!