I'm managing my WordPress networks with default WordPress  Dashboard in dozens of Firefox's pined tabs. I've never tried looking for better solution to manage my networks until I use ManageWP service. Since June 2013, I've got Professional Plan of ManageWP.COM as a gift and start using it after a month because it's required a plugins and a ManageWP's account.
Trust me, after using it, you will freaking love ManageWP like me because it consolidates multiple Admin dashboards into one easy-to-use. Below I'll show you about most expensive features and begin effectively managing your WordPress Networks like never before.

To get started, you simply have to install a small plugin on each of the blogs you wish to add to the platform. From there, you can easily add your blog onto the system; once on the dashboard, you can switch to and from multiple blogs with just a single click. The program eliminates the need to log in and out of each account, streamlining the entire process in just a few minutes.
ManageWP All in one Dashboard
The ManageWP dashboard is well designed. As you would expect the dashboard gives you an overview of features: updates available, a page view statistics graph, backup tasks, recent posts and more.
From a single screen, you've got one-click access to all of your sites where you can update themes & plugins, do site backups, run security scans, and more.
What do you usually do after login?
Checking comments, spam, scheduled posts, read feedbacks, reply comments …
Upgrading WordPress, your themes and plugins…
Full backup system for the database or the entire site either manually or set a scheduled backup.
….
Using ManageWP service you can:
You can simply access each website with a click from the ManageWP dashboard.
Easy to use set-up system to get a new site up in a matter of minutes.
Upgrading WordPress, your themes and plugins, with one click, across all your sites!
One-click and scheduled backups to a bunch of places (Dropbox, Amazon S3, and more)
Easy cloning and migration tools to help you easy increase your networks
Analytics, Adsense, SEO, Code snippets services integration.
Bulk operations – need to post something across multiple sites? Add users? Click of a button.
So nice to be able to backup, update and then edit all of your websites in one place with ManageWP instead re-login to a dozens of WordPress dashboard, repeat checking comments, updating plugins… everyday. Just think how much time that could save you!

ManageWP's Security
ManageWP works in strong partnership with Sucuri.net and integrate programs to make sure all sites the program interacts with is free from malware and potentially harmful viruses. The security status of the website can be checked at any time from within the plugin, with green "NO" indicators where there are no threats, and red "YES" indicators when a threat is detected.
By default, WordPress uses only single-layer security when accessing the Dashboard by username and password. After active ManageWP plugins, you can use the plugin features dual-layer security that can pair a username and password with a secondary security check that involves a mobile phone number or an email address. This is another added layer of protection that simply isn't provided within the traditional Dashboard itself.
ManageWP's Backup service
Currently, WordPress requires its users to obtain a third-party plugin to manage backup services for the files and database used by the software. Using ManageWP, you no longer need any backup plugins if you're using ManageWP. They gives you the possibility to store backups on the website's server or send to the following locations: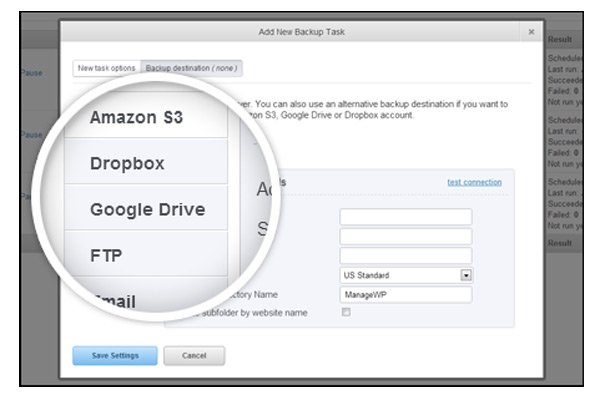 These options are far more than WordPress' many plugins offer, and they represent the best way to make sure that files are regularly backed up and stored somewhere safe. If something goes wonky during an update, you can easily restore a site from a backup.
SEO, Keyword, and Analytics optimization and monitoring your sites for you
ManageWP provide their analytic system and allow you using Google Analytics as another monitoring service. I've switched between ManageWP's analytics and Google Analytics then found the marked differences between the two services, it's defferences with my hosting's statistics too. I don't know why and report it about the developer then answer you in near future.
Included are SEO analysis tools so that you know where you stand and you can utilize this information to increase you search engine rankings. Compare the prices of some of the most popular rank tracking services available right now, and line them up against ManageWP's Business Package:
Keyword research and ranking tools are available so you can see which words your sites rank well for, and identify the other areas where you can improve.
ManageWP can monitor the uptime of all your sites and alert you when they are down. With premium up-time monitoring tools, you'll ensure that your WordPress sites will continue to run smoothly so that your business can continue to function at full capacity. It can also send you SMS alerts, super handy when I'm out and about and have no internet connection.
ManageWP Plan & Pricing
ManageWP has 3 plan: Standard, Professional and Busines plans for your needs. Start from $4 per months with 5 websites, include 24/7 Premium Support, Money back guarantee and allow Cancel at any time.
If you want take a look with their service before buying. You can create an account at ManageWP and add up to five sites for FREE. You'll get access to all the cool paid features for 14 days. Even after that, you'll still have free access to basic features.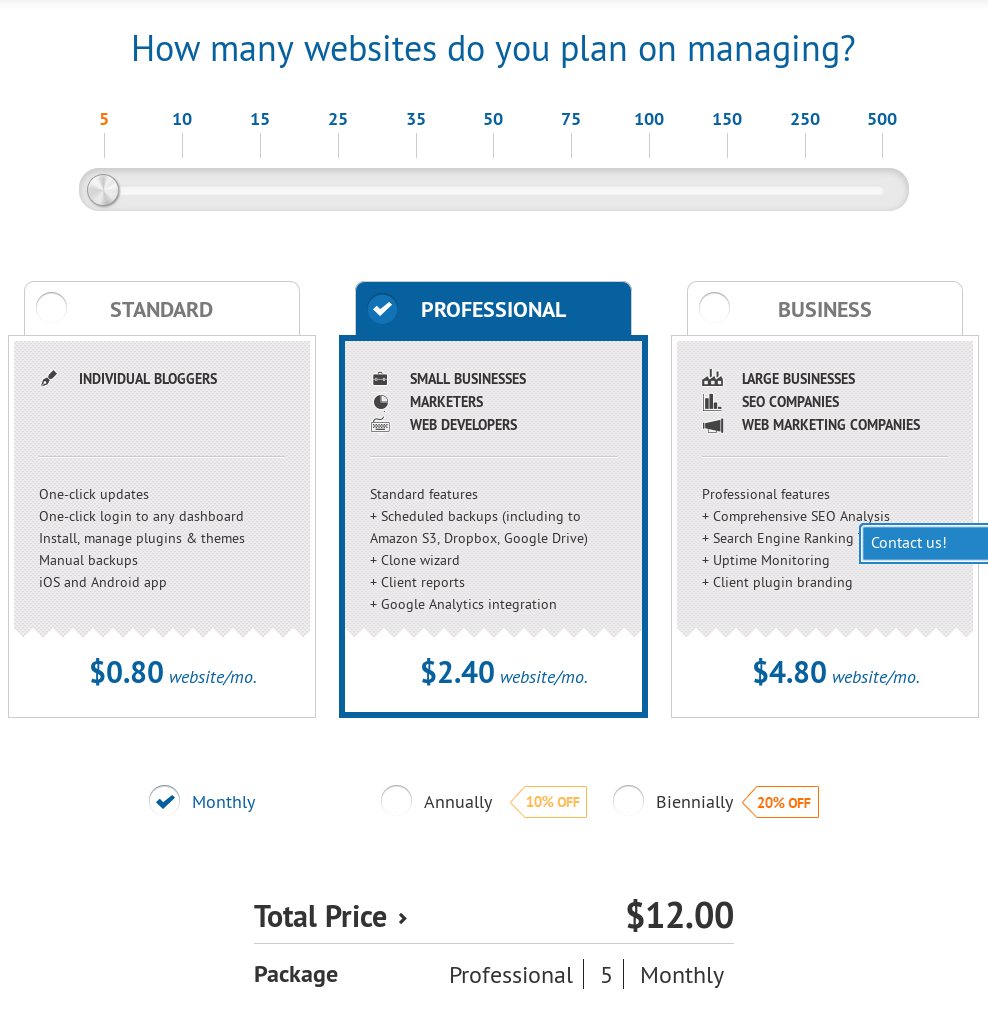 Check out their prices, and note that the prices in the small print are actually what you pay per month unless you pay by the year. To see the different pricing packages, go to their Plans and Pricing page and then scroll to the bottom and you'll see a chart that shows how much it costs according to how many sites you want to manage. It gets expensive very quickly. When it comes to the number and types of plans offered, ManageWP has one of the most comprehensive available in the industry.
Manage your website on the go
Since April 2012, ManageWP is going mobile with iOS. Now you can do all the same things on your mobile as you can from the ManageWP website. The best part about it is it's free, so you don't need pay addition fee to using it on your iPhone.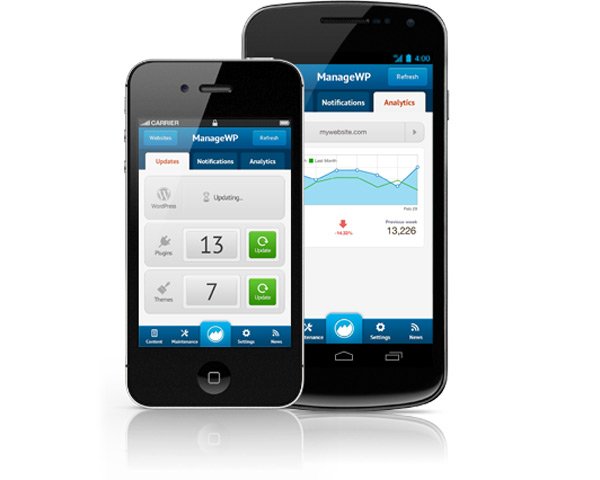 Conclusions
I found ManageWP to be an incredible service for anyone looking for a better way to manage multiple WordPress sites. I've been using it for months now, and overall I think it's one of, if not the most, solid services available. It's definitely what I would choose, considering it's loaded with great features I can use on a daily basis. As I said above this service would be valuable if all it did was allow you to remotely login to various WordPress websites from one location, but as you can see it do so much more and in doing so provides insane amounts of value. I highly recommend this service to your WordPress Networks.
Are you already using ManageWP? Let us know in the comments section below.