Building a WordPress website is a progressive process. You must always be on the lookout for new features and enhancements that can propel your brand to the top. In this article, we'll talk about calendar plugins. One special feature that you may not always find on WP-powered sites is add calendar to your website. They are usually used for online booking and event management, but you can also use calendar plugins to share notifications. Of course, they can be also added because of their aesthetic value.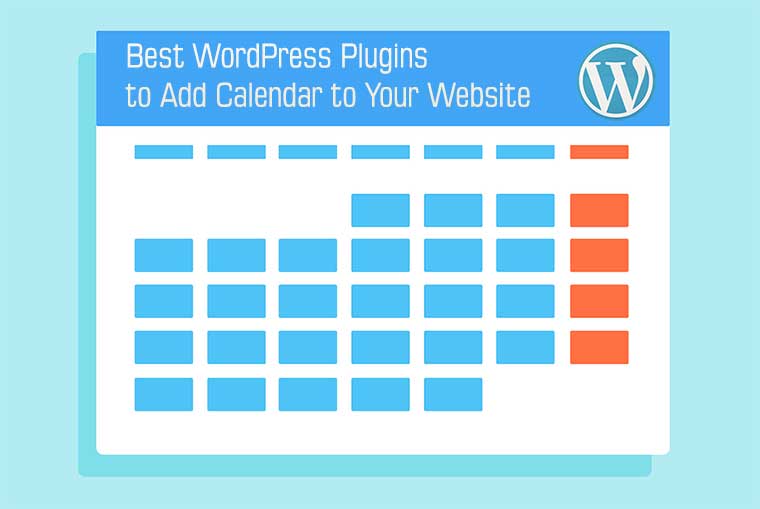 As always, you need to be careful when integrating new plugins into your WordPress website. Having said that, here's our list of the top five calendar plugins with all their features and reasons why they should be used:
The Events Calendar is one of the most downloaded and top-rated WordPress calendar plugins. It does exactly what it's advertised to do: helping you create faster, functional, and visually appealing calendars.
When it comes to plugins, the WordPress community appreciates two features above all others – flexibility and ease of use. The Events Calendar also has an immediate setup process and several key features. After installation, you can start releasing your calendar right away by clicking "Events" > "Add New" from the main dashboard.
This will lead you to a well-known editor where you can fill in the details of your event. You can also set up a schedule for posting and specify an event category. You can scroll down to add more details of your event, such as event location, organizers, and date.
Once you release your event, it will automatically be added to an interactive calendar that you can embed on the page (for the Pro version) or use it as a widget. Alternatively, you can find a link to your calendar in full view by going to "Extras" > "Installed Extras" > "Events" > "Calendar" > "Calendar".
Notable features:
Mobile-friendly – With The Events Calendar, your calendar is also optimized for mobile devices right away.
Extensibility – The Events Calendar supports a number of different add-ons that add a smooth touch to the functionality of your calendar. For example, Community Events allows users to set up their events, while Event Tickets Plus allows you to sell tickets.
Free version – Despite its features, The Events Calendar offers a free version without any restrictions. This is perfect for those bloggers whose goal isn't to monetize through events.
In terms of functionality and versatility, The Events Calendar and Events Manager are quite similar. The main difference is that the latter has more developed registration features without the need for add-ons.
Adding an event with Events Manager involves similar steps to The Events Calendar. In addition to the identical menu layout, their editor interfaces are almost exactly the same.
To display a calendar on a page, you'll need to use shortcodes. For more information on event codes and abbreviations, and how to use them to configure your calendar, you can refer to the guide from their official website.
Notable features:
Free recurring events – Events Manager allows you to set up recurring events without paying for the premium version.
Dashboard – Another benefit of the Events Manager is the built-in dashboard for bookings. This allows you to monitor and manage all event bookings in one location.
Deep customizability – Finally, Events Manager has a ton of settings that let you configure how your calendar works and looks. Everything from image size to messaging can be completely edited from the "Events" > "Settings" section.
The following plugin is a good choice for Google Calendar users. With Simple Calendar, you can quickly pull data from your Google Calendar account into your WordPress website. There's no need to manually add events through the WordPress dashboard – so you can make your event management efforts more efficient.
The only drawback with the Simple Calendar design is the somewhat lengthy setup process. You need the Google Calendar API Key, which can be obtained from the Google Developers Console.
A little note: In order to have your WP website running smoothly, including having a calendar that will work properly and be visible, you must secure a quality hosting. If you're installing WordPress (which is by its nature an open-source content management system) on your own web server, you'll be most likely using MySQL database because it's an open-source relational database management system. The hosting option you'll be needing, in this case, is logical – MySQL hosting. It's a great choice and you can also get a low price by going through this link. MySQL hosting plans are recommended due to their affordability, high uptimes, fast and reliable performance, easy management, and many more.
Notable features:
Flexible design – Despite being called "simple", this calendar plugin has plenty of design and layout options that you can use to match the theme and "personality" of your website.
FullCalendar – Simple Calendar lets you integrate a bunch of cool add-ons. One is the ColorCode FullCalendar, which lets users switch between week, month, and day views.
Among all the calendars included in this list, Timely may be the only one for which can be said to have an all-in-one event calendar feature as it has the most intuitive and simple interface. This is thanks to how the settings are displayed. Everything is divided into three tabs: "Viewing Events", "Adding/Editing Events", and "Advanced".
On the "Viewing Events" tab, you can configure everything related to the appearance of your calendar. This includes default calendar views, word transcription, content filtering, and so on. It's also worth noting that you can easily include a calendar theme by going to "Events" > "Calendar Themes".
Furthermore, you can customize the appearance of your calendar by going to "Events" > "Theme Options". Some of the available settings include calendar background color, basic font size, button layout, and so on.
Notable features:
Visual fidelity – Allows users to easily customize their calendar appearance without writing a single line of code.
Widget creator – In case you have an external page that doesn't use WordPress, you can use the "Widget Creator" to generate a simple embedded code. You can find out more by referring to their user guide.
Add-ons – It also offers some useful plugins, such as Twitter integration, extended views, and CSV import.
From a customer perspective, the Booking Calendar offers, as its name implies, one of the best booking experiences. Along with all the necessary forms to complete the booking process, it provides an interactive calendar.
To modify these forms, go to "Booking" > "Settings" and then click the "Form" tab. By simply marking the right checkboxes, you can specify which fields are visible or required.
You can enter the booking form in the content area of any page or mail through shortcodes. These can be generated by clicking the "Insert Booking Calendar" button from the content editor. Alternatively, you can use Booking Calendar as a sidebar widget. In any case, the booking experience is made easier and hassle-free.
Notable features:
Easy email notification setup – To set up email notifications, go to "Booking" > "Settings" > "Email". Here you can modify the default notification email for both the administrator and the visitor whenever a new booking request is made, approved, canceled or deleted.
Comprehensive bookings manager – The calendar is equipped with a deeper booking manager – called Calendar Overview. This will give you a bird's eye view of the entire schedule, and you can also approve, delete, or add a booking request to Google Calendar.
Double booking control – Lastly, Booking Calendar allows users to choose whether to prevent double bookings or allow as many bookings as possible. This feature is available even on free versions.
Events Calendar and Timely are perfect for WordPress users who want to manage their bookings without learning the complicated steps. In terms of design, Timely offers easier modifications for those with zero coding knowledge. The Booking Calendar is also a candidate when it comes to ease of use. However, you must enable online bookings if you want to take full advantage of this plugin.
The Events Manager, on the other hand, is a bit more complex but it's based on high scalability. Lastly, Simple Calendar is the clear choice for Google Calendar users who want to keep the effort of managing events contained in G Suite.
In general, WordPress is a flexible, easy to set up web platform that has been downloaded more than 60 million times since its launch in 2003. The popularity of this Content Management System (CMS) has spawned an incredibly rich plugin ecosystem that gives users the ability to enhance Search Engine Optimization (SEO) of their website, manage comments and spam, and modify and increase the number of articles. WordPress is by far the most represented CMS platform in website design projects.
In short, there are a number of ways to extend the core functionality of your WordPress installation. At the time of writing this article, there are over 30,000 WordPress plugins, including those related to the calendar.
Since your blog has a central role in your social media efforts, these plugins will definitely give you a great start. So, if your blog needs a little boost, consider adding some of these fantastic calendar plugins and watch the visit and the number of subscribers drastically jumping up.