There are dozens of WordPress invoice plugins which you can use to turn WordPress into an excellent invoicing and billing system. They help you to generate, edit and send customized and itemized invoices to your clients without having to leave your WordPress site's control panel. Managing follow-up payments with these plugins is becoming easy.
In this articles, I will show you top 7 WordPress plugins to invoice your clients which can use for generating and managing invoices. If you're a freelancer working with WordPress, sooner or later you will need a good invoicing application to generate estimates and bill your clients.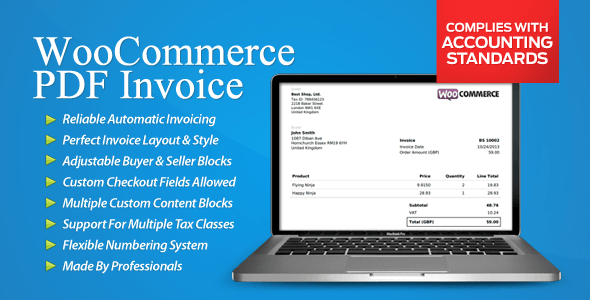 WooCommerce PDF Invoice is the most professional and feature-rich invoicing extension which comes with premium support. For those that mean business.
Invoicing extensions are not ordinary extensions – documents must comply with accounting standards and regulations, the extension itself must be very reliable as a single flaw can mean additional costs later on.
Having this in mind we spend countless hours researching accounting standards and developing a product that we can proudly refer to as the most professional WooCommerce invoicing extension in the world.
Fully Automatic Invoicing
Two Types Of Invoices
Simple Invoice Management
Buyer & Seller Details
Reliable Numbering System
Full Tax Support
more …
Sprout Invoicing allows for custom estimate and invoice templates, which you can brand for your business via a standards WordPress theme template. Notification editing allows for plain-text or HTML, so you can also match the branding in your email communications.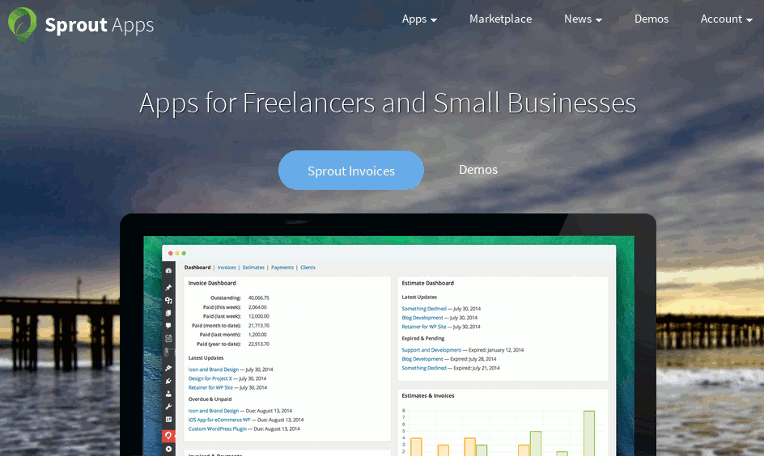 The free Sprout Invoicing plugin allows you to accept payment via Paypal Pro or send customers to Paypal to pay invoices. The Sprout App marketplace includes additional upgrades and payment add-ons.
Are invoices a nightmare for you? Do not worry, YITH WooCommerce PDF Invoice and Shipping List has been purposely created to help you automatically generate PDF invoices for your orders.
You can customise options and then have invoices automatically generated without you to feel stressed for doing it. Making this process an automatic one relieves you of doing it manually for each order and lets you spare a lot of time. Moreover advantages of electronic invoicing are many.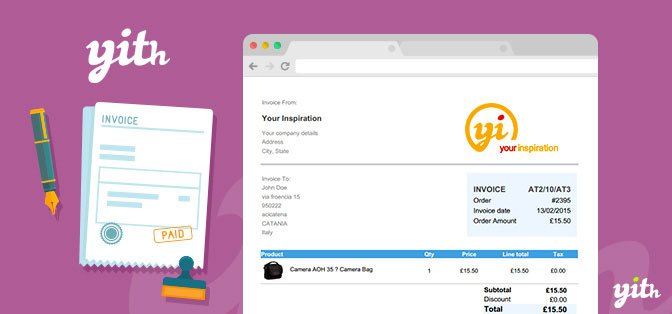 This WooCommerce plugin allows creating PDF invoices and shipping list documents for WooCommerce orders quickly and easily with customizable templates.
Choose if generating invoices manually or automatically using custom number format and send it as email attachment to your customers.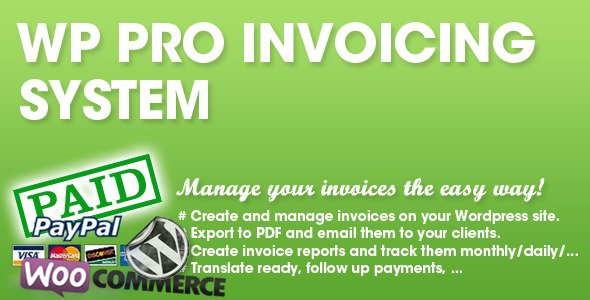 The "WP PRO Invoicing System" WordPress Plugin is a standalone plugin that allows you to create invoices on your WordPress site. It has many powerful features to handle invoices on your website. You can easily Create/ Edit/ Manage/ Export/ Send/ Track/ Report/ … your invoices in just a few clicks.
WordPress users who are linked as clients are able to View/ Track their invoices online and it's even possible to allow Online Payments using PayPal.
If you run a WooCommerce webshop the Pro Invoicing System makes it possible to automatically create invoices for each sale. It will include the invoice in the confirmation email send to the buyer as well.
Translate ready, .mo/.po files included.
Customize the template for your PDF Invoices.
WP-Invoice lets WordPress blog owners send itemized invoices to their clients. Ideal for web developers, SEO consultants, general contractors, or anyone with a WordPress blog and clients to bill. The plugin ties into WP's user management database to keep track of your clients and their information.
Once an invoice is created from the WP admin section, an email with a brief description and a unique link is sent to client. Clients follow the link to your blog's special invoice page, view their invoice, and pay their bill using PayPal. The control panel is very user-friendly and intuitive.

Features
Automatically import invoices from Web Invoice plugin.
WP-CRM Integration
Brand new user interface for much improved invoicing filtering and searching
Minimum and Split / Partial Payments
Invoices can be reassigned to a different recipient
Receipt Page with Invoice Log
Per-defined Line Items
Discount Line Items
Custom Payment Entry, and administrative adjustments
Customizable Invoice and Receipt Templates
A flexible, well-supported, and easy-to-use WordPress invoicing plugin to create professional quotes and invoices that clients can pay for online. Sliced Invoices is an invoicing system that is easy to use but at the same time comes packed with features to help make your quoting and invoicing a breeze.
In a nutshell, Sliced Invoices is a free WordPress invoicing plugin that allows you to send invoices & quotes to your clients. And with a range of free and paid extensions available, all of your invoicing needs are covered.

Sliced Invoices – General Features
Send Quotes and Invoices and get paid online
Many customization options
Lots of filters, actions and template tags
Pre-defined line items
Auto increment of Invoice & Quote numbers
Set custom Invoice & Quote prefixes and/or suffixes
Flexible tax settings (global, per Invoice/Quote or per line item)
Customizable email templates including subject and content
Custom email from name and email address
Bcc yourself into all client emails
Send clients emails at the click of a button
Send clients automatic payment reminder emails
Clone existing Quotes & Invoices
3 customizable Invoice & Quote templates
Customize templates using CSS
Add your logo and business details to Invoices & Quotes
Bulk CSV import of Quotes & Invoices
Support for WordPress Multisite (network activated)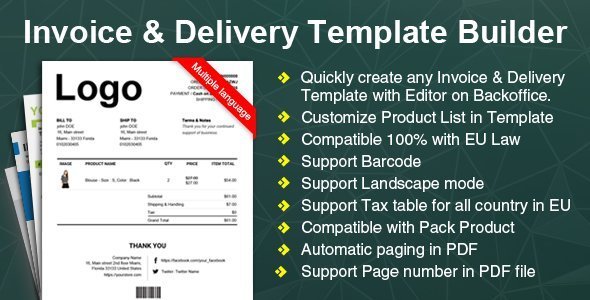 Requires no technical knowledge. Just fill in some information of your, you will have a professional Woocommerce invoice & delivery (Packing slip) template matching your brand identity. All you have to do is pay one time for this plugin, no monthly cost.
Sales documents with well-design and layout can project a professional image of your company to customers. However, Woocommerce default Invoice & delivery (Packing slip) not only limits information shown but also is difficult to customize.
Luckily, the Woocommerce Invoice & Delivery Builder Plugin offers the step-by-step Template configuration to help you accomplish this task with ease. With Invoice & Delivery Builder Plugin you can modify your PDF layout by add your own HTML & CSS.
Hopefully, this WordPress invoicing plugin roundup is useful to you. If you interesting with other userful or better WordPress plugins, feel free to share it with use in comments below.
Disclosure: This page may contain affiliate links for which we will receive compensation if a purchase is made via the link.