WordPress is one of the pillars of the internet.
Created 17 years ago, WordPress initially was just a blogging platform, which they transformed into a content management system, allowing users around the world to create websites, open online shops, and businesses.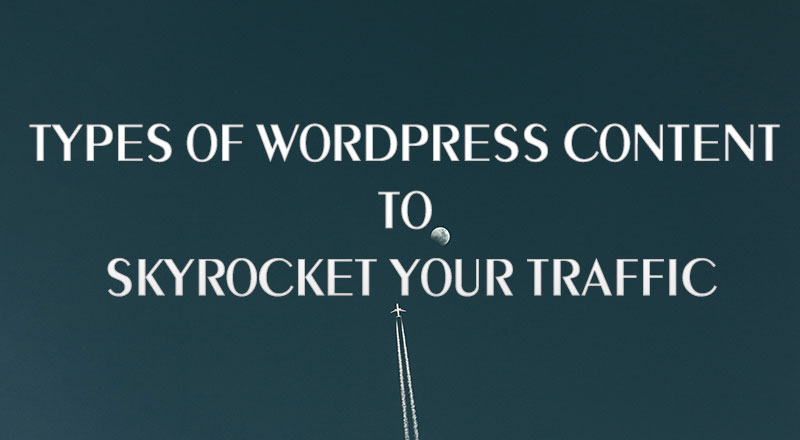 As of now, WordPress is the most reputable CMS on the Internet, with over 60 million websites created with this platform.
According to the stats by Kinsta:
WordPress powers over 35% of all websites on the internet and has a 63% market share of the entire CMS market.


Usage statistics of WordPress. Image credit: W3Techs

WordPress reports 500+ new websites built each day, compared to only 60 websites built daily with Squarespace.
WooCommerce, an open-source e-commerce WordPress plugin, powers over 22% of the top e-commerce websites in the world.
Why Are So Many Businesses Interested in WordPress?
Indeed, above all CMS platforms, users consider WordPress to be their first choice to build a website. There are a few good reasons, why.
Variety of plugins. WordPress users get access to over 55,000 plugins that help them automate website management.
Search Engine Optimization. WordPress websites are created in compliance with Google's SEO directives and produce semantic markup, which means that WordPress websites will rank high on Google.
Variety of media types. Once WordPress was limited to writing blogs, but now this platform allows users to include different types of media, from photos and videos to social media posts and audio tracks.
All these points make WordPress one of the best CMS platforms content-wise, as it can be adjusted to all content preferences and ideas. And it is important for website owners since they often rely on content marketing to increase traffic.
Now, you may be wondering, which types of WordPress content perform best in terms of delivering traffic?
For all WordPress users, who want to drive engagement and increase website visits with the help of content, here are some of the content ideas for your WordPress website to skyrocket your traffic.
1. Blogging: Guides, Tutorials, Checklists
WordPress started with blogging, so we will also begin our roundup of WordPress content types with written content.
Let's take a look at an example.
You probably know Lifehacker as one of the top online blogs, where you can find answers to many questions, from how to build a kitchen yourself to fixing your personal relationship.
What about Lifehacker's traffic?
According to the stats by SimilarWeb, Lifehacker is visited by around 20 million people a month on average, with the bounce rate of almost 75%, which is good for a blog, and 1.5 pages per visit, which means that visitors often visit other pages on the website besides the one they were initially interested in.

What makes Lifehacker one of the top websites on the internet?
Among the top blogs on Lifehacker, the majority are guides, tutorials, and checklists. These types of content present a lot of interest for search engines, as they carry the most value.
The main objective of search engine optimization is to demonstrate the value of your articles to search engines. Users often look for actionable advice and sources that provide solutions to their problems. That is why 'how-to' queries are always in the top keywords entered in Google Search bar.
Hence, you can see the potential of guides, tutorials, and checklists in terms of increasing traffic. Users are looking for guidance and expert opinion. So, if you establish your website as a place, where they can get advice and have their questions answered, it will be able to enjoy consistently high traffic, like Lifehacker.
Plugin Suggestion: Checklist in Post
While creating guides and tutorials in the WordPress editor is pretty self-explanatory, adding a checklist might a struggle. You will need to add it as separate content to your article, which is hard to do in the WordPress editor if you want your checklist to look more engaging than an old-fashioned bullet list.
This plugin allows you to create a checklist in a visual editor, select the visualization option for your checklist, and then add it to your article. No knowledge of the code is required.
2. Interactive Content: Infographics, Quizzes, VR
Internet users are always looking for a new experience in their interaction with brands. "They are interested in getting new experiences with the product. So, including interactive content to your blog can deliver exactly what they are looking for, as it brings them closer to your brand", says Diana Adjadj, content marketing specialist at TrustMyPaper.
One of the greatest examples of using interactive content to drive traffic is Star Wars' official website (which coincidentally uses WordPress). About the time when Episode IX of Star Wars was to be released, the website posted interactive VR experience for their fans to check out as a teaser of the upcoming Star Wars Universe releases.


You can see this spike in traffic if you look at SimilarWeb's analysis:

Why are people interested in interactive content?
Customers are looking for new experiences with the brands they like.
Buyers expect companies to bring customer experience closer to the brand.
For a customer, it's all about value, and interactive content works best at delivering immediate value than any other content type.
For you as a WordPress website owner, interactive content also delivers quite a few benefits. "Our recent poll shows that 93% of companies choose interactive content in terms of educational value, as opposed to static content", says Dorian Martin, a content marketing specialist at WowGrade.
Apart from that, interactive content represents your brand from a different, more creative and innovative perspective, not to mention that it works great to diversify your content strategy.
Which types of interactive content work best for increasing traffic?
There are plenty of options you can choose from:
eBooks
quizzes
calculators and generators
interactive videos
infographics
You can even add an interactive VR experience, where customers can test your product. "Keep in mind that the choice of the type of interactive content should be in harmony with your content strategy and the purpose of your product", highlights Angela Baker, content marketing specialist and senior writer at GrabMyEssay.
Plugin Suggestion: Interactive Content H5P
Luckily, WordPress doesn't limit its users with the choice of interactive content types, as you can now do it with a plugin without in-depth knowledge of the code.
With Interactive Content H5P, WordPress users can create presentations, interactive videos, memory games, quizzes – any type of interactive content to fit their needs.
3. Audio Content: Podcasts, Audio Versions of Articles
It may seem that there are not too many creators that use audio on their websites or blogs. However, you might be surprised that this is a rather common practice.
One of these creators is Oprah Winfrey, whose website has probably the steadiest traffic we've ever seen:

Of course, there is a lot of different content on this website, the one that has the most visits so far is SuperSoul Conversations, which is Oprah's podcast. SuperSoul Conversations can be found on many online resources, from Google Podcasts to YouTube.
Adding a podcast to your WordPress website or blog is one of the ways to deliver more traffic at the lowest cost. A podcast doesn't always imply that you need to invite someone to have a chat on a particular topic.
Oprah often does a so-called one-person podcast, where she chats about her experiences during her show, her favorite books, and stories from her fans. Recording audio doesn't require high-maintenance equipment, it can be done with a simple microphone on your laptop or computer.
You can also record your articles for those who cannot read but still want to enjoy your content. This way, audio content helps you make sure that you cater to the needs of every visitor of your website.

What does audio content give you in terms of increasing traffic?
Including audio recordings to your website or blog gives more people an opportunity to get familiar with your brand and your content.
Not everyone can find the time or an opportunity to read an article or watch a video. That is why, as the stats show, over 51% of people listen to a podcast while being engaged in another activity, like walking, working out, working, driving, cooking, etc.
Recording audio won't cost you much, but it will definitely open a new traffic funnel, allowing more people to access your content.
Plugin Suggestion: Featured Audio
This plugin allows all WordPress users to add featured audio to their websites or blogs. While editing your content, you will have a featured audio metabox, where you can upload the audio file. You can also change the position of the audio on the page to your liking.
4. Video Content: Brief Guides, Product Reviews
Now, you may be asking a question, why someone would be interested in adding videos, especially to a blog, when you can just give a link to YouTube? YouTube already delivers enough engagement and influence on its own.
Fair question, and fair point as well.
But you'd be surprised, how many benefits video content on your website can bring you in terms of increasing your traffic. Sadia Badiei, a dietitian and the owner of Pick Up Limes, a YouTube channel with vegan recipes and nutrition tips, knows that for sure.
On the official website of her Pick Up Limes brand, Sadia often uploads the videos, which also can be found on her YouTube.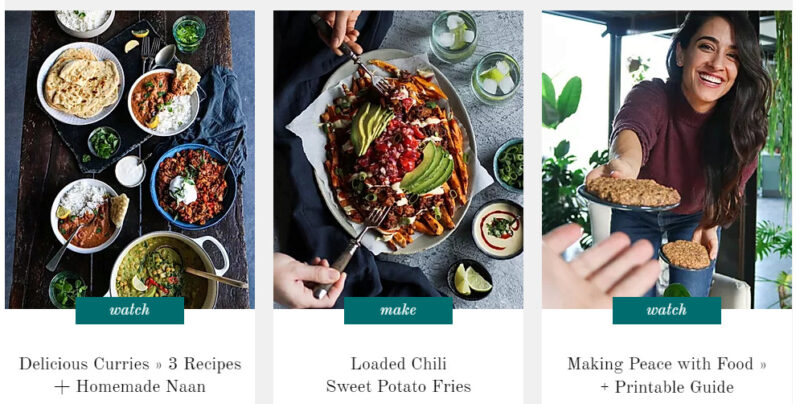 By doing so, her brand benefits from a multichannel marketing strategy, which clearly works well for her blog in terms of increasing traffic:

Why you should consider including videos to your website or blog?
Video content itself is very powerful in terms of increasing engagement, which also has a great impact on revenue and sales. "We surveyed marketers from 100 companies from the U.S., and 51% of them confirmed that video content had the best ROI and increased revenue growth by 49%", shares Melanie Sovann, a content strategist at Studicus.
But there are other benefits behind these numbers that video content can give your WordPress website:
Video supports your written content. If the topic of your content requires visual explanations, videos will deliver more engagement than photos.
Video content on your website improves SEO. 62% of Google's universal searches include videos. Google recognizes the value of videos and the popularity of video content. That is why if your video answers the inquiry of a searcher, it will appear on the top of search results.
Videos represent your content from a different perspective. By including a video to your website or blog, you add another channel, through which the visitors can learn about your product.
Internet users consume a lot of video content and expect brands to deliver engaging videos with product demonstrations and brief use guides. Your visitors will be more interested in staying at your website for longer if they get to engage with your brand through video content.
Plugin Suggestion: Envira
For WordPress users, who are looking for ways to create a photo or a video gallery, Envira is the best choice. It doesn't require you to make adjustments to the code and use a simple drag-and-drop tool without having to use standard WordPress gallery widgets. It is also mobile- and SEO-friendly.
Wrapping Up
Building a content marketing strategy for your website can be a daunting task. Especially, when it comes to optimizing your content strategy to bring you more traffic.
However, if you use WordPress, its plugins allow you to create a diverse marketing strategy. This way you will be able to not only create standard articles, but include interactive content, audio content, and video galleries.
Hopefully, our ideas will inspire you to make your WordPress website or blog more diverse and create content that will boost engagement and skyrocket your traffic.