At this time, everbody owned at least one account of some most popular Social Networks like Google+, Facebook, Twitter, Pinterest, LinkedIn, WordPress.com, Yahoo, Live, Vkontakte (ВКонтакте) … That's why they won't registe their new account of your WordPress website. The best solution to incease more communication with your audience but don't require your separate membership are Enable Social Media oAuth login in WordPress.
What are the benefits of Social Media Login
Social Media Login, also known as Social Sign-in, is a form of single sign-on using existing login information from a social networking service such as Facebook, Twitter or Google+ to sign into a third party website in lieu of creating a new login account specifically for that website.
It is designed to simplify logins for end users as well as provide more and more reliable demographic information to web developers.
Advantages of Social Media Login
Targeted Content – Websites can obtain a profile and social graph data in order to target personalized content to the user. This includes information such as name, email, hometown, interests, activities and friends.
Multiple Identities – Users can log in to websites with multiple social identities allowing them to better control their online identity.
Registration Data – Many websites use the profile data returned from social login instead of having users manually enter their Personally Identifiable Information into web forms. This can potentially speed up the registration or sign-up process.
Pre-Validated Email – Identity providers who support email such as Google and Yahoo! can return the user's email address to the 3rd party website preventing the user from supplying a fabricated email address during the registration process.
Account linking – Because social login can be used for authentication, many websites allow legacy users to link pre-existing site account with their social login account without forcing re-registration.
How To Log In To WordPress Using A Social Media Network Accounts
If you want to enable this feature by hand, it requires advanced programing knownledge, services API … My advise is Use WordPress plugin for simpler and easier solution, the hardest things has done by the author's plugins.
You'll also be glad to know that all of these plugins are free to download, so feel free to try a few to see which suits you best.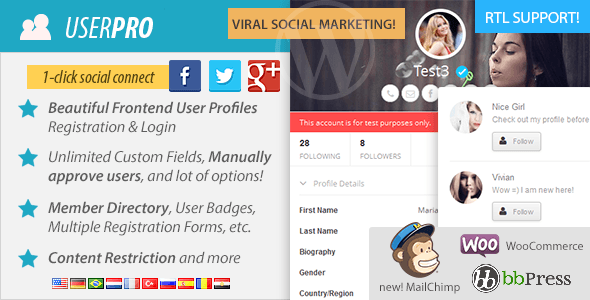 UserPro is a full featured user profile and community plugin for WordPress. It offers beautiful front-end profiles, login and registration for WordPress. UserPro is packed with so many features and control, It is more than just a user profiles plugin, with UserPro you can build your own community of searchable members directory, and give each user a customized, elegant profile – plus frontend, customized registration and login to your website. Your users will not know that you are using WordPress.
Social connect integration – in addition to standard frontend registration/login system, UserPro enables (optionally) social connect and instant profile sync via Facebook, Twitter, Google+, Bkontakt, and LinkedIn (soon!)
This WordPress plugin isn't free, its price is $28 but it's worth to own with many pro features.

Social Login is a professionally developed and free WordPress (BuddyPress compatible) plugin that allows your visitors to comment, login and register with 25+ Social Networks like for example Facebook, Twitter, Google, LinkedIn, PayPal, LiveJournal, Instagram, Вконтакте and Yahoo.
It helps you increase your wordpress/buddypress user engagement in a few simple steps with the Social Login Plugin!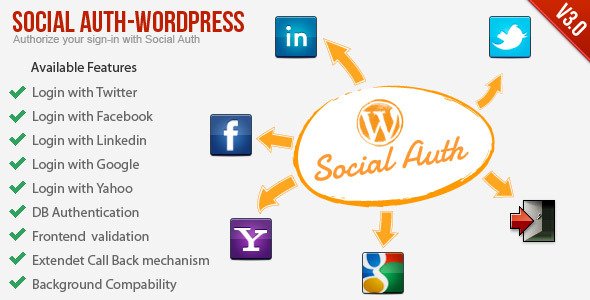 Socail Auth is a WordPress plugin/widget that lets you authorize your sign-in with social newtorks like Facebook, Twitter, Linkedin, Google, Yahoo
You can make a login area on your website in order to do let your users to authorize their sign-in with social networks by purchasing and integrate to your website.No need regisration anymore!

Using WordPress Social Login, your blog's users will be able to login and comment with social networks such as Twitter, Facebook, Google and Yahoo. It also allows you to import users contact list from Google Gmail, Facebook, Windows Live and LinkedIn.
Features
Able to login and comment with social networks such as Twitter, Facebook, Google and Yahoo.
Licenced under MIT License, WordPress Social Login available to everyone for completely free, with all features included, at absolutely no cost.
Built on top of an Open Source Library
23 supported social netwroks
Easy to customize and integrate
it's also one of the easiest plugins to set up
Janrain social login increases site registrations and generates referral traffic to your site by allowing users to easily register and login via an existing social network or email ID. Janrain social sharing allows users to publish their comments or activities from your site to multiple social networks simultaneously.
Social Login:
Give your visitors the option to sign-in to your site with their existing social network such as Facebook, Google, Twitter, Yahoo!, LinkedIn, Windows Live, MySpace, AOL and others (20+ Supported Networks).
Social Login Display Options:
Social login buttons for standard WordPress registration screen
Social login buttons for comments
Social login buttons within Widgets
Show social provider photo as avatar
Shortcodes for customized integrations.
Provider selection viewable by admin in user list.
Collects Email Address:
Prompts users to enter an email address if the provider used for login does not pass a verified email address (WordPress Requirement). Expert option to collect placeholder emails to bypass this.
Legacy Account Mapping:
If your user has an existing account with your site, Janrain Engage will map profile data received at login with the existing account (via verfiedEmail only).
Social Sharing:
A customizable widget for your users to share your articles to multiple social networks simultaneously. Users can select up to four social communities such as Facebook, Twitter, LinkedIn and Yahoo for sharing. On average this will generate 13 referral clicks back to your site for each article that is shared.
Social Sharing Display Options
Social share buttons at beginning or end of posts
Social share buttons on each comment
Share button customization
Social Provider Comment Icons:
Each comment from a user signed in through a social provider gets an icon to the provider that links to their profile page for that provider.
Connect a provider to an existing account:
Users can connect a provider to their account through the profile page or the widget. They can also change the provider in the profile page.
Automatic user registration:
Register new users automatically when they want to share something from your site. This optional feature lowers the barrier for new user registration.

Features:
1. Social Login
Eliminate traditional registration form and let your users sign-up in few seconds with their existing IDs such as Facebook, Twitter, Google, Yahoo, Vkontakte and over 25 more. This will increase your sign-up rate up to 150% and you quickly build a loyal customer base!
2. Social Sharing
Let users share your web contents on over 90 social networks resulting into dramatic increase in referral traffic.
3. Social Commenting
Your users can now post comment with their social IDs. Option available to auto approve comments for social ID providers.
4. User Profile Data & Social Analytics
Every time a user logs in, it fetches user profile data and store them in your WordPress database. These data and IP based data are used to present a unique social analytics to understand your userbase.
5. Single sign-on
Enable single sign-on in your WordPress multisite website. Our plugin support both domain-based and/or directory based features of multisite WordPress.
Note: Social Sharing feature is available with LoginRadius FREE plan where as Social Login and Social Commenting features are available with paid plans.
Conclusion
In last article, I've mentioned about the solution to Improve WordPress Comments System with Social Comments and in this article you see Social Media Login is another method to helps your audience can discuss about your topic.
If you know of any other great solutions not mentioned in this article, please share them in the comments area below.