If you're looking to start a trucking company, you'll need to consider a lot of factors. There's the cost of purchasing or leasing the vehicles, insurance, licenses, and permits. And then there are the higher costs of keeping your vehicles and drivers safe — in terms of maintenance and safety equipment — not to mention the costs associated with hiring employees to keep your business running smoothly. Just as getting the Idaho DOT number is important, you'll need a website that looks professional while allowing your customers to find the information they need easily.
A trucking business website is more than just a brochure or a portfolio — it's one of the most effective ways to reach customers, build awareness, and position yourself as an authority in your industry. Here are some tips on what makes up a good trucking business website and tips on how professionals can use it to the best effects of your site.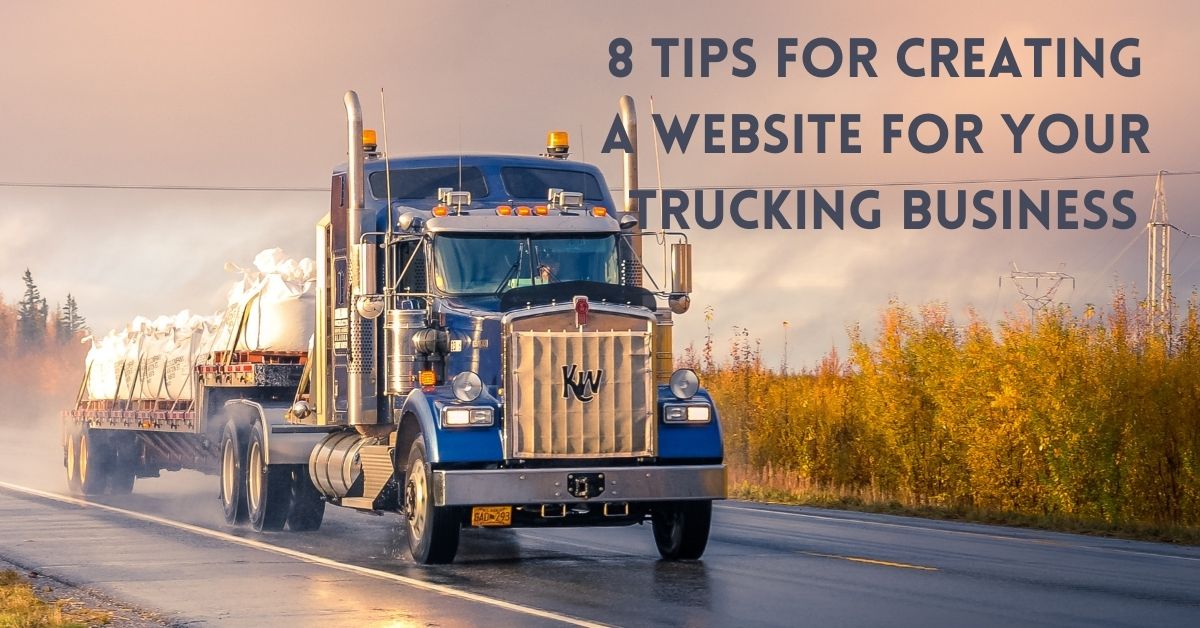 Use quality plugins and tools for your website
When it comes to website design, it's important to use quality plugins and tools that are compatible with the most popular web browsers. Look for the best website plugins and tools for trucking companies. The plugin that you use to build your website is one of the most important factors when it comes to your website design. Plugins are tools or applications that are used to extend the functionality of other software. They are a great way to make your website more dynamic and interactive.
Be sure to include all of the information you want potential customers to see
When setting out to develop a website for a trucking business, there are a lot of things to think about. There are many different aspects to consider, like the functionality of the site, the design, and the content. However, one of the most important aspects of creating a website for your business is making sure that all of the information that you want potential customers to see is readily available. This can be easily solved by creating the right categories and tags on your website.
You want your site to be easy to navigate, but you also want to make sure that you include all of the information your potential customers want to know before they contact you. This includes information such as your business hours, what your services are, how you can be reached, and more. Be sure to include all of this information in an easily accessible location on your website.
Make sure your site loads quickly, is easy to read and follow
A site that loads slowly will frustrate your customers and lead them to abandon the site. It's also a good idea to make sure your site is mobile-friendly. Mobile site visitors tend to be more engaged and spend more time on your site when it's optimized for mobile devices.
When designing a website for a trucking business, you have to consider the needs of your audience. Your audience is made up of truck drivers, dispatchers, and business representatives. Their number one concern when using a website is usability. They want to find information quickly and record it correctly; they don't have time to click through complex menus or spend time searching through a maze of information. In order to keep their attention, your website has to be simple and easy to navigate. There should be a balance between information and graphics. The graphics should complement the text, not take away from it.
Also, as a truck owner, you probably have a lot of content to include on your site. However, you don't want the site to be too chaotic. Make sure the information you include is organized in a way that guests will be able to read and easily find what they're looking for. If you include too much information, you'll overwhelm your visitors, and they'll start looking elsewhere.
Select a website design that allows you to showcase your business, but keep it simple
When you first start having your website built for your trucking business, the excitement can take over, and you might find yourself thinking about all the cool functionality you could have. But before you go there, you should think about what your goals are. Are you building a website to sell more products or services? Or are you looking to build a site that will help you gain more customers? Or maybe you just want to build a site that will better allow current customers to get in touch with you. Suppose you're looking to build a website that will help you gain more customers. In that case, you need to ensure you provide the most useful, interesting, and unique information about your trucking business to the people who visit the site.
If your goal is to sell more products or services, you want to make sure you are creating a site that is easily navigated from page to page and that the most important information is front and center.
Use a content management system (CMS) to update your site with ease
There are so many options when it comes to designing a website. You can use a pre-designed template, or you can use a drag-and-drop website builder. But, if you have a trucking company that operates at a high level, you might want to consider using a content management system (CMS). A CMS is a web application that allows users to manage their website without having to know any code. They allow users to add and remove pages, upload images and videos, upload documents, and much more.
Using a content management system (CMS) is easy to update your website with ease. A CMS will allow you to add and update content on your site without any coding knowledge. There are many different CMS options out there, so you will need to take some time to research the different systems and find the one that best suits your needs.
Track customer behavior on your website to help you achieve higher rankings on search engines
As a business owner, it is important to keep track of how well your website is performing. If you are serious about improving your website, you need to know if your website is actually generating new customers. You can easily find out by using Google Analytics to track your website's behavior. Google Analytics can also help you understand where your customers are coming from, how long they stay on your website, and what pages they visit. Armed with this information, you can make changes to your website that improve your customers' experience and encourage them to come back.
The search engines provide ranking signals for the websites, which can be used to help improve your website rankings. Understanding how search engines are ranking the website will enable you to make changes to your website so that you can get a higher ranking. Some of the ranking signals that you can use for your website are
Visits on the website
Conversions per visit
Bounce rate of the website
Time on the website.
Showcase your company's areas of expertise to show you're an industry leader
Whether you're a small fleet or a major fleet, you still need to stand out from the competition. Having an online presence is a must for any trucking company, but to truly stand out from the crowd, you need to establish your expertise and make it clear that you are a leader in the transportation industry.
These days, trucking companies have to rely on a lot more than just transportation to get ahead. Trucking companies are often experts in many different aspects of the industry, and one of the best ways to show this is to create an industry blog. This is something that you can use to showcase your expertise to the rest of the industry, and that can also be used to promote your company to people who aren't familiar with your brand. By writing a blog post that talks about your industry expertise, you can position yourself as an expert and a leader in the industry.
Use search engine optimization (SEO) tools for WordPress best practices for maximum visibility and traffic
There are a lot of factors that go into creating a successful website. There is the design, the layout, the navigation, and the content. However, one of the most important factors of all when it comes to website success is search engine optimization (SEO). Search engine optimization is the practice of optimizing your website for search engines to be able to find it and then rank it as high as possible in the search engines. Many new website owners don't put a lot of thought into search engine optimization (SEO) and therefore don't see the results that they are looking for. Most of the time, it's because they don't understand how to perform search engine optimization (SEO) on their own. Luckily, there are some great tools out there that can help you to optimize your site for search engines.
WordPress is the most popular website platform around, and it's easy to see why. It's easy to use, has a huge community of users, and is free. If you're interested in improving the search engine visibility of your website, there are a plethora of SEO tools for WordPress that can help. Here are a few of the best. Yoast SEO and All in One SEO Pack, and both of these plugins are great for search engine optimization. However, they aren't the only tools around.