I'm not collecting most value deals in the week for a long time ago. In this week, Envato offers a week with 50% OFF of their Selected WordPress Themes, Plugins & Design Assets. It's launching 2:00pm AEST July 25th. To receive the daily deal, you'll just need follow this post everyday instead to sign up to their exclusive mailing list.
Daily discounts will only last 48 hours, so don't delay in claiming.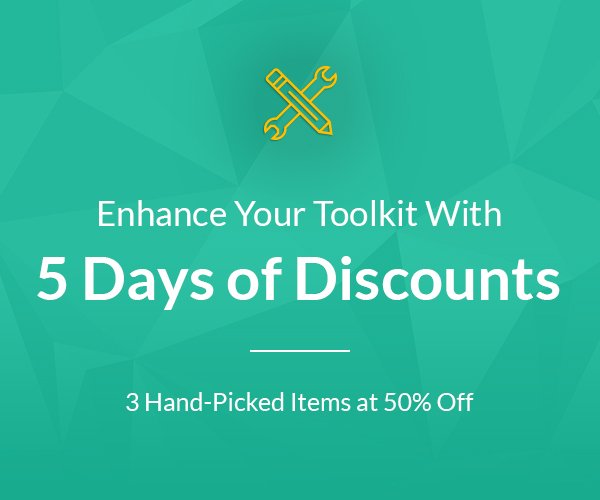 The Daily Offerings:
50% Off one handpicked WordPress theme
50% Off one handpicked WordPress plugin
50% Off one bonus goodie to enhance your toolkit
[Expired]

Final Day of 50% Off – Encuarage Education

Offer ends July 3sth 2016 at 2:00pm (AEST).
Today, we've got an infographic building tool packed with 40 ready-made templates, a landing page maker with over 45 templates and an education theme including logins and customized formats for specific needs.
[Expired]

Day 4 of 50% Off – Promote Your Event

Offer ends July 30th 2016 at 2:00pm (AEST).
A lot of event management now relies on online marketing. Get ahead with this theme built especially for music-focused events, clubs or bands, an Instagram plugin to show what you got up to and an email template packed with all your promotion essentials.
[Expired]

Day 3 of 50% Off – Start Selling Online

Offer ends July 29th 2016 at 2:00pm (AEST).
Running your own online store is rewarding, but it's also a lot of hard work. Here to take some of the edge off is a handy WooCommerce theme, a bulk import/exporter to help you with inventory and a hero image maker – perfect for creating your own social media images.
[Expired]

Day 2 of 50% Off – Launch Your Startup!

Offer ends July 28th 2016 at 2:00pm (AEST).
Things that are important but aren't critical are sometimes neglected in startups. Here to help you fix that is a directory theme, a speed optimizer for your website and a PowerPoint presentation template. See below for full details.
[Expired]

Day 1 of 50% Off – Get Your Creative Juices Flowing!

Offer ends July 27th at 2:00pm (AEST).
Being creative takes time and attention to detail, but sometimes there are little time savers that can help out! Get started with the items below.

If you miss one of these deals, stay tuned for tomorrow, when we offer some items to help your startup!