Did you have incredibly awesome Halloween Saturday? Hello November! It is here, like it or not, the holiday season is upon us. From this month, Black Friday and Cyber Monday offer some of the best deals of the year on electronics and other items, and as retailers expand the holiday shopping season, expect to see those deals earlier and earlier.
But don't forget to grab 9 Premium FREE file of the month which we're always listing them at the beginning of each month.
All you have to do is create an account from one of the market places and you get access to all Envato Marketplaces. Make sure you're logged in with your Envato Account to get them for free. This offer is for registered members only.
They're available until midnight on the last day of this month 30rd November, 2015 (AEST). Grab them while you can!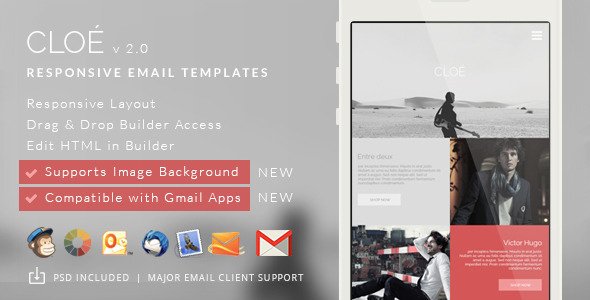 Cloe, responsive email template is one the best HTML email templates for online businesses to promote their products. This simple yet business email template can be used for events.
Cloe comes with:
Free online template builder / editor access
MailChimp ready template
Campaign Monitor ready template
Plain HTML Email Template
PSD included

Being the best responsive email template, Cloe is available with a wide range of stunning features like responsive layout, drag & drop builder and multiple email clients compatibility. This aesthetically designed simple HTML email template is extremely clean & flexible. It has been specifically built to promote creative studios, startups as well as online businesses and send creative emails in the coming New Year and Christmas. Created using inline optimized CSS code, Cloe is one of the powerful HTML email templates, which is supported by the popular email clients and works well with all the major web browsers. This professional email template brings a number of benefits, including easy access to free online template editor/builder, unlimited colors & structures, support for main email clients, Campaign Monitor Ready, MailChimp Ready Template, easy customization and many more.

ActiveDen – Flash Site Template XML with FlipBook v14

Flash Site Template XML with FlipBook v14

Features:

Choose template start page
Change all colors in xml files.
Create 2 levels of menu in the XML: menu item, menu sub-item
Hide selected menu elements (attributes visible=false in menuPrimary.xml)
Deep linking – use possibility of redirecting to the any subpage (swfAdress.js)
Add logo and logo redirect
Add redirect for menu position
Full screen on/off (button and right key mouse)
Place background for every menu element individually (you can place background default) in xml file
Add unlimited modules
Add unlimited mp3 in xml file
Add new modules
Load SWF file
Add purchased modules from Activeden

AudioJungle – Happy

Happy


Summer is here, the sun is shining, people fall in love, we all wanna live out our full potential, we are motivated, we feel good, we are all free and positive thinking!

Featuring ukulele, glockenspiel, bells, muted acoustic guitars, piano, strings, hand claps and nice tight swinging brush drums.

Perfect for enjoying life, happy advertising, upbeat commercials and general feel good backing.

Website Shortcut Tool – Link Manager


Organize all of your websites with one program. You can easily access any or all websites with one click. If you have many websites you want to keep track of, you can just paste them into the file and the program will recognize them. (see demo below)

Generator icons for IOS7 and Android applications. Easy Customization and editing. High quality and unique design for your applications. Unlimited opportunities for customizing.


App Icon Generator


In the generator includes: 37 kinds of base 16 cover 11 styles of logo

Snail climbing plant leaf.


Snail climbing plant leaf.

Minimal Abstract Logo

Features

Renders less than a minute!
Duration:8 second
Change COLORS with a few click!
1 Logoholder + Tagline
After Effects CS5+ compatible
Video tutorial included!
Font used: Bebas Neue
Music is by Rameses B you can get it here
Fast and Easy to customize!

Creative Business Template


A4 Flyer (210×297 plus 3mm bleeds total 216×303) 300 dpi, CMYK photo are NOT included. All text editable with text tool 1 PSD File 3 colors 1 TXT (HELP FILE)