By the latter half of 2020, there were more than 4.4 billion internet users worldwide. That means more than 45 percent of the total world population enjoyed access to the internet, and with the consistent improvement in mobile technology, the number is set to increase. The number of people using social media sites have also increased worldwide, with an approximate 3.3 billion people maintaining at least one social media account.
The internet has quite naturally become the best place to advertise. More people are choosing to spend their time online than in front of the television, because of the control they have over the content they view. With content marketing, it becomes possible to provide your target audience with the information they seek without blatantly promoting products or businesses. However, without a good strategy in place, you may end up spending too little or too much on certain parts of the process, while completely ignoring the others. An unplanned content marketing initiative leads to wasted effort and significantly lesser ROI. With the tips given below, you can create an excellent content marketing strategy and maximize the social media engagement of your brand.
First things first
A content marketing strategy should provide an overview of how you plan to use content to address the needs of your customers and outline your brand as a reliable provider of products or services. As the target demographic for each brand is as unique as the business itself, there are no definitive templates that can be used by everyone. There are however, some common components that most content marketing strategies show:
Outline your goals
It will be difficult to implement a content marketing strategy if you are not sure about the risks involved, the reason for creating quality content, and what you a believe successful strategy will lead to. Once you gain clarity about the final intention of a content marketing strategy, you will be better able to identify opportunities that you can use and obstacles that you will need to overcome as a business to have a significant online presence.
Understand your target audience
The target demographic of your content marketing strategy is one of the most important components of the process, as many of the other components depend upon how well you are able to empathize with your customers and clients. You will need to invest in research to find out the preferences of your target demographic, so that you can plan to fulfill them accordingly. You may even have multiple distinct demographic groups and can create unique plans for each of them to maximize the effect of your content marketing strategy.
Get the right tools
Once you have the right talent and a good content marketing strategy in place, all you need are a few tools to help make the process effective and efficient. Again, as the goals for each content marketing strategy is different, you may find some tools an absolute necessity while some others may simply improve your existing capabilities. Given below are some of the popular tools you can use in your content marketing strategy:
DrumUp: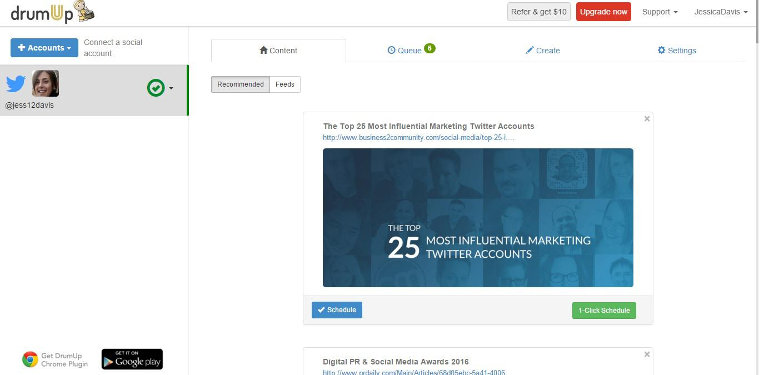 Regardless of the objectives of your content marketing strategy, chances are that you would find DrumUp indispensable. It is a content curation platform that supports scheduling posts across Twitter, Facebook and LinkedIn, and allows you to organize your content strategy much more efficiently. You can add RSS feeds to the platform and share the latest content across your social media accounts with a single click. DrumUp also has an ingenious system that can help you gamify employee advocacy and maximize your content marketing efforts with the power of your employees' connections! You can also control the scheduling of posts across your Facebook, LinkedIn and Twitter accounts from a single dashboard.
PowToon: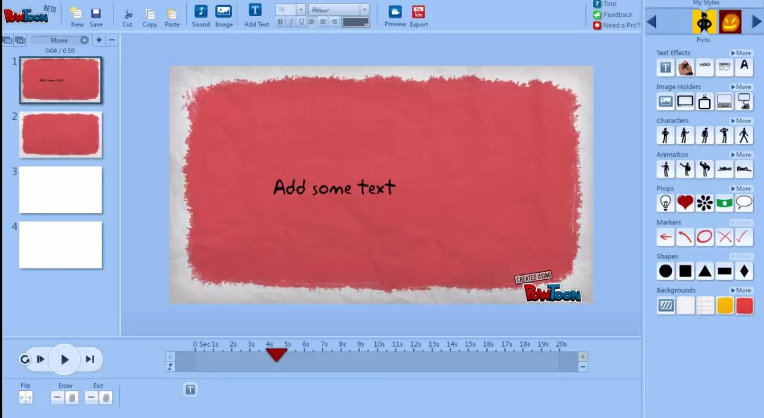 Video content is able to convey much more to your audience in a short span of time, but it also takes a significant amount of effort to create high quality videos. If you believe that your business can communicate better with your target audience using animated cartoons, then PowToons is the right tool for you. It is an online service that allows you to make cartoon animations to convey the right message to your audience. It is free, and it uses a drag and drop interface which makes it very easy to use. You can use PowToons to explain how your services or products work and how your customers would benefit, in an engaging platform instead of only using textual content.
Easelly: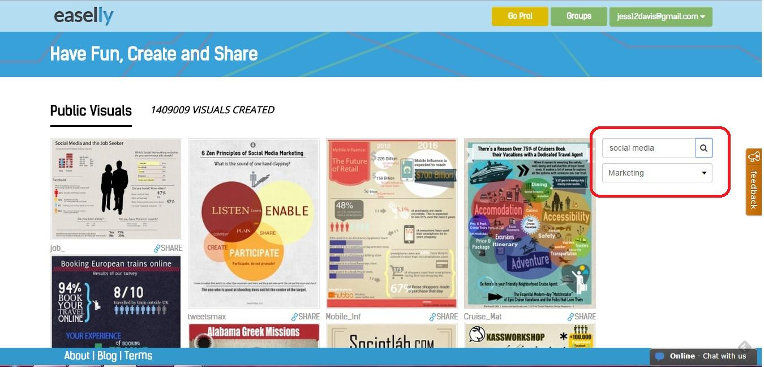 Infographs are a great way to promote ideas and messages to a target audience visually, instead of relying on text. Easelly provides you with the opportunity to create infographics using thousands of high quality templates. The tool is available for use online and it is free to use. Moreover, you do not need an understanding of programming languages or designing software to use Easelly, as the entire process uses an intuitive drag and drop system. You can share things like business presentations, lesson plans and statistics to your target audience using Easelly.
Social Mention: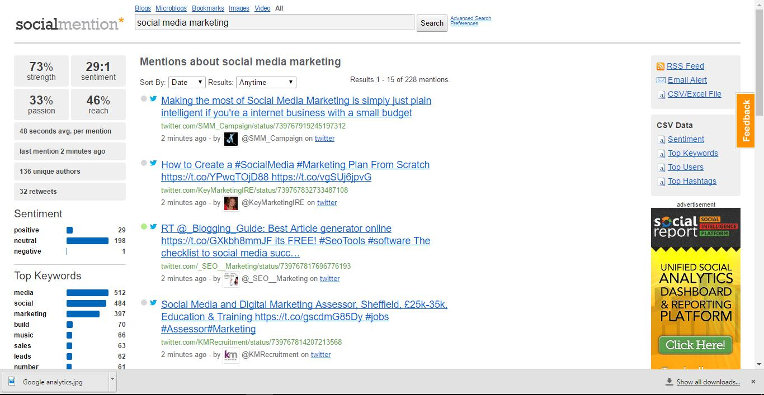 Your online content can create waves in social media circles, but you may get to know about it much later. By that time, regardless of the response being positive or negative, it may be too late to use it as an advantage. Social Mention allows you to stay on top of what social media users are saying about your brand or any topic that may be of interest to your business. It helps you monitor the chatter on more than 100 social media sites and aggregates it into a single stream of information that can be useful to you in real time.
Google Analytics: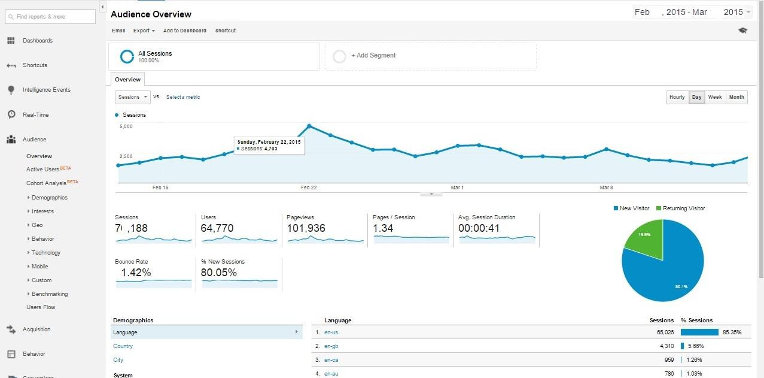 Another tool that will prove to be indispensable to you, regardless of your content marketing goals, is Google Analytics. The service provides you with an overview of the performance of your website and content using metrics like, number of visitors, session, bounce rate etc. Using Google Analytics, you can identify how your visitors located the site and which kind of content is performing the best in your site. The service is completely free of charge and it helps you optimize you content marketing strategy.
The list of tools is by no means comprehensive, but it provides you with a basic set of methods you can use to engage your online audience. You may explore the use of other popular tools used for content marketing strategies to check if it contributes towards improving the reach of your content or guiding more of your audience towards the sales funnel. With time, you will need to find a healthy mix of each type of tool that works well with your brand.
Create a detailed content plan
Once the target demographic has been finalized, it is time to look at how you are going to design your content around what your brand offers. The content created by your business needs to convey a uniform set of messages and ideas so that your readers will be able to differentiate it from what is created by your competition. The content plan component of your entire process will include methods to attract your target demographic to your site, and eventually towards your sales channel. You will need to decide which platforms you will be using, how often you will post, what objectives you will be meeting for each one. A well thought out content plan will make sure that your strategy connects with most members of your target audience.
Plot your conversion channel
The objective of any content marketing strategy is to engage with customers and lead them towards the sales channel of your brand. A seamless conversion channel ensures that your customers are not inconvenienced when they are trying to purchase your products or services. This ensures that your efforts in creating high quality content is met with the upward trend in your brand's revenue.
As you develop a content marketing strategy, you will have to gather a team of people with specialized skills to contribute to each part of the process. Content creators, bloggers, Search Engine Optimization (SEO) experts and designers will work towards attracting and retaining your target demographic, while your sales and business team will work towards converting the visitors into leads. Depending upon your content marketing budget and your business objectives, you can hire the right talent and contribute to the online presence of your brand.
Measure, optimize and evolve
Tracking the success of your content marketing strategy does not only help you find out what works best with your target demographic, but it also allows you to address any negative trends before they become bigger issues. The process of measuring your success also makes it easy to identify the strengths of each platform, so that you can design your content accordingly. As your business grows and adapts to the changes in the market, it is important to review your content marketing strategy periodically to ensure that it continues to benefit the brand.
That covers everything you need to create a cool content marketing strategy. Go on and give them a try and let us know which ones work for you best.