I guess you heard of ThemeForest, CodeCanyon or GraphicRiver! One common denominator is that they all are part of Envato. Which is a world-leading digital marketplace company providing themes, images, project files and other creative items.
What you may not know is that you can download a bunch of great and useful free files every month. The bundle might include WordPress themes, HTML, the template, plugins, scripts, videos, tutorials and much more. It varies from month to month. But it is just perfect to use these items for your website, project, work or other creative purposes.
All you need to do is sign up for an account on Envato (free, no cost and without any obligation to purchase anything) and start downloading the files.
I hope you enjoy Envato marketplaces free files October 2014. They're available until midnight on the 31st October, 2014 (EAST). Grab them while you can!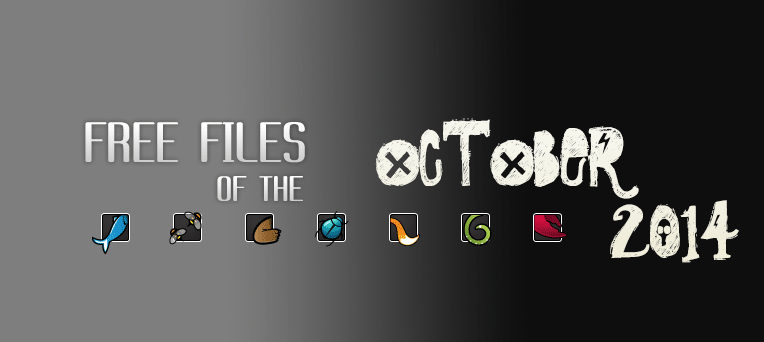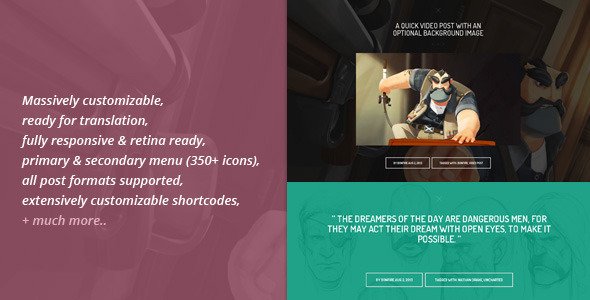 BEHEMOTH was designed to give bloggers of all types an environment which would better display and highlight their content; with the use of full-page backgrounds and bold type, your actual content becomes a significant part of the overall design.
Additionally, you can customize the colors of nearly every aspect of the theme through the easy-to-use WordPress customization tools; from the menu button to the footer and everything in between, you can significantly alter the default look of the theme with just a few clicks.
Feature-rich – The all-mighty features list
give each post and page a unique background image and/or background color (pick from carefully selected tones to ensure all posts look great next to each other with minimal effort)
WordPress customization tools enabled to allow for extensive color modifications; customize nearly every single aspect of the design with just a few clicks
logo uploader
a very unique, very customizable 2-level accordion menu for primary navigation (select from 350+ FontAwesome icons)
secondary icon-based menu (great for social links)
ready for translation/localization (.mo, .po files included)
a very unique, subtly animated comment form
contact form with validation
'Canvas' plugin included ($13 value, CodeCanyon link)
all post formats supported
widgetized front page footer (1-3 columns)
ready-to-edit child theme included
a fully responsive liquid design that works beautifully on desktop, tablets and smartphones (everything from forms and fields to menus and embedded content is automatically resized to ensure your site looks its best on whatever device and resolution it's being viewed on)
tested on several browsers across multiple operating systems and devices (Chrome, Firefox, Internet Explorer, Safari, Opera, iOS, Android, Windows Phone)
fully retina-ready
beautiful and subtle use of CSS3 and jQuery animations
touch-enabled gallery (customized PhotoSwipe)
a ton of extremely customizable shortcodes: alerts, progress bars, text highlighting, dividers, buttons, boxes etc. + shortcode for YouTube, Vimeo, USTREAM, DailyMotion, Blip.tv + easy shortcode for placing content in columns (text, images, as well as video)
extensive documentation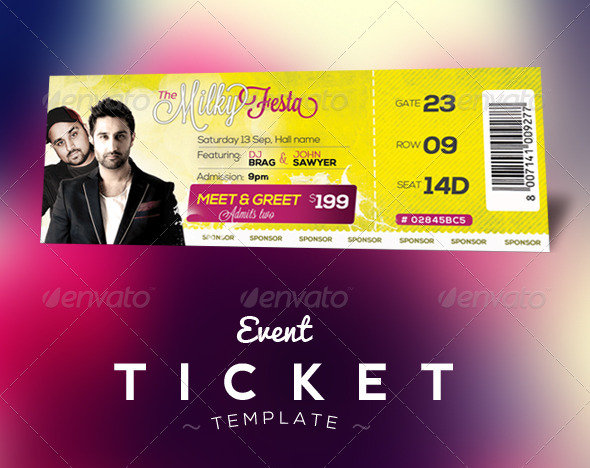 Customizing these tickets will be a smooth ride, because they were designed with every level of user in mind. But if you still can't do it, don't worry. There's this enjoyable help file waiting for you to open. Here are the details of your download:
Comprehensive layer naming
Easy to understand help file
Customisable PSD design
5.5×2" plus 0.25" bleed
1.75" detachable area + cutting guide
Trim lines available
300DPI, CMYK, print ready
Can be recolored according to your event's identity
The artists pictures are not provided in the download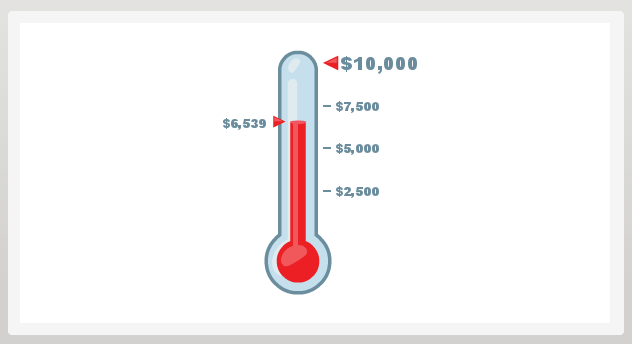 Simple XML-driven thermometer that shows how close you are to your goal. Great for fund raising or donations, or any other goal you're trying to meet.
You can set the goal amount, the current amount and the sub goal amounts on the right all in the xml. You don't even need to open your Flash file!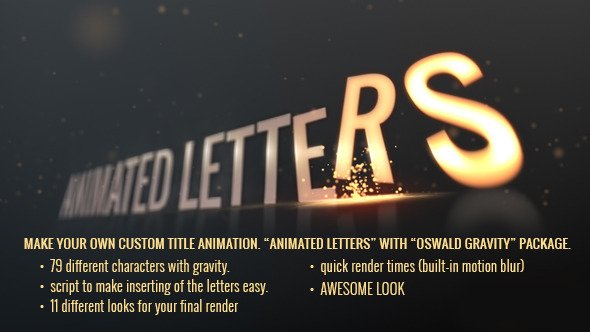 This project file allows you to make a cool title animation. Falling letters hit the ground and bounce a little after impact. We included 79 different characters using the Oswald font and gravity. You can type in your text and use the "Animated Letters" script file to automatically insert the characters in correct positions. For final render you can create your own look or choose one from our 11 compositions. Fast workflow, quick rendering, awesome look.
100% After Effects
No plugins required
Includes "Oswald Gravity" package (79 different characters with gravity)
Includes "Animated Letters" script (insert letters automatically)
Includes 11 different compositions for your final render. Average duration 7 seconds
Includes Video Tutorial & Quick Guide PDF
After Effects CS5 and above
Fast rendering
1920×1080 25fps FULL HD
Project uses "Oswald" font. Download it here
Script and expressions work only with English language version of After Effects.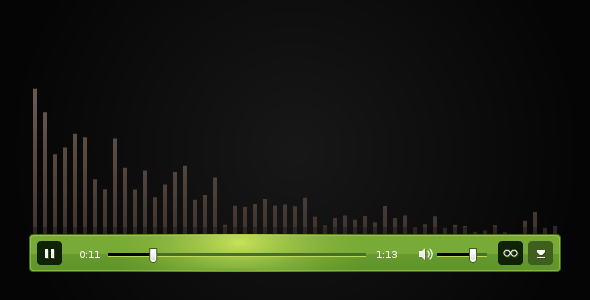 The waltz rhythm played by the string orchestra, the enigmatic sound of the clarinet, the opera soprano voice which appears doubling the clarinet and even the music box sound which seems childish at the beginning but adds to the tension and mystery of the whole piece. A track which brings suspense and unpredictable to your project.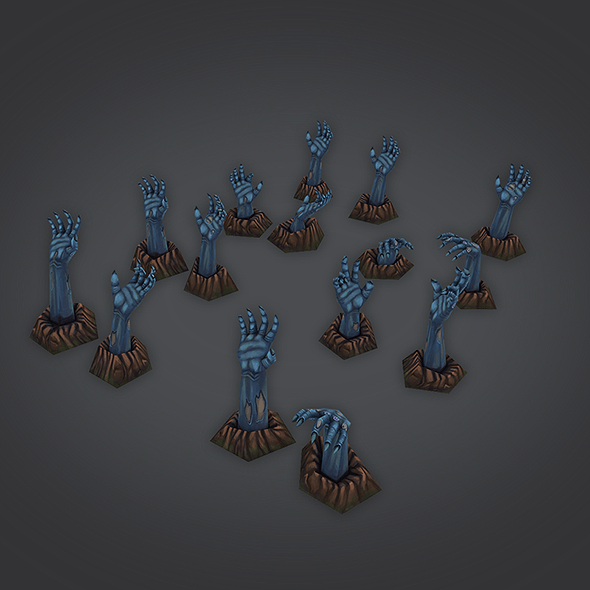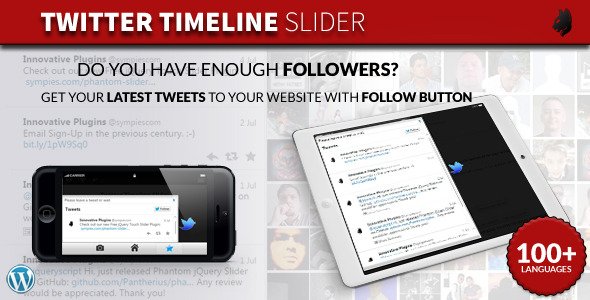 This plugin give an opportunity for the visitors to Follow you or Reply, Retweet and mark as Favorite your tweets through your own website. When someone retweet, reply or mark as Favorite your tweet, that will display for the other users and they can easily follow you and visit your website. With this trick, you can get much more visitors and followers, therefore your website traffic can be increased much more. You can lock the screen and set up a timer or you can allow for the users to close the slider. If you don't allow to close the slider, it still opened until the visitor reply or retweet any of your tweets. More followers, retweets, more visibility on Twitter, much more audience.
Viral spread, more traffic, more money!
You can lock the screen and set up a timer or you can allow for the users to close the slider. More tweets, retweets, more visibility on Twitter, much more traffic.
Work with Facebook Comment Slider
You can double the efficiency if you use the Twitter Timeline Slider with the Facebook Comment Slider. Both of these help to increase the audience of your website and can work together on the same page. Both slider has a detailed options to make it really custom and fit to your website.
Supports more than 100 languages
You can select the Timeline Slider language with a super simple method, only you have to choose the language from a drop-down list and the Twitter Timeline Slider will be translated automatically!
Full responsive, mobile-friendly!
The whole slider full responsive, the users can enjoy on tablets or with any mobile device. The Twitter Timeline Slider automatically fit to the viewer device.
Intelligent slider
Auto-open the slider box when the user reach the bottom of the page. (they can leave tweets easier after they red the content) Can remember for the user and you can set to display once for the same user. If you choose lock screen, the slider will only close when the user leave a reply or retweet or the time is up.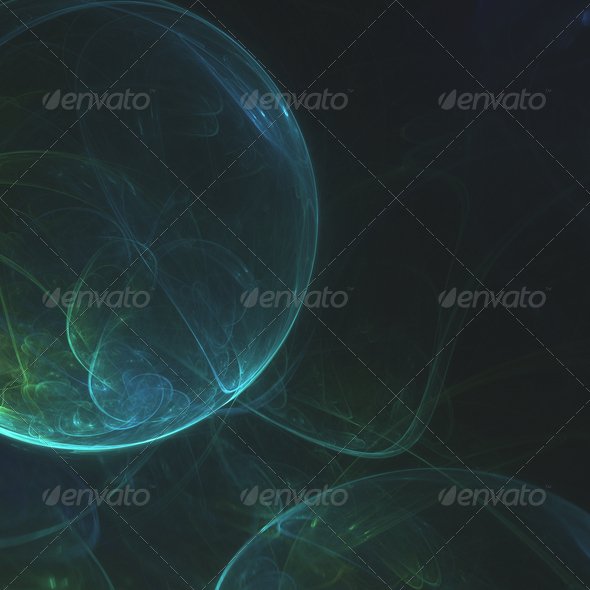 The blue dark bubbles on black background. Similar fractal in motion.