The awesome folks over at PixelKit.com have announced that they're giving away 3 Annual Membership Subscriptions to our readers! That's good news any day of the week, right?
If you're one of the 3 lucky winners, you'll get a FREE Annual Membership Account subscription to PixelKit.com. What does that mean? It means you'll have access to thousands of different graphics kits available from PixelKit. They're the perfect tools for all of your design needs, whether you have a personal blog or a multinational online business. Designers all over the world rely on PixelKit. UI kits are their specialty, and the world knows it. What comes with a UI kit from PixelKit? In short, everything that you'll need for app screens, navigation controls, icons, buttons, sliders, and all the other elements essential to beautiful online design.

How can you be a winner? Entering is easy when you follow these simple steps:
a Rafflecopter giveaway

If you could use some of the top design tools in the business to use for free for an entire year, why not enter to win right now? All you have to do is spend a minute or two on social media, and you could save yourself time, money, and energy. Do you have an online project that's stalled out or progressing slowly because you don't want to spend the money on a graphics UI, but you don't have a ton of time to do the work yourself? You could finish that project in no time at all, freeing you up to work on what interests you most.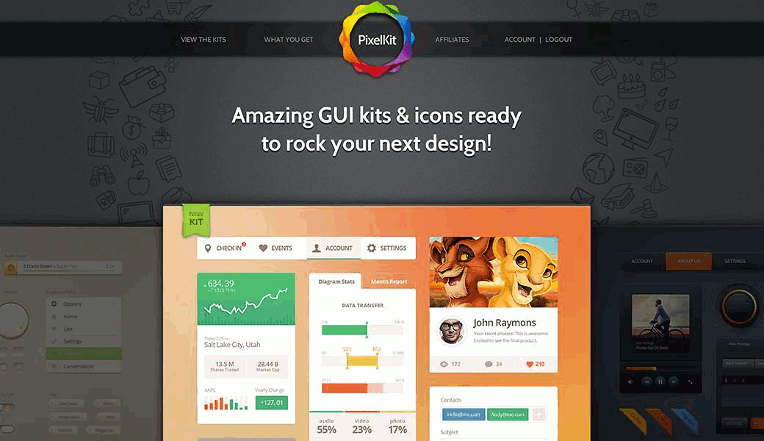 Here are just a few examples of some of the UI kits and icon sets from PixelKit:
Swanky Outlines – Outlines Icon Set
This vector outline icon set is clean and modern. It'll fit beautifully with your metro-designed site or app.
Modern Touch – Flat UI Kit
This flat UI kit embraces form and function equally. It's beautiful, modern, and sleek. Not only that, though, it's user-friendly and highly functional, too. Its balance of typography, padding, weight, positioning, margins, and colors gives your website a distinctive and professional look and feel, focusing specifically on content.
Shapes – iOS UI
Shapes mobile UI kit is a magnificent iOS UI kit crafted to inspire your next app design. Its transparent elements and smooth edges offer a fresh and slick appeal. The variety of elements and screens represent a great solution for a complete mobile application.
Fashion Ave UI Kit – eCommerce UI Kit
Perfect for designers and developers working with eCommerce and/or shopping websites. It boasts a wide variety of elements designed specifically for this niche market, all perfect for couture, high fashion, and other apparel shopping sites. If you want the sites you design to stand out in a clean, professional way, then this is the kit for you.
Gentle Edges – Minimalist Icon Set
With over 1000 vectorized icons in 46 categories, this set of minimalist, clean icons is perfect for any commercial project.
Spicy Treats – Restaurant UI Kit
A gorgeous restaurant website or application needs incredible ingredients such as: modern design, handpicked elements and inspiring layout. Carefully crafted sliders, buttons, footers and tabs are part of this wonderful restaurant UI kit making Spicy Treats UI perfect for a BBQ restaurant or bar website. It can be also used for an online coffee shop.
And PixelKit has another treat for you, too! Check out the
Free PixelKit Bootstrap UI Kits. If you want to make your design look even better and be even more functional, download these modern HTML templates.