Envato Marketplaces offers free "premium" product called "Free File of The Month". The start of the month always brings free files for us all, and May 2013 is no different the Envato marketplace again are offering new awesome collections of free premium files from different marketplace in one place.
Although many of the items are definitely worth buying, getting a little something free each month does sweeten the pot and make you keep coming back for more. Download and use all files for free on your web pages, blogs and projects. This offer is for registered members only. All you have to do is create an account from one of the market places and you get access to all Envato Marketplaces.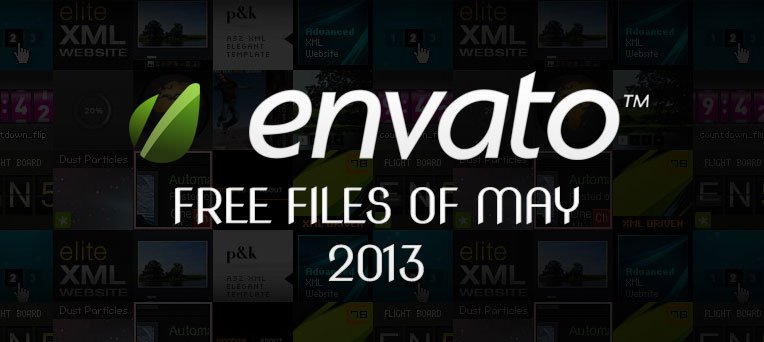 The man behind the T3 Framework Wikies proudly presents Skywalker for Joomla! 2.5!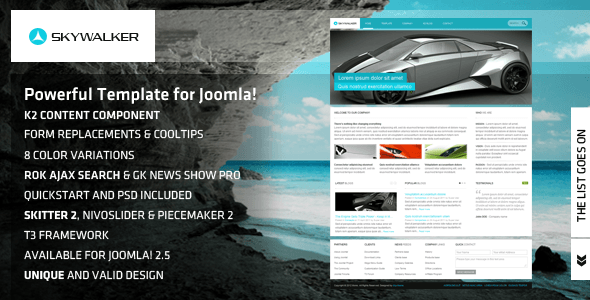 Skywalker template comes with real Quickstart Installation Pack for Joomla! 2.5 and is a unique template, with consistent typography, no one million colors or unlimited features, just simple to use features packed up and ready for you!
Main Features
Unique, XHTML valid and typographically consistent design.
Skitter Slider the best javascript based slider for Joomla!.
K2 Content Component used for the Blog Page.
GK News Show Pro with awesome styling.
Ajax search with awesome styling.
The Piecemaker 2 – my own extension, the smartest out there.
DNP Tabs – my own smart tabs module for Joomla!, light and very easy to use.
Simple Blank Module – my own extension for using custom code snipets.
Google Maps Plugin support.
Custom Form Elements – another unique feature powered by CSS3 & jQuery, to add more style to your checkboxes, radio boxes and select elements.
DNP White Social Icons – Custom Social Icons to match the template design.
Link Cooltips – hovering links the titles look great finally.
8 styles based on beautiful colors: turquoise blue, green, orange, yellow, red, purple, magenta, grey.
Fullscreen Background Images with AJAX load.
Custom error and offline pages.
Beautiful CSS3 powered typography with price tables, bubbles, blockquotes, lists and everything you need for your content.
30+ Module Positions on 3 very flexible desktop layouts.
jQuery 1.7 minimized included & running in "no-conflict" mode for various template features and your code snipets.
Mobile Ready Layouts – reforged of course – demo here
Smooth scroll to top – a unique feature that can be used to create navigation for one page website.
A new Tools top panel jQuery powered easy to customize for your needs.
Various code snipets with the Joomla! 2.5 Quickstart
Automatic Adjustments to enhance template typography
Complete Documentation
Forum Support
That's it ?!
Not realy.. a detailed features list is available on the demo site here.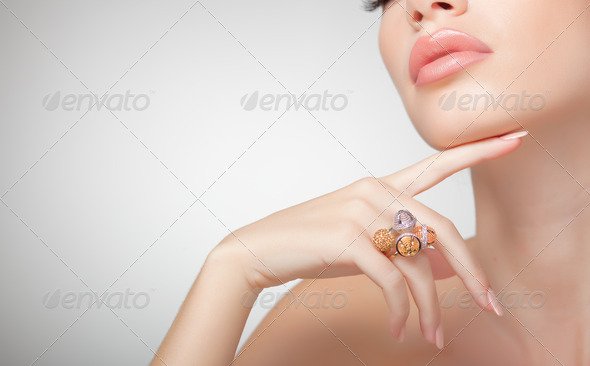 beautiful woman wearing jewelry, very clean image with copy space
'Determination' is an uplifting and motivational track, designed for business or corporate projects such as presentations or advertising!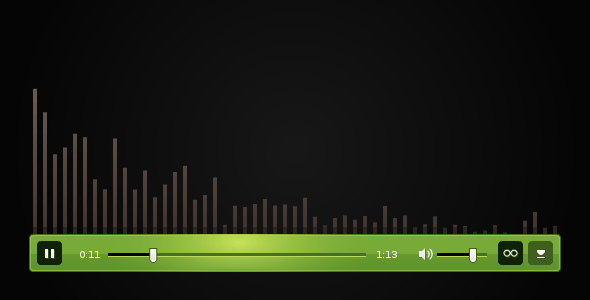 The track begins with a subtle, emotive piano loop that continues throughout the piece, as a staccato violin section introduces an inspiring and positive repeating pattern. A steady, punchy drum beat evolves throughout the track, while everything is held together with a simple, solid bass line and electric guitars provide a powerful chord progression throughout the piece.
Modern production techniques keep the track sounding fresh, and perfect for a number of uses. Includes a 320 mp3 and 16-bit wav.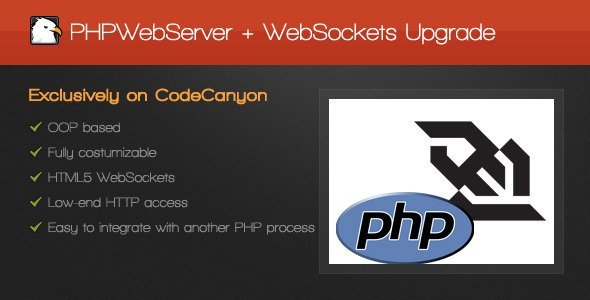 This item is a suite of PHP classes that define a HTTP web server with WebSockets upgrade possibility. It runs in PHP CLI , and you can do everything you want with it thanks to the low-end access of HTTP protocol.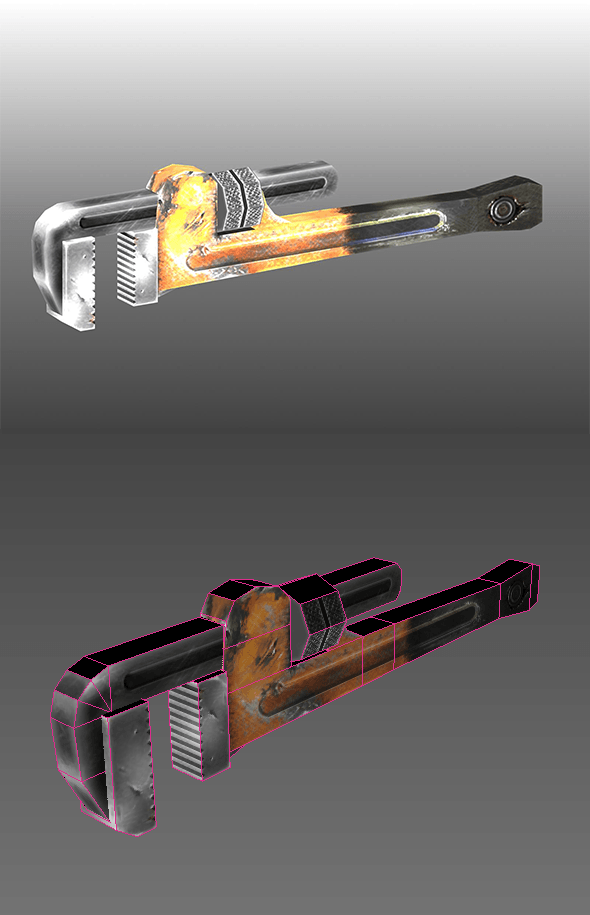 This is Lowpoly Wrench, Model has 218 Tris and texture map 256-256
Top quality design, full customization and video instructions will help improve your styling. The best thing is that you don't need 3rd party plug-ins.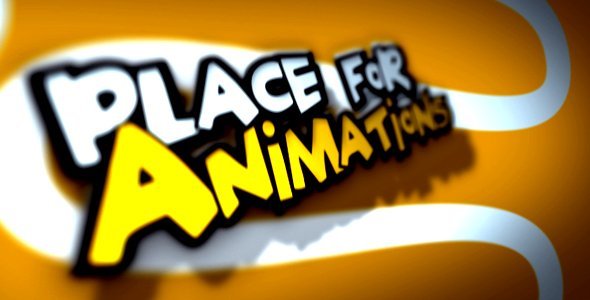 Here are some of the main features:
5 Image placeholders
11 Text placeholders
Logo placeholder
9 Background's
Original sountrack, included in project!
Every project element customizable
Detailed video help
No plug-ins
Full HD – 1920×1080 – 24fps (Instructions included how to change these settings if needed)
Font can be downloaded free at here
Professional and customizable email template design for your Business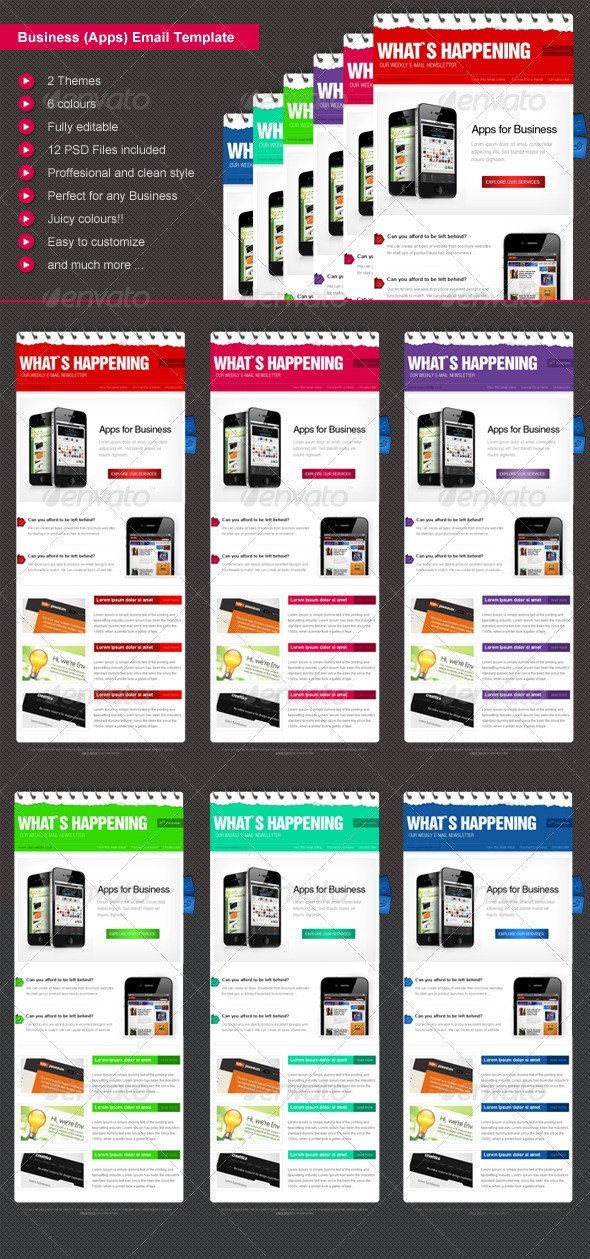 Features:
Fully layered 12 .PSD file
Easy to customize :colors, sets of news
Proffesional and clean style
Juicy colours
Made in 6 colour versions and in 2 layout options
Perfect for business use like mobile apps but not only.
Easy to code, dedicates to table or div coding
All layers are fully editable and organized in groups
All you need to do is just change text and pictures
Fonts used (not included): Arial, Helvetica Neue LT Std, Helvetica Inserat LT Std
Note:
The main preview image is not included in main download zip file
Only mock-up of half smartphone is included in project
This is just typo animation, so you can put your own logo and you own text.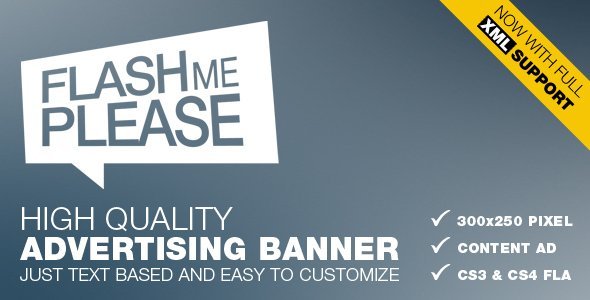 Everything is xml based, you so can individualize this banner in the way you want without flash or actionscript knowledge.
Tip: You can minimize the published Size to 10kb when you put out the unused text letters of the dynamic textfields.