Since previous month, I've listed mostFree Premium & Beautiful WordPress Themes of May, 2013. In this month, I am happy to present a bunch of great free WordPress themes from the month of June.
All themes in the collection are released under the GPL license, comes with cool and useful features and options. They can be used for various website types such as business, corporate, portfolio, gallery, photo, or whatever you want to use them for! If you are looking for a WordPress theme for a new website or for a fresh look on an already existing website, there are always plenty of new themes being released.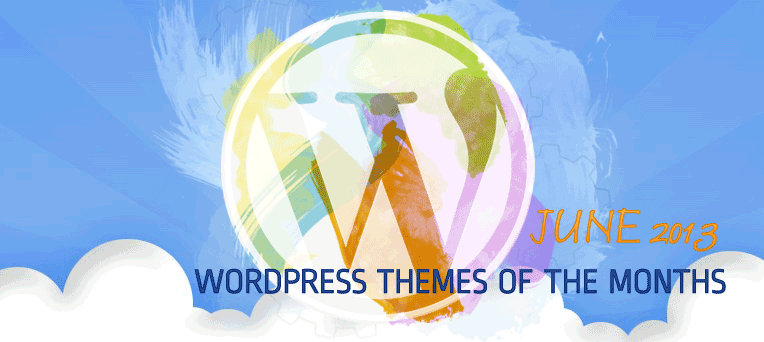 Photogram
You fancy Picasa and Pinterest? Now you can have your visitors access everything on there right on your site. Photogram automatically connects your WordPress site with your Picasa and Pinterest accounts and makes the online photography world even more beautiful. With its clean-looking structure and layout, Photogram provides a wide room for customization possibilities. You ever imagined laying out those photos the way you want them?

Photogram is very fluid and responsive, thanks to its slick and nifty jQuery effects. The Masonry and Infinite Loading scripts make page scrolling more convenient than ever. Released as a feature-packed WordPress theme, Photogram comes with a massive slider on the home page for you to showcase your favorite photos and 3 gallery templates (Picasa, Pinterest and WordPress uploads) that are powered with AJAX-loading feature. And really, to top it off, Photogram is FREE.
Photogram Demo Full Details & Download Photogram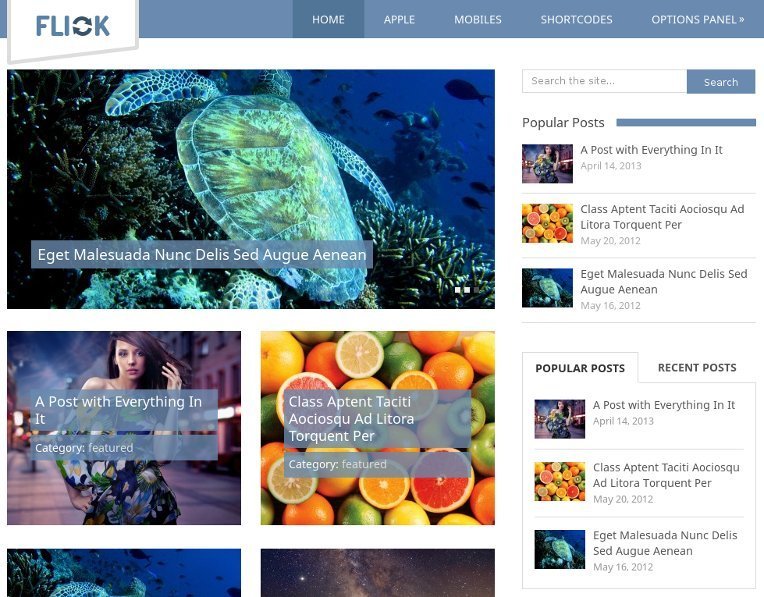 Flick is a clean, media-oriented WordPress theme that is perfect for bloggers who have media content such as photographs, images, graphics and other media. It's fully responsive with a nice clean design, so the focus always stays on your content, and there are slick mouse over effects and features to help maximize your blogging potential.
Flick Demo Full Details & Download Flick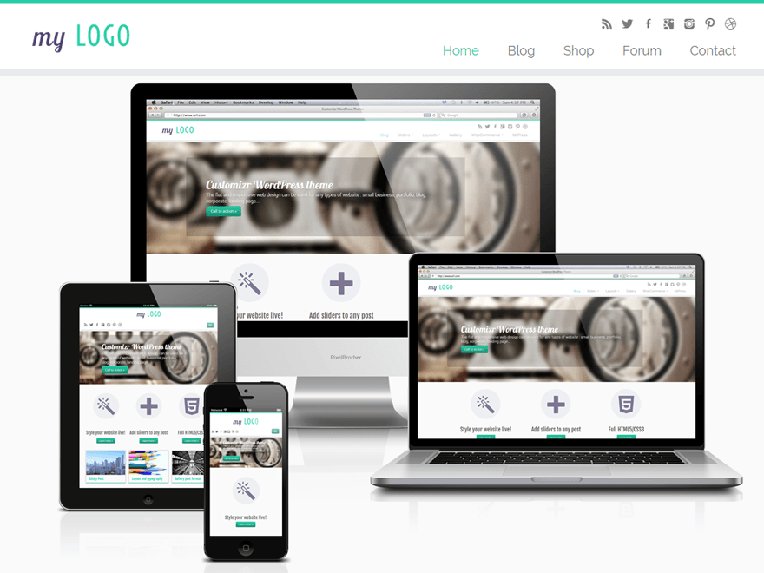 Customizr is a free WordPress built with the Twitter Bootstrap framework. This is an elegant theme loaded with great features and options. It is easy to customize and includes a responsive slider generator, five widgetized areas, up to three columns, nine post formats and much more.
Customizr Demo Full Details & Download Customizr
Fizz is a free corporate WordPress theme with elegant look from Site5. Fizz is perfect and suitable for websites such as personal, business or corporate blogs. This is a feature-rich WordPress theme and includes theme options panel, responsive design, custom menus, built-in pagination, prettyPhoto Lightbox, slider, built-in contact form, web fonts etc.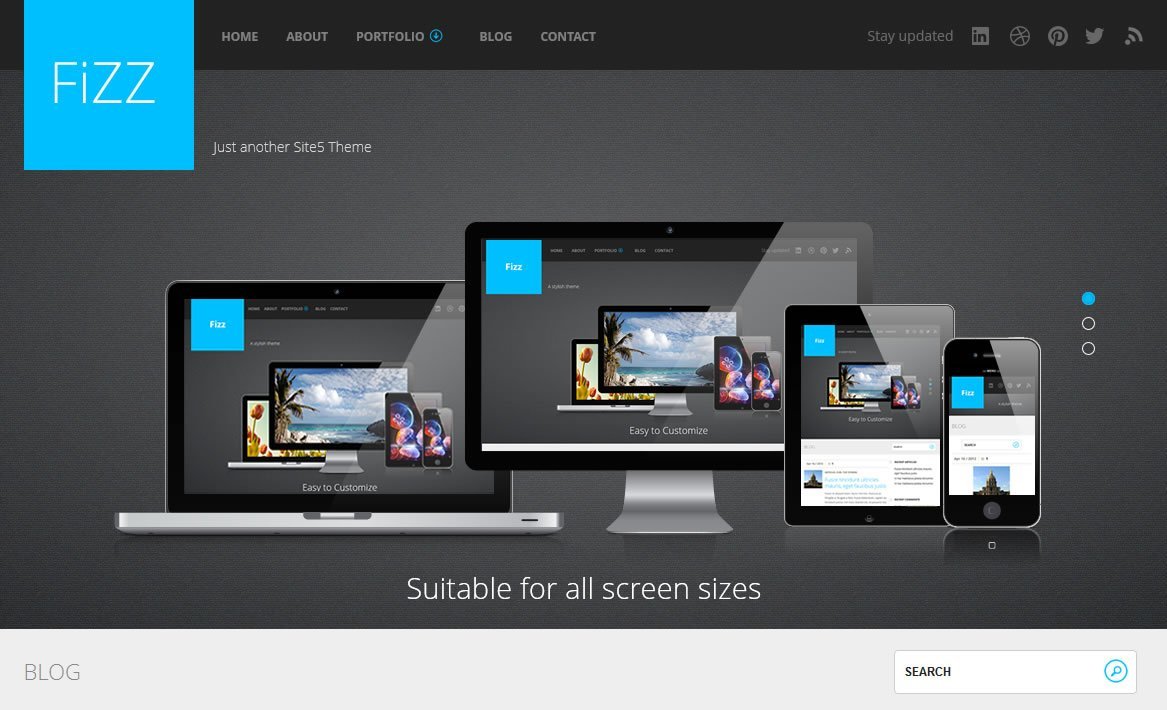 Fizz Demo Full Details & Download Fizz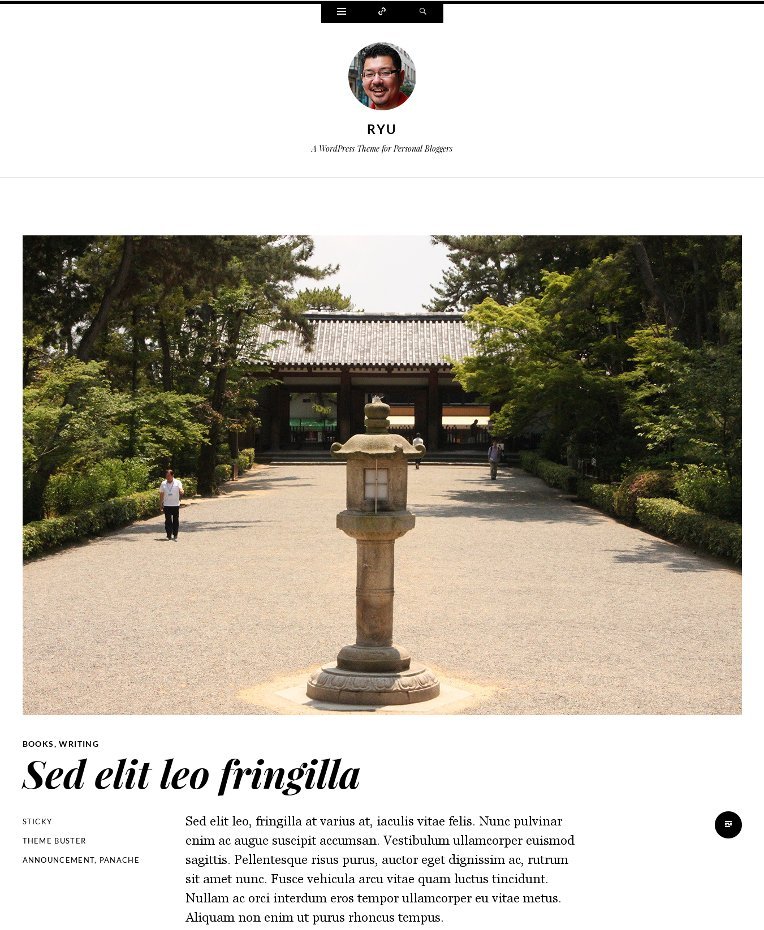 Ryu is a clutter-free theme for personal bloggers. It has a great readability with a large font size, and the one-column layout is perfect for displaying large images. Optional widgets are located at the top panel with social media links and a search field. Background color for an image post will automatically match the uploaded image in the post.
Ryu Demo Full Details & Download Ryu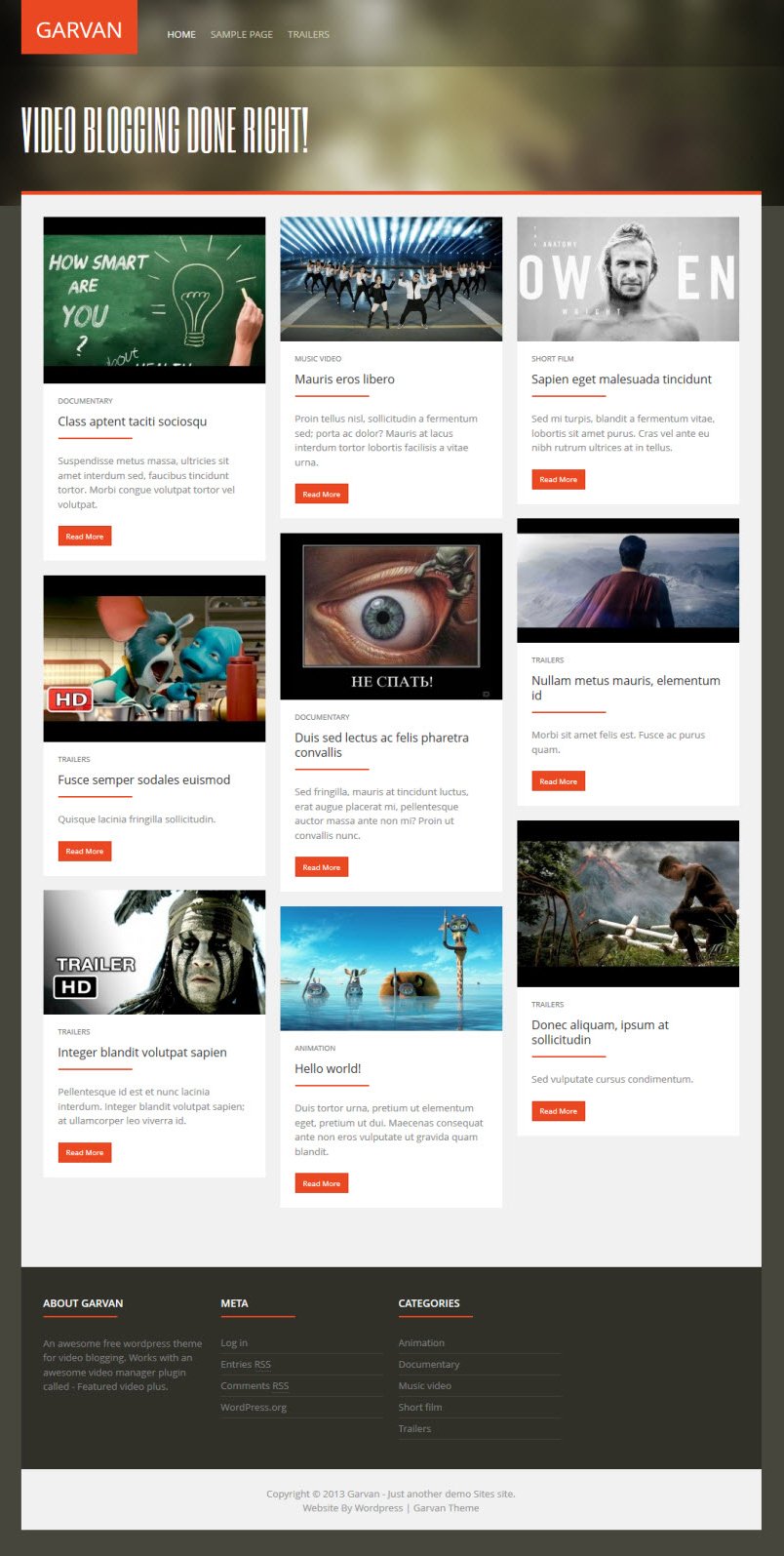 Garvan is an exclusive video blogging theme. This theme works relying on a plugin called Featured video plus. This plugins makes it easy to add featured videos to your posts, just like featured images. The video screenshot is automatically generated by the plugin. You add videos from different video sharing sites and also use self hosted videos.
Garvan Demo Full Details & Download Garvan
DesigMagz
MagZine is a magazine styled wordpress theme that so easy to use and configure. See the live action in: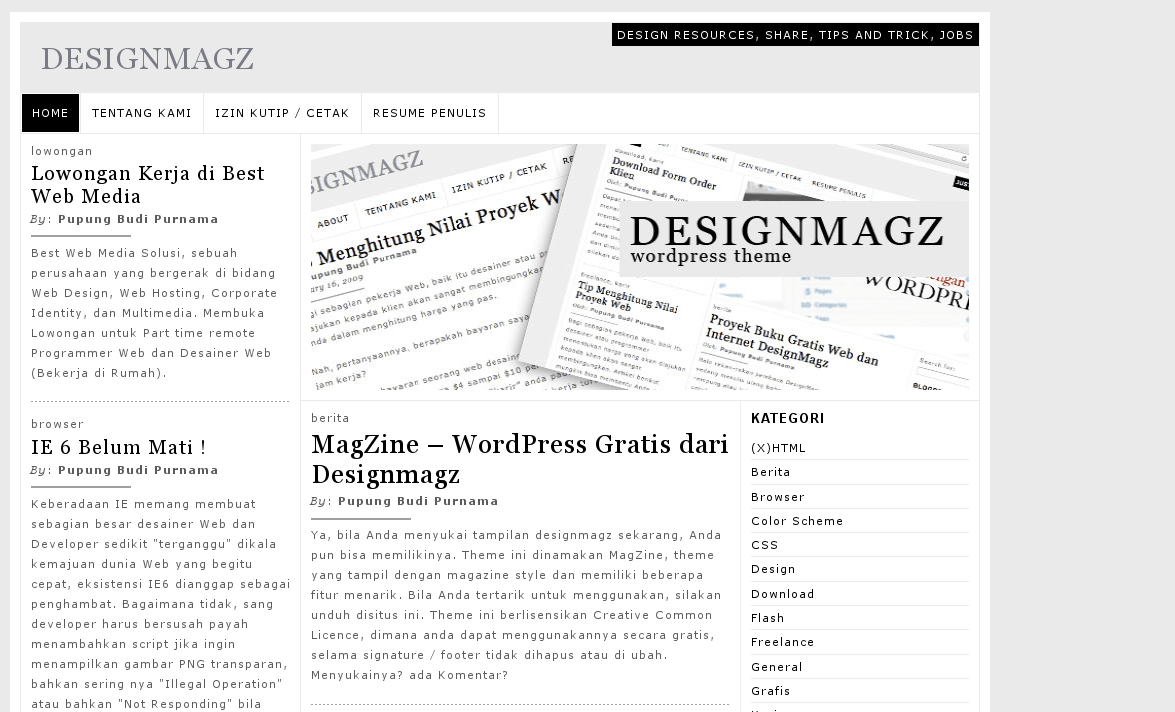 Features
Magazine Style
Easy to Configure Category Shows Up
Auto Generated Thumbnail
Support WordPress 2.7 Feature / Threaded Comments
Main Graphics / Photo Section
Configure-able within Theme Options
DesignMagz Demo Full Details & Download DesignMagz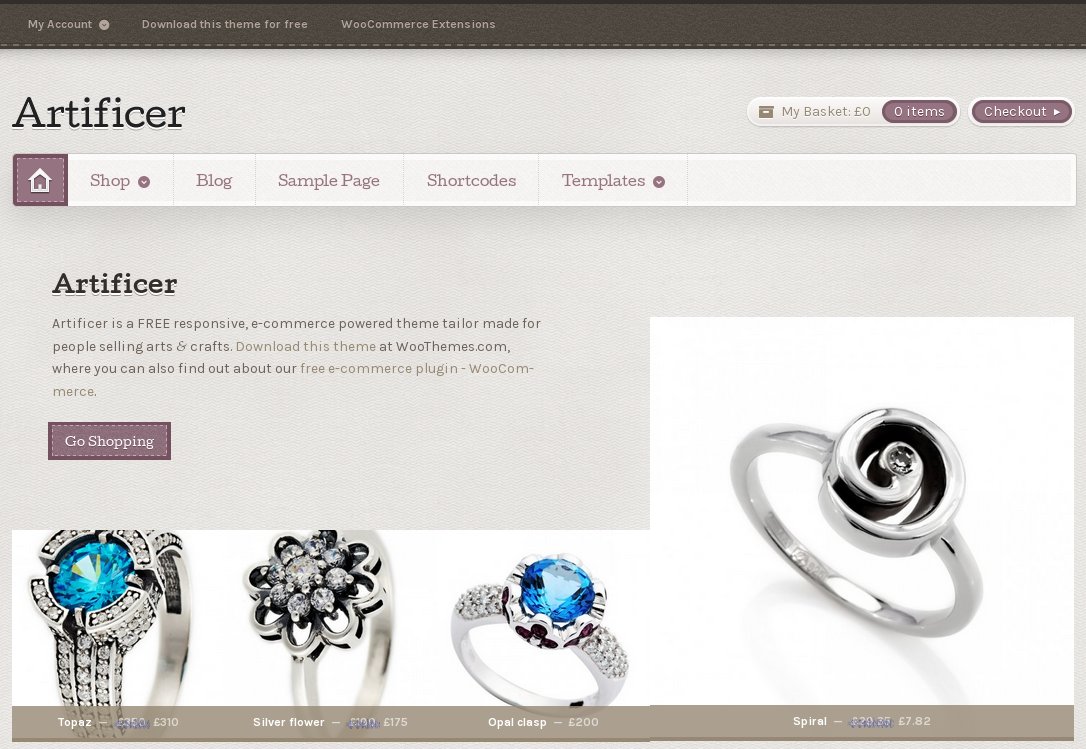 Unique Features Responsive design Possibly the best feature of Artificer is it's device agnostic design. That means whether you're viewing the theme on your desktop, your tablet or your smartphone, it responds and adapts delivering an optimised design for that device. WooCommerce Goodness As you'd expect, Artificer makes full use of all of WooCommerce features.
Artificer Demo Full Details & Download Artificer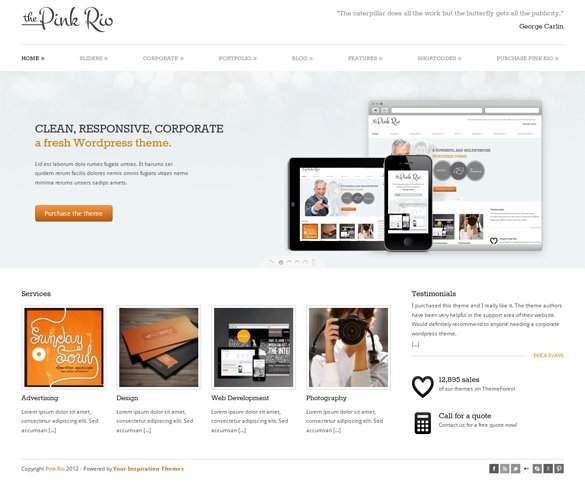 Pink Rio is a strong and powerful theme with a clean, corporate and responsive layout. This theme is really suitable for a corporate/brand site and also for personal portfolio and blog. With the extensive theme option panel and the shortcode manager you can easily customize the theme and create a lot of different design options.
PinkRio Demo Full Details & Download PinkRio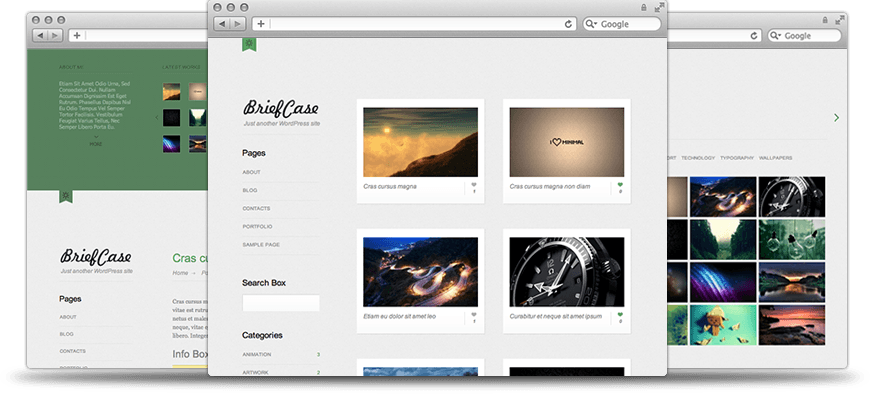 Briefcase is a portfolio based free WordPress theme that could be used for a lot of purposes, beginning from a portfolio and gallery site and finishing to a blog and magazine one. It's minimalist design was special created to catch the attention of everyone. Also we have the Pro version of this theme, that contains a lot more features and options, you could see it here.
Briefcase Demo Full Details & Download Briefcase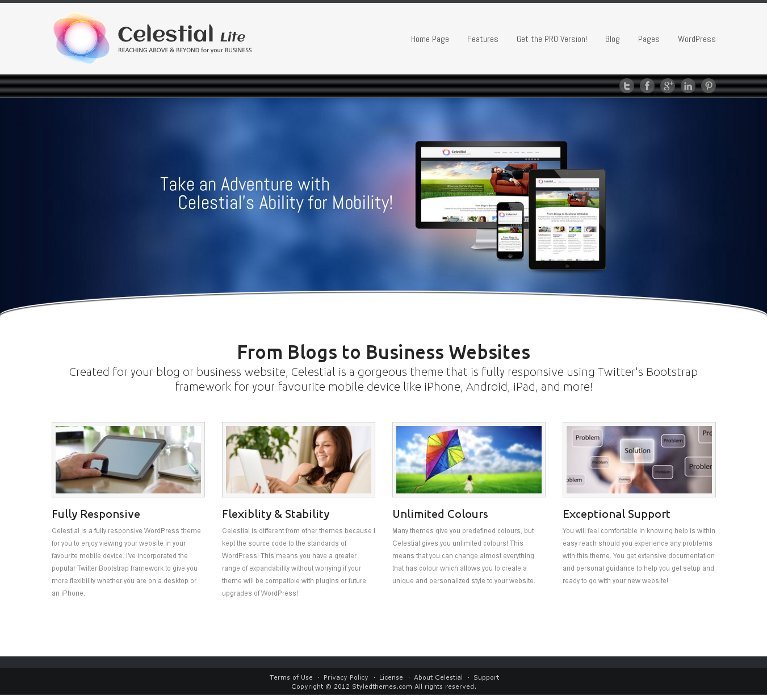 Celestial Lite is a Bootstrap responsive theme incorporating a flexible grid system, crisp lines, Unlimited colours, post formats of: Aside, image, status, and quotes, plus you get a much better WP gallery style, HTML5, CSS3, Translation readiness, social networking, more than 12 widget positions, page templates, styled form elements, and more. Of course, if you want even more, there is also a Professional version of Celestial for a true business website, but the free version should still give you an awesome website as well. Check out the full live demo from the theme url. For support, please refer to the readme.html file in your download. Also, whenever you update something, always make a backup 1st before doing an update.
Celestial Lite Demo Full Details & Download Celestial Lite
Conclusion
This month we have some good portfolio themes, photo blog, some business themes, a Pinterest style theme and some clean personal themes.
If you are a free theme creator and would like to be added to future roundups, please get in touch with links to your work.