I often spend hours in the day for collection website graphical elements for preparation for upcoming projects. I have a full set of social bookmark icons, high quality fonts, mini and pixel icons and fonts, … Today, I've created a list of 10 Awesome Social Bookmark Icons Sets that you can use for your blog for bookmarking.

The icons are iPhone-inspired and is based on the template provided by Marcelo Marfil @ MacThemes Forum.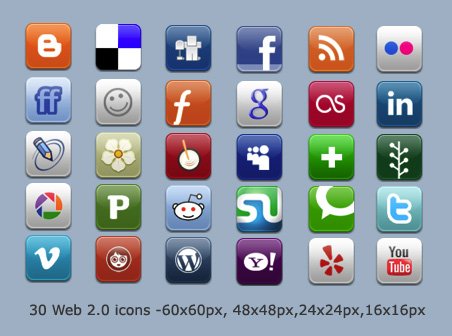 Aquaticus Social Icon Pack contains 30 high quality icons as PNG and ICO formats. This package includes: Blogger, Delicious, Digg, Facebook, Feed, Flickr, Friendfeed, Friendster, Furl, Google, Lastfm, Linkedin, Livejournal, Magnolia, Mixx, Myspace, Netvibes, Newsvine, Picasa, Pownce, Reddit, Stumbleupon, Technorati, Twitter, Vimeo, Webshots, WordPress, Yahoo, Yelp, Youtube Icons.
Social Icons Made of Wood

Here's another social icon set from webtoolkit4.me. This time the theme is wood. The set consists of 11 icons in PNG format (64 x 64). It's free for both personal and commercial projects.
Glossy social icons
Here's another free icon set of Webtoolkit4 for you.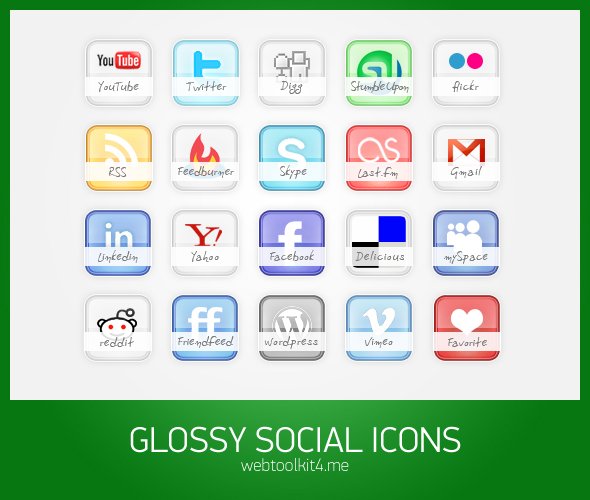 Glossy social is an icon set which consists of 20 icons for the following services: YouTube, Twitter, Digg, StumbleUpon, Flickr, RSS, Feedburner, Skype, Last.fm, Gmail, Linkedin, Yahoo, Facebook, Delicious, mySpace, reddit, Friendfeed, WordPress, Vimeo and a generic "Favorite" icon
Handycons and Handycons 2 – a free, hand drawn social media icon set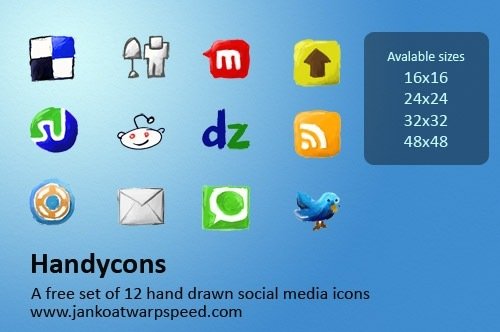 Handycons is a free, hand drawn social media icon set that contains 12 icons. Package contains icons for del.icio.us, Digg, Mixx, DesignBump, StumbleUpon, Reddit, Developer Zone, DesignFloat, Technorati, Twitter and RSS feed & Email icon, of course.
Handycons2 – icon set containing 20 more hand drawn icons. This time it is not limited just to socail media related icons.
All icons are available in four sizes: 16×16, 24×24, 32×32 and 48×48 pixels.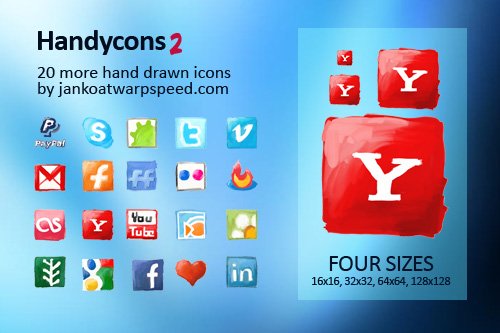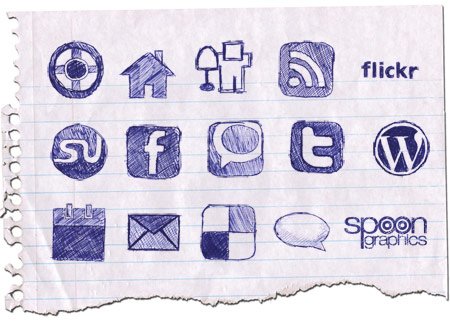 This set of free hand drawn doodle icons includes 14 graphics tailored specifically for bloggers. Including social media graphics for Delicious, Design Float, Digg, Facebook, StumbleUpon, Technorati and Twitter as well as commonly used icons such as RSS, Home, Comments, Contact and WordPress.
Polaroid icon set
Actually, I enjoyed all the icons set of WebToolkit4Me, so can not help but mention of Polaroid icon set.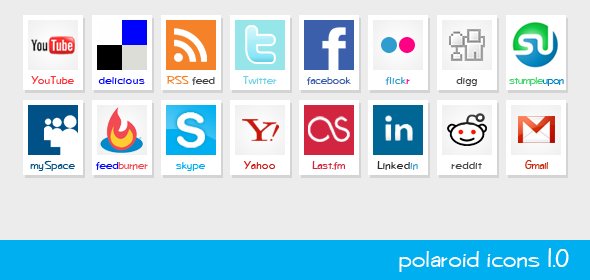 16 PNG icons on some of the most popular web services. YouTube, delicious, RSS, Twitter, Facebook, Flickr, Digg, stumpleupon, mySpace, Feedburner, Skype, Yahoo, Last.fm, Linkin, Reddit and Gmail. As always, these icons are free to use on any kind of project both personal or commercial. The only thing that you cannot do is sell them.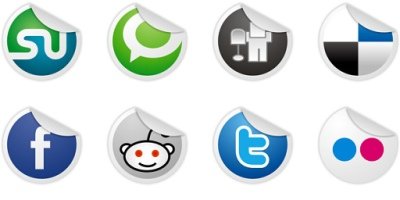 DryIcons is proudly releasing a new icon set, called "Socialize". This free icons set contains all the most popular social icons, placed inside a sticker, making them easy to use in all kinds of projects. Although initially intended to be used by bloggers, these icons go beyond that and can be used in almost any website. This free icon set contains 12 high quality, free icons in these sizes: 16x16px, 32x32px, 48x48px, 64x64px and 128x128px and 32-bit transparency PNG file format.
This set was designed by Aravind Ajith, the creator of TheDesignSuperHero.com, especially for Smashing Magazine and its readers.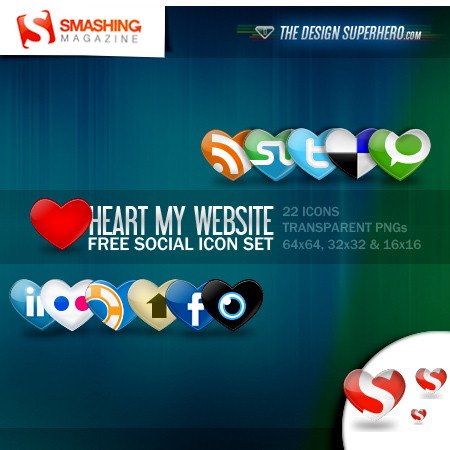 You can use the set for all of your projects for free and without any restrictions. You can freely use it for both your private and commercial projects, including software, online services, templates and themes. The set may not be resold, sublicensed, rented, transferred or otherwise made available for use. In Heart v2 he has added up more icons including  YouTube, Vimeo, Blip.tv, Viddler, Metacafe, WordPress, Drupal, Blogger, Orkut and Myspace.
Please link to this article if you would like to spread the word.

These Icons set above are free, I hope you will find your favorite to include them in your blog.