Now, there are large numbers of WordPress themes available in the marketplace. But, only some of the themes that are clean, responsive and great features. So I would like to make it easier to find the best WordPress themes what you are looking for?
With the use of these free premium WordPress theme, you can make your website stand out from the rest as well as give a long lasting impression on your customers or website visitors. We hand-picked the best themes for this month – February, 2014 and included them in this list. Now all you have to do is pick your favorite and install. What are you waiting for?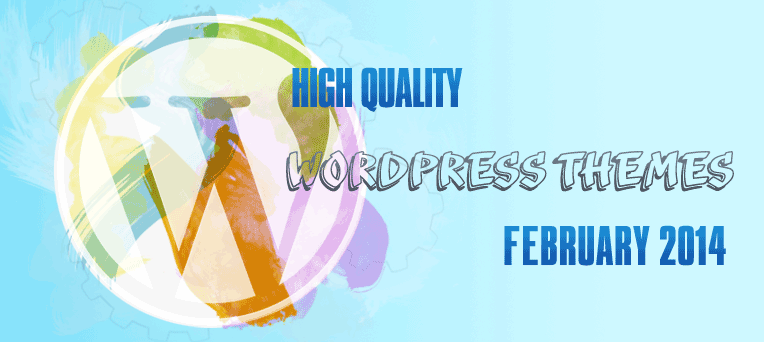 Bushwick is a lightweight, responsive blogging theme, designed to showcase beautiful content alongside beautiful imagery.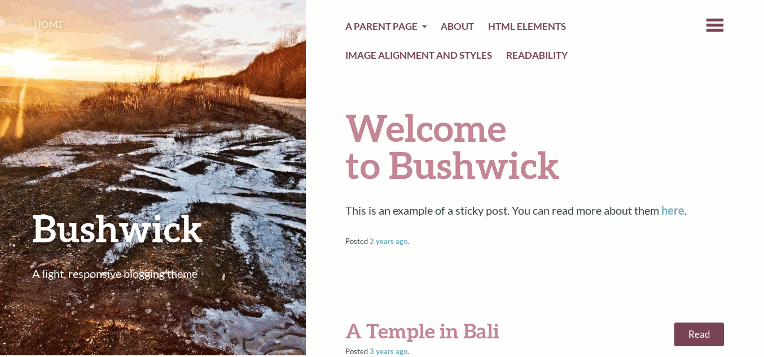 If you've crafted an excerpt for your post, Bushwick will display it between the title and the content, to give readers a quick summary of the content.
View Theme Demo Details / Download
Post FormatsHexa is a fun, fresh experience for your personal blog. Post formats highlight your best finds in colorful style, and the responsive design looks great on any device, large or small. Read on to find out how to make an eye-catching blog or website with Hexa.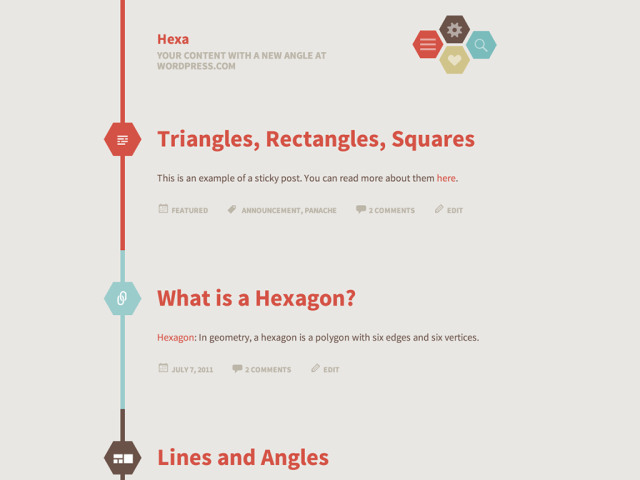 View Theme Demo Details / Download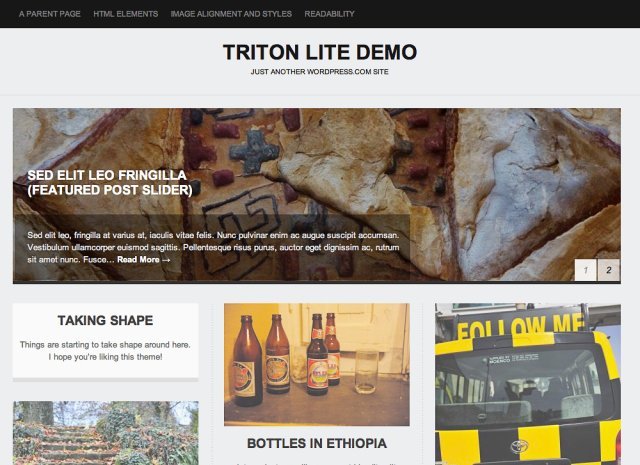 Triton Lite is a clean and simple—yet versatile—theme designed with photographers in mind. Its home page and archive pages offer truly dynamic layouts that snap to both the heights and widths of all available content on a page, thus creating tight and tidy post arrangements that beautifully showcase your images.
View Theme Demo Details / Download
Diary is a pixel-perfect WordPress theme that is designed to be easy to update and keep your readers interested. With a left-aligned layout, a large post display that can accommodate large images, and a splash of color, this is one diary you will love to write in.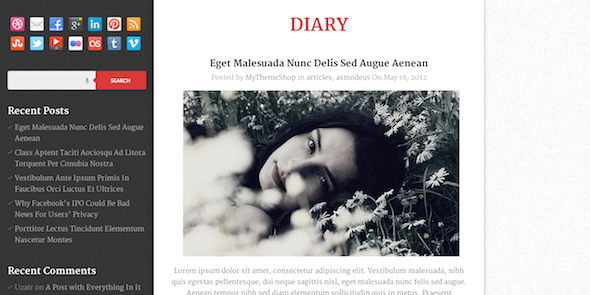 View Theme Demo Details / Download
Elisium is a responsive theme that is ideal for business websites. The theme comes with two homepage options built in, to either display the blog posts or a presentation page.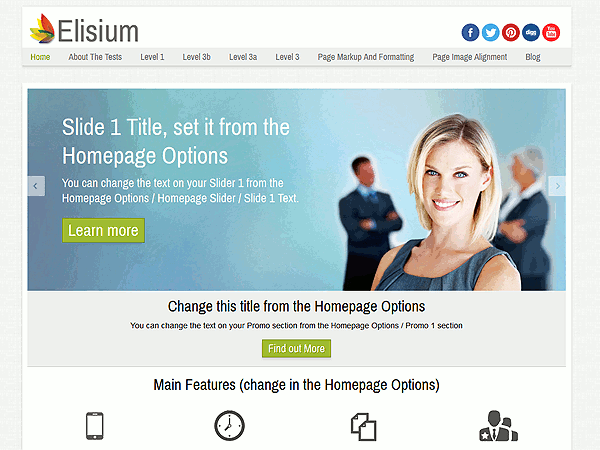 The theme comes with 2 homepage options (blog and presentation page) and an easy to use options page. It's a fully responsive theme, so it displays nicely on any device, from regular PCs to your smartphone.
View Theme Demo Details / Download
Motif is the perfect business theme. It's highly flexible, with a clean design optimized for viewing on any device.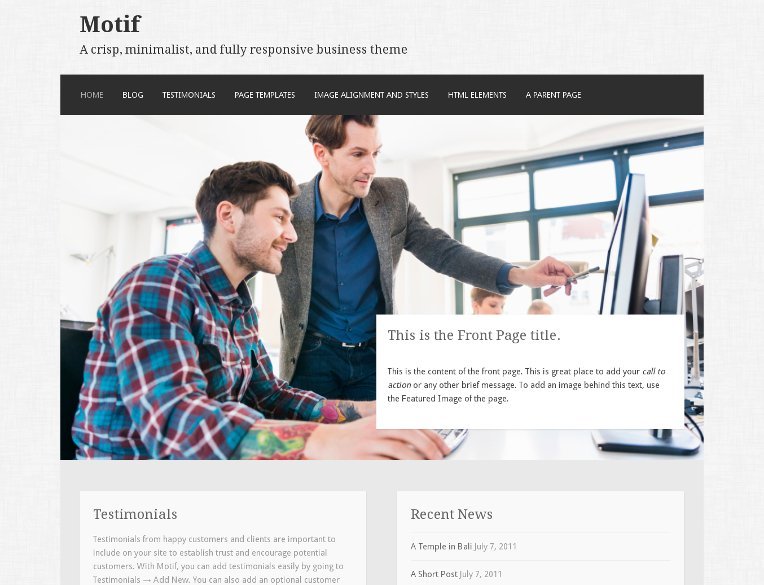 The front page template offers three sections to highlight your content:
A featured area with a large featured image, and an overlay containing the page content.
Two widget areas that allow you to add a selection of widgets, which are displayed in two columns.
A testimonial area that displays two randomly-selected testimonials, to keep it fresh and interesting.
View Theme Demo Details / Download
Nictitate is a beautiful, clean and minimal theme that is designed for portfolios and corporate with flexible layout. The striking blue color used in the theme allows for the important aspects and areas of your website to pop out of the screen, drawing your eyes towards them.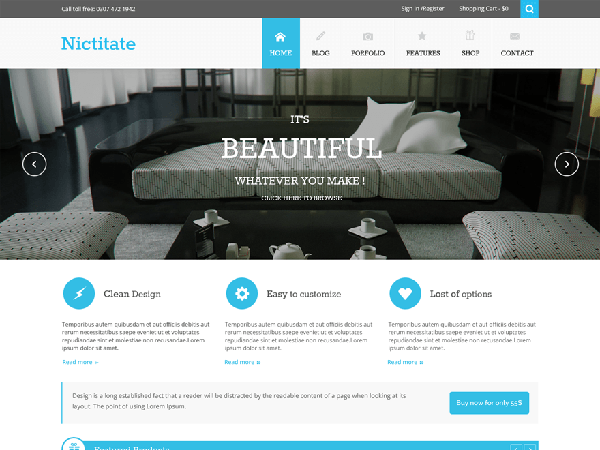 Nictitate has layout manager technique that will let you flexibility choose layout options of every pages within your site. It is very helpful when you are experimenting with visual hierarchy.
View Theme Demo Details / Download
Fontfolio is a grid-style theme, perfect for designers, illustrators, and artists. Show off your best work with Featured Images, a clean, responsive layout, two custom menu areas, support for multiple post formats, a search field in the header, and optional social network icons.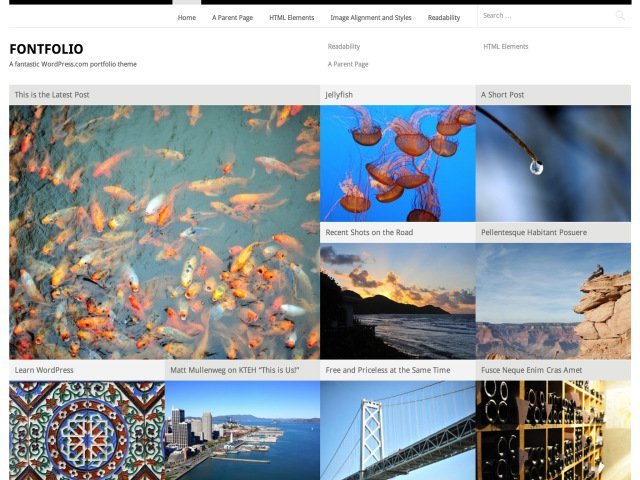 To get the most from Fontfolio's grid-based design on the blog index and archives pages, you can assign Featured Images to your posts. If no Featured Image is present, the theme will pull the post's first attached image instead. If no images are attached to the post, the theme will pull the first image from the content of your post.
View Theme Demo Details / Download
Sorbet is a colorful, mouth-watering treat for your personal blog or website. The mobile-friendly design looks great on any device, while post formats highlight your best content. If you're seeking a fun new look for your site, we think you'll enjoy a taste of Sorbet.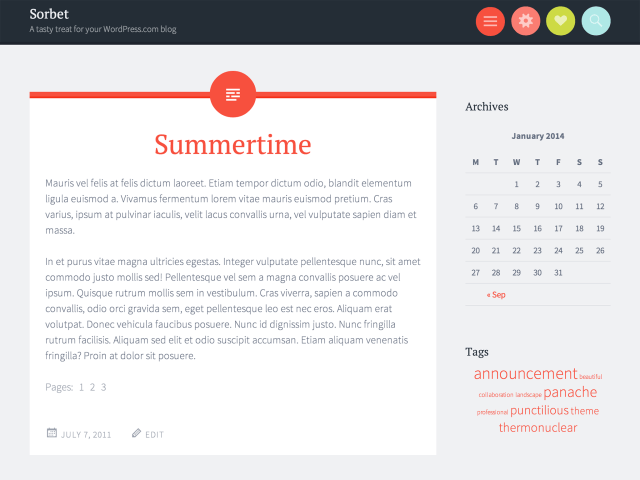 If you haven't added widgets to the Sidebar, Sorbet becomes a sleek one-column theme, making its tumblelog-style design perfect for cataloguing your web finds.
View Theme Demo Details / Download
Featuring Twitter Bootstrap and Font Awesome, Fullby is a grid style theme. With only two images in the main design, the theme is very lightweight and loads extremely fast with just only 2 images in the theme structure.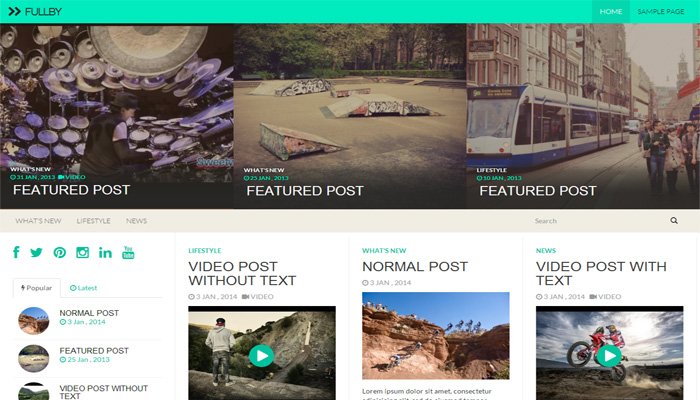 The latest posts widget and the popular posts widget will allow you to focus on the important posts.
View Theme Demo Details / Download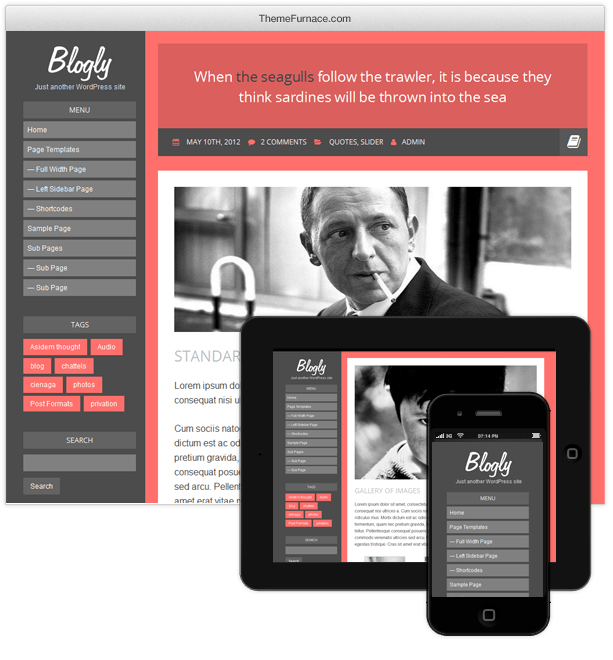 Blogly is a flat design styled WordPress theme for personal blogs which is clean and light and makes use of post formats.
Designed for bloggers, Blogly Lite is an almost-feminine styled flat theme with a variety of customization options. The theme is fully responsive and has a quite refined look and feel for a free theme.
View Theme Demo Details / Download
Have you used any of these themes in a project? Have we missed one of your favorites? Let us know in the comments.
If you are a free theme producer and would like to feature your themes in our monthly roundups then please get in touch!