I've switched from Linux to Mac after 17 years. Thought of capturing all my learning experiences and challenges I faced so far in this post. This article is my personal experience and a summary of my journey using and switching from Linux to MacOS. Hope it helps someone who encounters similar ones.
TL,DR: You can view a quick list of these articles above, and the content below is my personal feelings, thoughts on Linux, Windows, and MacOS to serve my work, you can read or skip.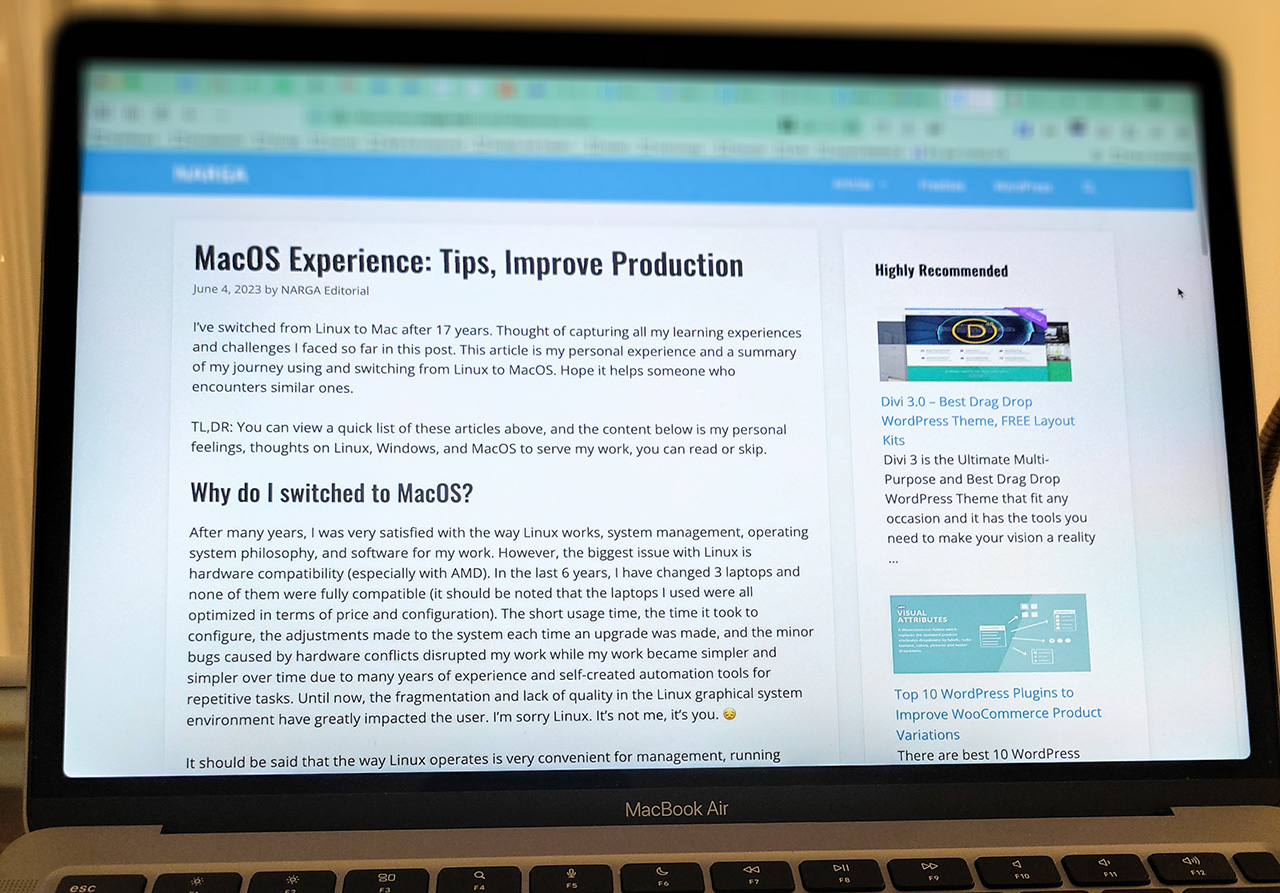 Why do I switched to MacOS?
After many years, I was very satisfied with the way Linux works, system management, operating system philosophy, and software for my work. However, the biggest issue with Linux is hardware compatibility (especially with AMD). In the last 6 years, I have changed 3 laptops and none of them were fully compatible (it should be noted that the laptops I used were all optimized in terms of price and configuration). The short usage time, the time it took to configure, the adjustments made to the system each time an upgrade was made, and the minor bugs caused by hardware conflicts disrupted my work while my work became simpler and simpler over time due to many years of experience and self-created automation tools for repetitive tasks. Until now, the fragmentation and lack of quality in the Linux graphical system environment have greatly impacted the user. I'm sorry Linux. It's not me, it's you. 😔
It should be said that the way Linux operates is very convenient for management, running automated tasks, efficient features, focus, and easy deep intervention into the process that on Windows is very cumbersome, not to mention issues with viruses, features, junk software… The habits and mindset developed from using Linux make using Windows feel unnatural, even uncomfortable in some cases due to its complexity. This is why I have no intention of using Windows in the near future, and the choice almost exclusively falls on MacOS.
Around 15 years ago, when the Hackintosh movement was popular, I used MacOS on my old desktop computer and wrote some articles about the installation process and using MacOS X 10 Cheetah on this blog. However, due to hardware and software differences, compatibility issues, and the "hacking" process, using Hackintosh did not provide high performance for work. After that, I stopped using it and focused entirely on Arch Linux, using it on servers, VPSs, and personal computers until now.
With a desire for something new, a broken computer, and deep price cuts during Black Friday 😊, this plan is certainly becoming a reality.
Therefore, when I had Huawei Matebook D15 in hand for many months, I decided to switch to MacOS on Black Friday 2022 because now my daily work only requires a stable, moderately configured device that can handle tasks without requiring too much processing.
Maybe I will return to Linux at some point, when Linux is better or simply when the Macbook Air M1 becomes outdated in terms of configuration, Linux will be the optimal choice for continued use.
Using experiences
You should invest in using good-quality, standard-compliant accessories and avoid using unverified or experimental products, as they may not fully leverage the advantages of technologies on the device or potentially cause damage or malfunctions. Especially the brands recommended by Apple such as HyperDrive, Belkin…
Do not squeeze, press or put in a too tight pocket, backpack, because the thin screen can cause bruising, display cracking …
Clean the keyboard and trackpad regularly as this is the area that often comes into contact with the device so it gets dirty, dusty or stuck with dust. For the keyboard, after turning off the machine, you should tilt it upside down and pat it lightly to drop the dust stuck in the gap to avoid getting inside and causing key jamming or other problems.
The screen can be wiped normally with a cotton cloth or simply a glass cleaning cloth.
Use the available security tools of the machine, limit using cracked software, turn off SIP or turn off Gateskeeper unless you really know what you are doing.
If you're at a café or have many items on the table, it's advisable to keep your water glass at a distance to prevent spills in case someone bumps into the table or an accidental mishap occurs and spills water onto the keyboard.
Personally, I use a thermos with a lid and have the habit of closing it immediately after use to avoid the hassle of cleaning up spills, damaging things, and wasting money 😹.
Consider carefully before upgrading the operating system. If your current system is stable and has good battery life, there's no need to upgrade to the latest version. Just update the security patches to ensure your system is protected.
Using an external data drive is more economical and efficient than buying a device with high capacity, limiting unexpected data loss when the system is damaged or needs to be reinstalled.
If you don't move around often, you can plug in the power and use it continuously because Macbook is designed to use direct power when the battery is fully charged, you just need to pay attention to discharge the battery monthly to limit battery degradation.
Unless you only use it every few days, you don't need to turn off the machine completely, you can just put it in Sleep mode.
You should consider carefully the use of screen stickers, keyboard stickers, wrist rests … because in fact these accessories cause a lot of screen damage. Buy a machine to serve yourself, don't pamper it too much for the next person, even if it's outdated then the price will be much cheaper.
External data storage devices should be formatted according to the exFAT standard so that they can be read and written on other operating systems. If you have an external drive from Seagate, you will usually get free Paragon NTFS software, which is the best software to support reading/writing in Windows' NTFS format for Mac.
Things I like when using Macbook
The machine has good finishing quality, looks elegant, beautiful, compact and light, convenient for use and mobility.
The operating system is consistent, the software and system are controlled and follow a common standard, the philosophy of operation and operation is simple, user-oriented.
The machine has no fan so it operates very quietly, not noisy, because it is rarely used for work tasks that require heavy processing, so the battery life is very impressive, can last 10-12 hours for a charge, enough to use for a whole day without worrying too much.
The keyboard has backlighting for easy use in the dark. The trackpad is very flexible, convenient and sensitive, really much better than Windows and Linux laptops.
The surrounding ecosystem is very unique but expensive 😅
Problems encountered when using Macbook and MacOS
Any operating system or device is made to serve the majority of the public, so it cannot please everyone and meet all needs. Whether you use Windows, Linux or MacOS, sooner or later you will definitely encounter some annoying problems. In a very short time, I encountered some annoying problems with Macbook.
The lack of connection ports


There are quite a few problems when using a Macbook, among which the lack of connection ports is probably the most obvious drawback. Other laptops are equipped with many connection ports: USB-A, LAN, HDMI, Card Reader … while Macbook Air M1 only has exactly two USB-C ports and a 2.5mm headphone jack. The consequence of this is that you need several rather than just one converter to continue using with existing devices such as external monitors, old devices using USB-A connection … costly, time-consuming to supplement and search for suitable accessories.
Poor keyboard quality
I don't know why with an expensive device and belonging to the high-end line but the keyboard of Macbook is very bad, shallow typing travel, little feeling and especially very poor quality, sticky sweat, shiny and dirty. Through research, I learned that the keyboard of the Macbook Air M1 line has been improved a lot better than previous models, but compared to devices running Windows or Linux, it is still much worse (same price range). 🤦🏻‍♂️ Fortunately I have used a separate mechanical keyboard but it loses the experience and excellence of the famous Trackpad in the laptop world.
It's hard or complex to create a new file from Finder
OMG, I don't know how hard to create a new empty (text) file at the folder. No keyboard shortcut, no choices from context menu. Extremely annoying! 🤬 I spent an hour to research and created an Automator's workflow to help me create a simple text file in Finder's folder via Quick Actions menu. Or you could search and pay for some small apps in the AppStore to make it done!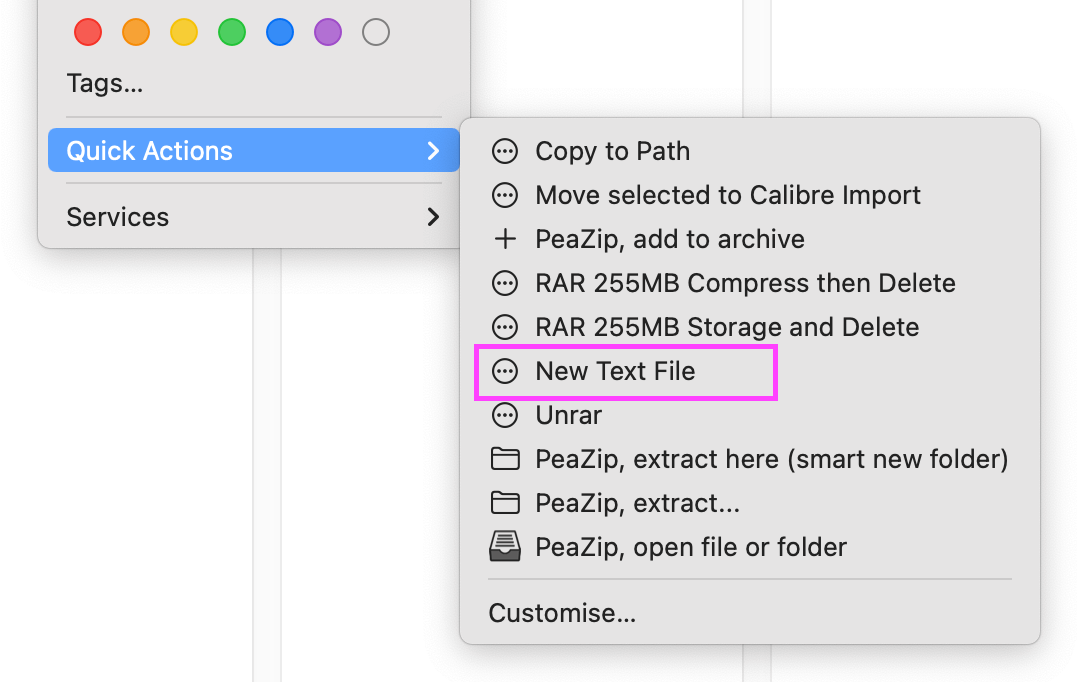 I really don't understand why Apple makes things so complicated.