NARGA.NET has been focused on List Post Type of WordPress themes and plugins. I regularly write articles listing the most downloaded, beatiful and high quality free WordPress themes and plugins. However, you don't really see versions of this list for premium plugins. I've got a lot of email to ask me about the best items to help they buy and use them.
Why Your Business Website Could Benefit From Using Premium WordPress Themes
I don't want to say that Free WordPress themes are not good. But, Free themes have their own limitations and disadvantages.

Premium Themes are far less common and high quality: As you see, our blog will looks different from other low quality blog with Free themes. Premium Themes are far less common, and you can make your site virtually unique by customising key options within the theme.
Premium wordpress theme offers you almost all the features that you may want in your website. As developers prepare themes for all the niches so you can search for your niche and pick the best theme that you like.
Premium wordpress theme offers you almost all the features that you may want in your website. There is clear evidence that having a fresh, premium theme, rather than a generic free theme, improves the quality and credibility of your site in the view of users. They are developed with keeping customers needs in mind.
Premium Themes lowers your Security and other risks. Some unscrupulous people will provide a WordPress theme with links to other sites embedded in the code which you cannot change. Using this type of infected theme can bring your blog in trouble.
Premium themes are far more editable and contain no such links. You can largely avoid security issues by downloading themes from the WordPress Free Themes Directory.
Premium Themes offers well document and strong technical support Most of these free themes come without regular updates or any type of support. This can make your site even more vulnerable to security problems and affect compatibility with plugins further than a lack of quality coding.
All Premium theme companies offer you a strong tech-support. You can access their tech support and tell your problem they will help you to solve your each and every query.
If you want an idea of what types of premium themes sell well, you should find this list useful. Here are ThemeForest's seven best-selling WordPress themes of all time: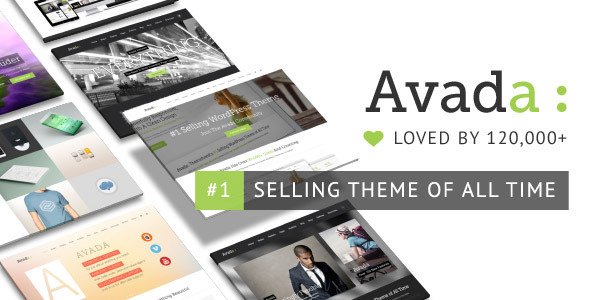 Tt has been purchased over 120,000+ times and it's undoubtedly the most popular WordPress theme on the planet.
Avada is the ultimate multi-purpose WordPress theme. It is clean, super flexible, responsive, includes Fusion Page Builder and comes packed with powerful options! This multi-purpose WordPress theme sets the new standard with endless possibilities, top-notch support, and lifetime updates with newly requested features from our users. And its the most easy-to use theme on the market! Avada is very intuitive to use and completely ready to operate out of the box. Built with HTML5 & CSS3, a lot of thought and care went into this theme making it a pleasure to use. Avada has a ton of incredible user reviews and lots of awesome features. We've highlighted some of our features below, check them out below! The clean multi-purpose design can be used for any type of website; business, corporate, portfolio, blog, products, etc. Buy Avada and come be a part of this awesome community!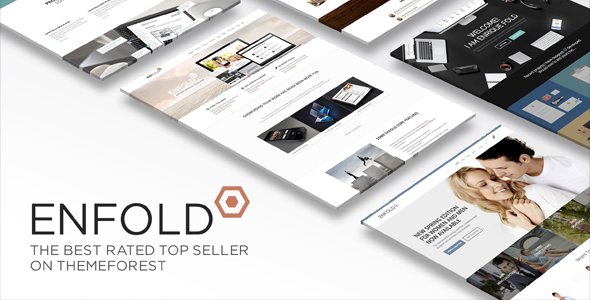 Enfold is a clean, super flexible and fully responsive WordPress Theme (try resizing your browser), suited for business websites, shop websites, and users who want to showcase their work on a neat portfolio site. The Theme is built on top of the fabulous Avia Framework and offers support for the WPML MULTI LANGUAGE plugin, just in case you need it ;)
It comes with a plethora of options so you can modify layout, styling, colors and fonts directly from within the backend. Build your own clean skin or use one of 18 predefined skins right out from your WordPress Admin Panel. Font, background and color options as well as the dynamic template builder will help you create the Website you need in no time. In addition to the global options you can set unqiue styling options for each entry as seen in the theme demo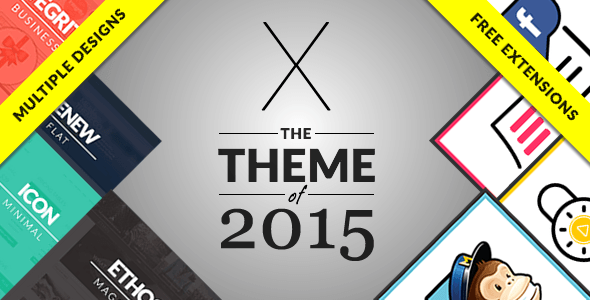 Stacks – X includes multiple unique designs inside of one powerful theme, and we refer to these designs as "Stacks." There are currently four Stacks available in X, with more on the way. It's like buying one theme and constantly getting access to new designs all the time! The links below take you to the main demo for each Stack, however we have created multiple unique demos for each Stack so be sure to check them all out.
4. uDesign | 41181 Sales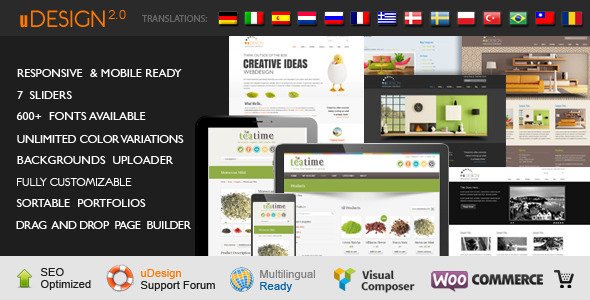 U-Design is a very powerful theme which suits both, users with no programming background as well as advanced developers. It will help you build your site in no time to your liking with minimal effort. It empowers you to set any color to elements such as backgrounds, links, text, menu links, etc. You can completely change the look and feel of your site in seconds. You can also choose from over 600 fonts, including Google Font Directory. This number will grow with time since many new fonts are being added to the Google fonts library.
5. Salient | 30757 Sales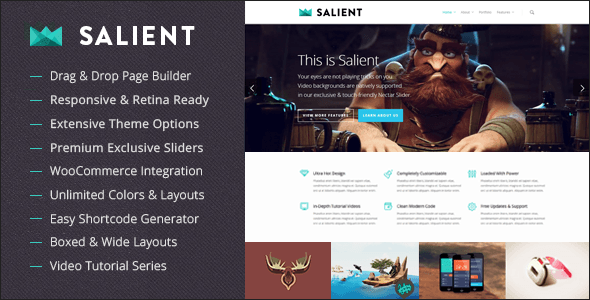 Salient is an ultra responsive, beautiful WordPress theme that is perfect for freelancers, photographers, designers and creative agencies alike. Its stunning design and layout capabilities will give your portfolio pieces the attention they deserve.
6. Karma | 25741 Sales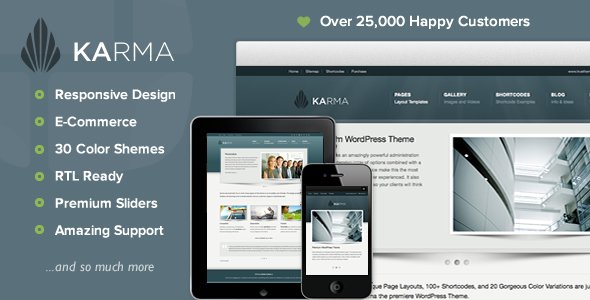 Karma is a fully responsive WordPress theme perfectly-suited for every type of business. Whether your a wordpress pro or just a beginner you will absolutely love working with this theme.
Karma features an amazingly powerful administration panel. The extensive array of options combined with a familiar WordPress user interface make this the most usable options panel you've ever experienced. It also comes completely white label, so your clients will think you're an absolute rockstar.
7. The7 | 22868 Sales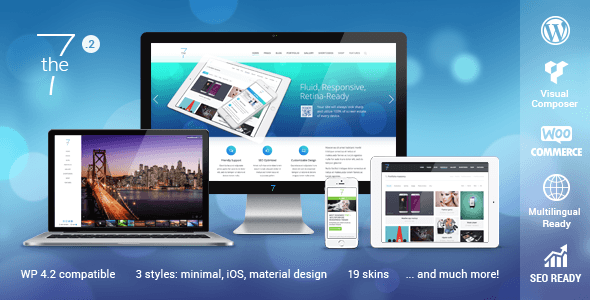 The7 is perfectly scalable, performance and SEO optimized, responsive, retina ready multipurpose WordPress theme. It will fit every site – big or small. From huge corporate portals to studio or personal sites – The7 will become a great foundation for your next project!
Great theme, very versatile, very friendly to use, incredible possibilities, many features
It is also remembering that if you want to set up additional websites in the future, you can use any purchased premium theme for any future website project at no extra charge.