Just imagine, then, the all-consuming sorrow of losing weeks, months or even years of blog posts or other site content. Your hosting company may provide a responsible backup service (or you may have a well-considered system in place if your site is self-hosted) but some extra insurance can be crucial if the unexpected happens (as it did for one of our client sites today).
Keeping an up-to-date blog backup copy, is one of those things that every one would like to do but are either too lazy to actually do it or have no clear idea of how it can be done. Backup is vital but it needs to be painless otherwise people just do it less often (which defeats the purpose, your backup should not really be older than a couple of days ago).

The ways which I've ever tried, an ideal backup procedure should be simple, heavily automated and give quick recovery option for almost any problem. Your backup must be up-to-date and it's can store on your computer, another hosting server, another online storage service ….
Choosing a WordPress backup plugin that is right for you which has listed below

1. WP-DB-Backup
WP-DB-Backup allows you easily to back up your core WordPress database tables. You may also backup other tables in the same database.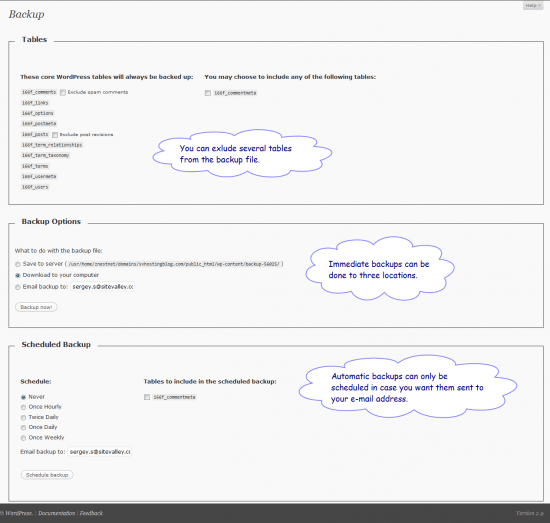 This one is probably the most popular WordPress backup plugin. Installation is relatively easy.
Also it is under heavy development but you can try it with their powerful functions.
Database Backup
Optimize Database
CheckRepair Database
File Backup
Uses PCLZIP class of WordPress
Store backup to Folder
Store backup to FTP Server
Store backup to Amazon S3
Send Log/Backup by eMail
Besides database, BackWPup can also back up your WordPress installation files and optimize your database tables. The database backup will be saved in your blog server, and you can also download it manually or send it to your mail box automatically.
DBC Backup, is a simple way to schedule daily database backups using the wp cron system. You can select when and where your backup will be generated. If your server has support you can select between three different compression formats: none, Gzip and Bzip2. The plugin will try to auto create the export directory, the .htaccess and an empty index.html file to protect your backups.
The backup file is also protected by a small hash key which make it impossible for someone to guess the backup name and download it. During generation, a log will be generated which includes, the generation date, file, file size, status and the duration of the generation.
Except the cron backup, you have also the ability to take backups immediately. The backups are identical of what phpmyadmin produces because DBC Backup is using the key procedures of phpmyadmin.
DBC Backup was built to be fast, flexible and as simple as possible.
4. myEASYbackup
Backup, restore, migrate your WordPress installation, both code and MySQL tables, with a single click.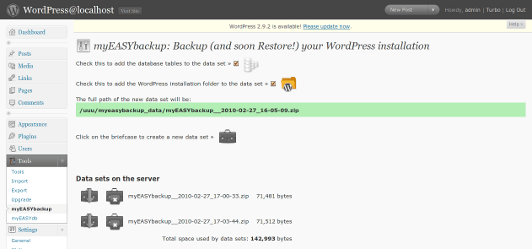 myEASYbackup comes handy before upgrading WordPress or one of the plugins you have installed.
WordPress EZ Backup is A Administrators Plugin to allow the easiest most feature rich method for creating Backup Archives of your entire Site (not just WP Installations but Any part of your site or web space) & allows backup archives of any MySQL Database you choose & More.
Bei Fen is the chinese translation for Backup, short, and easy to remember.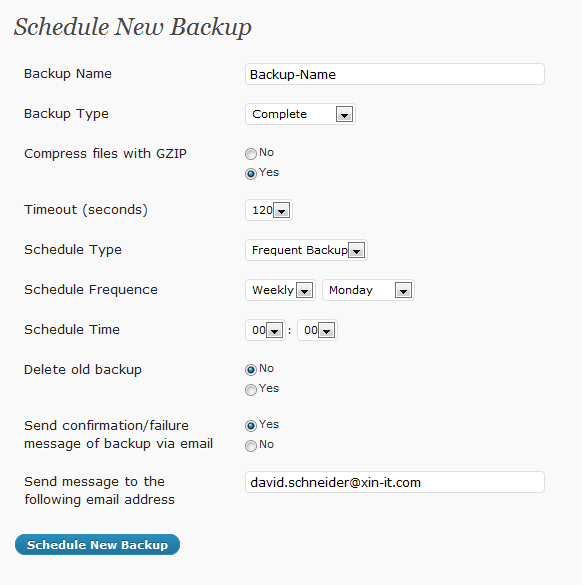 Bei Fen lets you back up your blog database as well as your WordPress installation files to your server, you can back up manually or automatically, the database backup can be deleted or restored from your WordPress dashboard.
Plugin integrates Sypex Dumper 2 in WordPress. Which can help you create a backup and restore of your MySQL database. Sypex Dumper, unlike many similar scripts (plugins), is optimized for most performance, as well as for working with large databases of hundreds or thousands of megabytes.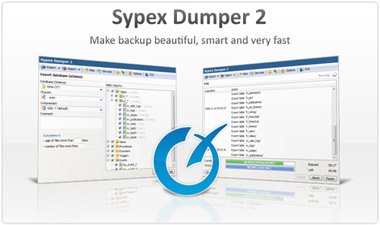 Sypex Dumper can work independently of WordPress, just go to the wordpress/sxd/ and enter the MySQL Username and password.
Allows you to optimize database, repair database, backup database, restore database, drop backup database , drop/empty tables and run selected queries. Supports automatic scheduling of backing up and optimizing of database.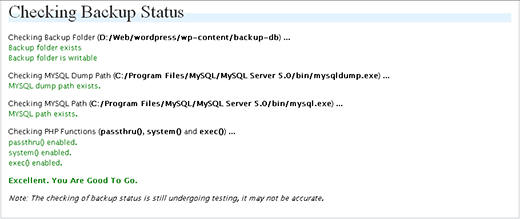 With WP-DBManager, you can back up your blog database to the server, to your PC, or to your mail box, manually or automatically. You can optimize, repair, clean or even drop the database tables, you can also delete or restore the database saved in the server.
WP Migrate DB exports your database as a MySQL data dump (much like phpMyAdmin), does a search and replace on URLs and file paths, then allows you to save it to your computer. It is perfect for developers who develop locally and need to move their WordPress site to a staging or production server.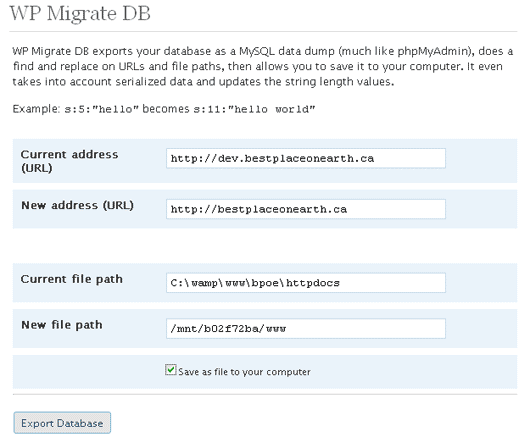 It even takes into account serialized data and updates the string length values.
10. Backup Content As Txt
Backup your posts and pages as txt files that will be packaged in one zip file.
Features:
Specify categories/category to back up file format: [category name]/[post title].txt
Backup all posts: Don't check any categories. file format: [post title].txt
Backup all pages: file format: [post title].txt
Txt format has two option

default: 1st line title, the rest is content
Date : 1st line title, 2nd line date, the rest is content
Using this plugin, you can easily and automatically backup important parts of your WordPress install to Amazon S3. Amazon S3 is an extremely cheap service that is easy to set up. For pennies a month, you can make sure that your important files will be kept safe.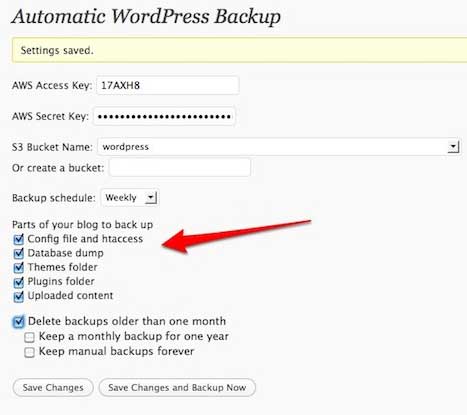 The plugin uses the Amazon S3 storage service to let the admin to automatically or manually backup his WordPress website. Thus you'll need to sign up for an Amazon S3 account to use this plugin
Conclusion
Which WordPress plugin do you use for your blog's database backup? Or do you have any other WordPress plugin for database backup? Please share with us by leaving a comment.