You've started business online and selling your products. In the next big steps, you need to build a good support system for your customers who wants to find a response for their queries and your instant support makes your client happy and the satisfaction of clients becomes a key of success for your business.
There are these 3 ways to do that.
Firstly, via call. You give them a support number (it's may free or not free) for which all the calls will be made.
Secondly, you and your customers can talking directly via instant messaging softwares / services like Skype, Hangouts, OTT apps or Live Chat. The cost savings and convenience for customers and staffs.
And finally, the email support. You give them your support email ID and start waiting for the customer's email. It's slowest method, the customers and staffs need few days for ask and answer. It's free but un-cheerful!
Here I'd like to share some of the live chat plugins which are very useful for your business websites.

Some benefits that you can have by adding a chat plugin to your site:
A chat plugin makes your site look more official. Live chat gives you an edge on your competitor.
Live chat saves user's time, it is convenient for the customers and provides an immediate access to help.
By chatting with your website visitors you can guide each person into the check out moment and recover what might have been a lost sale.
When compared to other support channels, live chat proves itself as more effective, fast which therefore reduces your support pressure and associated costs.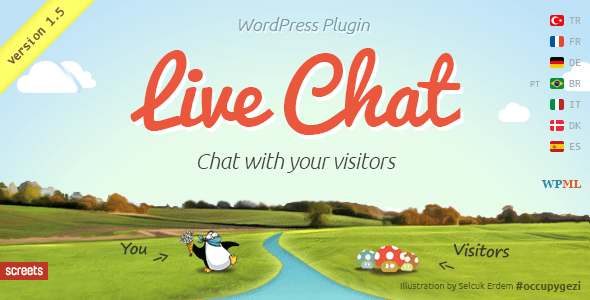 This plugin overcomes that limitation by providing a real time customer support for customers. Once installed, the plugin adds a popup chat window to your web pages that users of Facebook will be familiar with. If you are no available for chatting, you can set the plugin to work as a contact form. . This makes sure customers and leads can always get in touch. Chat logs are stored for future reference and analysis and the chat window uses a tabbed interface to operators can easily manage multiple conversations without being deluged with separate chat windows.
Limitations
The Plugin works with WordPress only
Multisite feature of WP is not supported
Operators must use chat console in WordPress admin panel to answer visitors
You may have errors if you install WordPress in different directory
jQuery 1.7 or newer is required. WordPress 3.4+ already uses jQuery 1.8.3 by default if your theme not deregister it and loads old one.
My favourite plugin right now. Chat with your customers on your site for sales and support easily, and beautifully.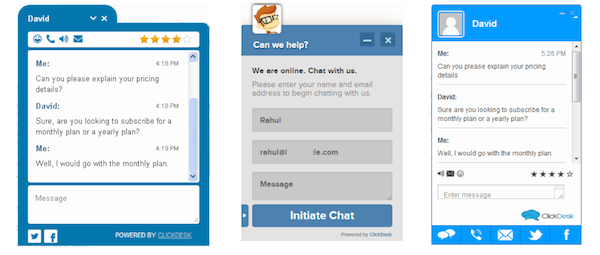 This is high quality live chat support service that I've used before. And it's running on my online shop too. That means you don't have to install multiple plugins to get all of these features. Specifically, it combines live chat, help desk, voice chat, and a social toolbar.
This plugin is fully customizable, supports multiple languages and comes with many more features. Beyond these primary features, ClickDesk also allows web visitors to click to call and voice chat with you directly from browser or by dialing our local access numbers available in 40+ countries. You can always stay available through Gtalk for free (another option is Skype but you need premium account for it) The help desk component lets you or your employees manage emails and offline chat messages, too, with a built-in ticketing system.
With Zopim Live Chat, visitors to your website will be able to chat directly with you through the widget and you can manage multiple conversations through the online Dashboard. This is another really popular live chat option for WordPress users. You can use the chat system on your mobile device thanks to dedicated mobile apps and you can use the included analytics to assess how visitors use your website.
Key Features
Mobile Optimized: Your customers can chat with you from any device using our mobile optimized chat widget
Proactive Chat: Rather than chatting with every single person yourself, you can increase the chances of high value engagement (and more sales) by using Triggers to automatically reach every visitor
Advanced Analytics: Our analytics dashboard lets you monitor visitor flow, usage patterns, and lets you jump in whenever a customer might need help

Pure Chat is a web app that makes it easy for website owners to chat with their visitors from anywhere! When users create an account and activate our simple, lightweight Pure Chat plugin for WordPress, they'll be able to design fully-customized chat widgets that automatically appear on their site.
Plus, Pure Chat has native mobile apps so business owners and support teams can offer top-of-the-line customer service from anywhere. In addition to the Pure Chat apps, the company also offers an easy-to-use web-based version that's accessible from a desktop.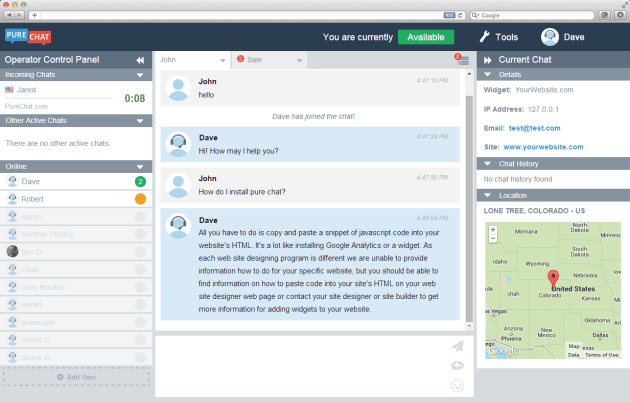 Casengo Live Chat Support allows you to add live chat to your website quickly and easily. With Casengo Live Chat Support, you can handle questions via live chat, email, Twitter, or Facebook directly from your website. Casengo Live Chat Support helps you to respond faster to questions than ever, and to improve their satisfaction with a delicious combination of live chat and email.
Do you want to chat or support your customers on the go? Casengo Mobile App available on iOs and Android. Push notifications were just added to the Casengo app, too, so you'll know when customers are trying to get in touch while you're.
Conclusion
Live Chat is very fruitful for any website. Enabling live chat into your WordPress site is very easy & cheerful. They all bring something a little different to the table but what they share is an intention to make interacting with and converting customers just a little bit easier. All these plugins have something little different to share with you.
What's your favorite chat plugin? Did I miss any? I'd love to hear what you think!
If you enjoyed this post, make sure to subscribe to NARGA's RSS feed.