As you know, I list most expexted free premium files on Themeforest, CodeCanyon, ActiveDen … at the start of the month. On August 2013, I'll continue give you new awesome collections of free premium files from different marketplace in one place.
Envato Marketplaces offers free "premium" product called "Free File of The Month". The start of the month always brings free files for us all.
Please note these files are free for this month only, next month download links won't available so don't forget to sing-up and get the items free, and I added little review and demo for every one of files, check them and Hurry! Grab your free premium copy today.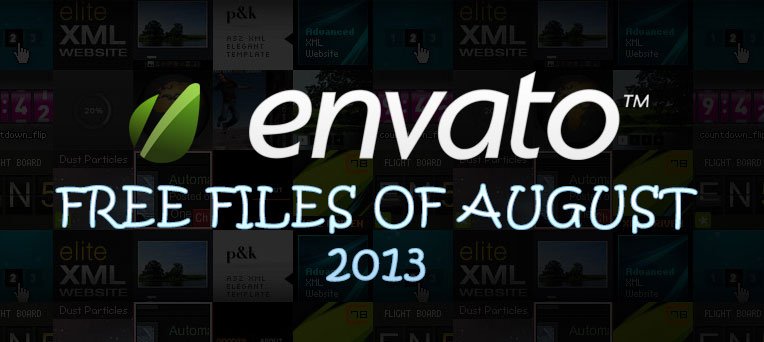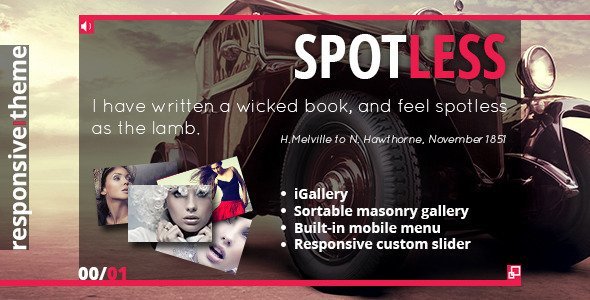 Spotless – a carefully crafted theme that lets you display your work the clean, fancy way. Some of the theme's strong points are the awesome iGallery, the sortable masonry gallery, the multipurpose slider. The responsive behaviour allows the content to easily adjust for any screen resolution in order to produce the optimal user experience for different use cases and enviroments, all built into one website.
Features:
Custom design: The sections, galleries, and other elements are custom made for the Spotless Theme. Easily change all elemet's colors from CSS, the color combinations are virtually unlimited.
One Page: All pages are being dynamically loaded trough Ajax, we paid special attention to its performance while keeping its rich design, pages are loaded once when needed, there are no memory leaks, Spotless is also responsive and comes with a custom built-in menu for mobile devices.
Multipurpose:Spotless can be used as a portfolio, blog, corporate or creative template. Additional pages can be easily created with the existing elements, there are 9 predefined HTML pages already created.
Responsive: Whether you're displaying on desktops, tablet, mobiles, your work, your images, your products will always look the same!
Degrade Slider: Degrade – the swiss-army-slider is a multipurpose, fully customizable slider, with responsive behavior and all-in-one features. It sports a 40+ options variation, the slider's appearance can be customized through its 8 different shadows, 4 different corner style, 6 different control types, unlimited colors, shortcodes, captions style, fullscreen behavior, giving you the possibility of making literally hundreds of different sliders.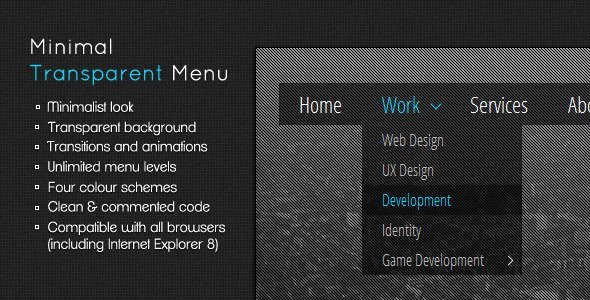 Minimal Transparent Menu is the ideal choice of navigation for a website with a photo or a landscape as a background. It's clean, simple and really easy to use thanks to its semantic markup. It also features important things like unlimited menu levels or cool things like slide effects.
Features
Minimalistic look
Pure CSS3
Smooth slide effect
Unlimited menu levels
Four color schemes included
Easy to use (semantic markup)
Cross-browser compatibility
Clean & commented code
Detailed documentation.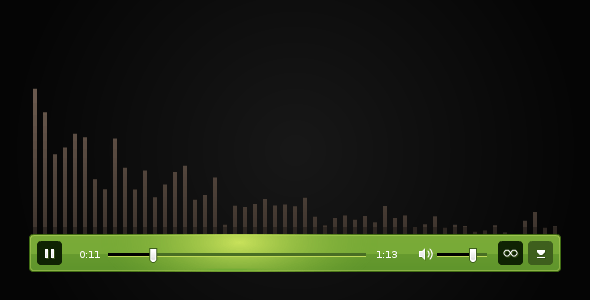 A high intensity orchestral piece featuring driving percussion, strings, and brass. Sure to get the adrenaline pumping, this aggressive track is perfect for fight scenes, RPG battle music, and much more!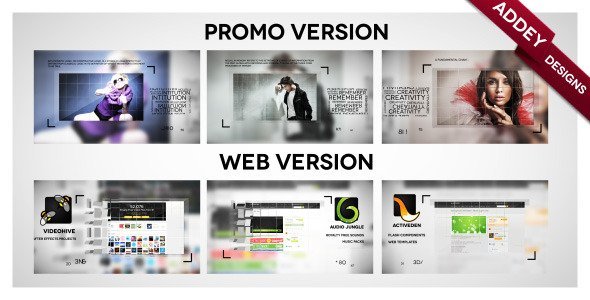 MAIN FEATURES ARE
Includes two version – Promo and Web
AE CS4 ,CS5 ,CS5.5 ,CS6 compatible
Video tutorial included.
Help files included.
HD 1280×720
One click customization
24 Images or videos holders
No plugins required
Easy to customize
Everything is editable
Help file included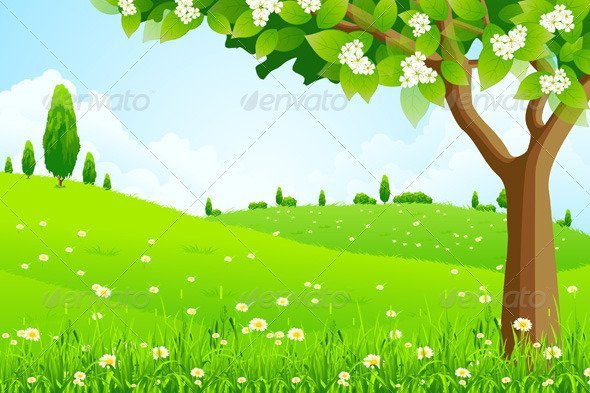 Green Landscape with Flowers Trees and Clouds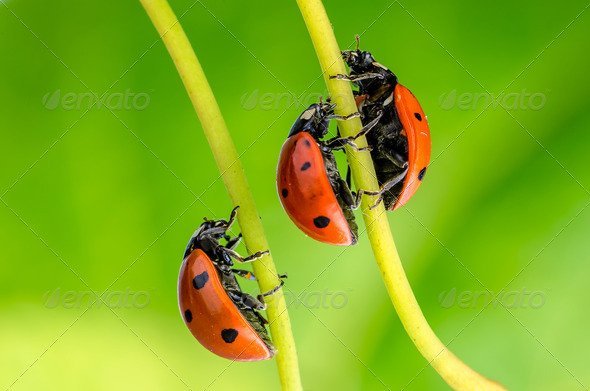 Spring green plants and lucky ladybug macro.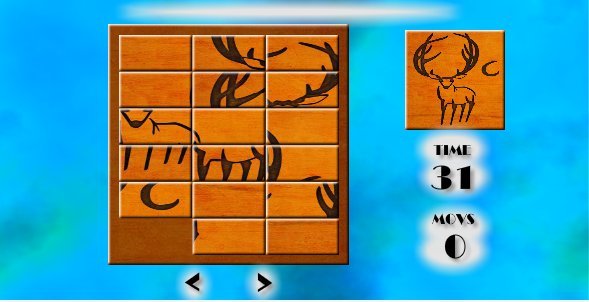 In this awesome Sliding Puzzle game highly customizable you can design a lot of parameters according to your desires:
XML driven, so you probably won't need to modify the .fla file
Select as many images as you want to show. You just indicate the path to the images and the file does the rest!
Select images order: Sequential or Random
Choose puzzle dimensions: number of Rows and Columns (3×3, 4×4, 5×2, 3×6…)
Set Random Dimensions so every new image the puzzles sizes will be different
Move pieces using both Mouse and Keyboard
Possibility to move 2 or more pieces at a time
Display Background Images (Wallpaper)
Ability to use Randomly generated Perlin Noise backgrounds
The game saves your Best Scores (time and moves)
Previous and Next Puzzle Buttons, which can be easily removed
Everything can be easily customized
Highly customizable files, with AS3 greatly commented
Opens with Flash CS4 or later
Do you know?
Download and use all files for free on your web pages, blogs and projects. This offer is for registered members only. All you have to do is create an account from one of the market places and you get access to all Envato Marketplaces.