Why are we looking for Best FeedBurner Alternative Services?
Since July 1st, 2013 Google Reader has been shutted down. What's about FeedBurner? Will FeedBurner shuting down after Google Reader is gone? If you run a blog there are a lot of things to know about and consider doing with this change coming up that you'll want to take care of in the next couple months.
After your FeedBurner feed is not working anymore, you're not alone and you basically have two choices – switch to your blog platform's atom feed for free (no analytics), or switch to the alternative services like: Feedblitz, FeedPress, FeedCat …

Is FeedBurner shutting down?
Google have assured everyone that the service is here to stay. Their actions suggest otherwise. You've probably heard the rumblings about FeedBurner shutting down on October 20, 2012. In 2012, they closed the Feedburner API, Adsense for Feeds, and said goodbye via their Twitter account. The blog is no longer updated either and the FeedBurner forum is not supported. And who can actually remember the last time Google added a new feature to FeedBurner? So, it looked for all the world like FeedBurner is shutting down.
The FeedBurner service continues – for now. But if this action gives you pause – and it really, really should – it's time to switching. So – if you're worried about relying on a service whose owner is clearly ramping down, even though they have NOT said as much, what are your choices?
In this post I'll explain why you should replace Feedburner RSS feed to another platform like FeedBlitz, FeedCat… I'm sure you'll find it useful.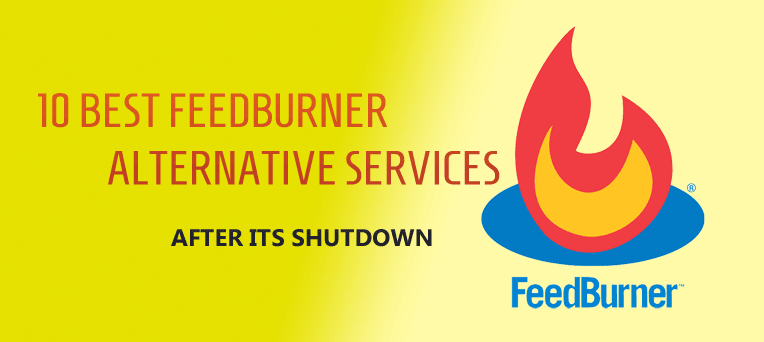 How to quit FeedBurner and transfer your feed to alternative services
Now it's time to quit FeedBurner then transition to another alternative services that's listed below. Don't scare, you won't lost your subscribers because you can set FeedBurner redirect all subscribers to new url. Here is step by step to help you quit FeedBurner
DON'T PERMANENT DELETE FEEDBURNER URL
Creat new Feed URL of your website with the choosed service.
Login to FeedBurner Dashboard choose the FeedBurner URI to transfer then update "Original Feed" URL with new Feed URL that you've created.
Click on Delete Feed… link to delete it but you MUST ENABLE "With permanent redirection" OPTION to make old FeedBurner URL redirect to your new feed service.
Remove all links on our site to the FeedBurner URL's, replacing with an alternative URL – most likely the RSS feed URL our own sites generate.
Hope that our readers feed reading services honor the redirects and keep them subscribed.
That's all, you've transfer FeedBurner URL to alternative service.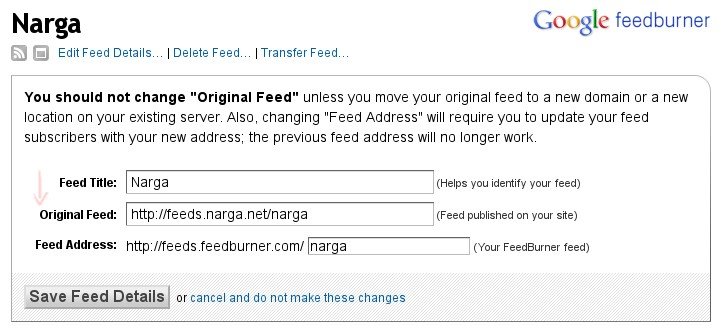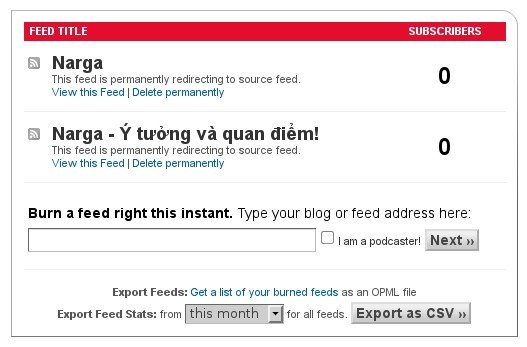 Best Feedburner Alternative Services
There are some alternatives out there to Feedburner.
1. FeedPress – The Best Alternative to Feedburner
I have already pointed out FeedPress, which I've looked at in the past but never got around to trialling. It offers similar services, and claims more reliable statistics than Feedburner. It's also a paid service, but you only pay for Email subscribers rather than RSS subscribers, so worth investigating.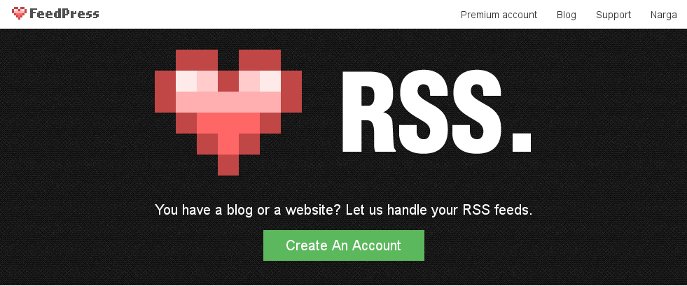 At its core, FeedPress is a service very similar to FeedBurner, it provides all of the key services FeedBurner does, can work with any site that has FeedBurner integration built in. The one thing that FeedPress will not do that FeedBurner once did, and something very important to this audience, is help track scraping and stop it. While FeedPress isn't the most impressive service on the planet, reading the story of how it came about makes me realize why it's important.
FeedBlitz have been aggressively promoting themselves to disgruntled FeedBurner users for some time. It is one of the most popular alternatives to Feedburner services available, with many top blogs such as switching to them.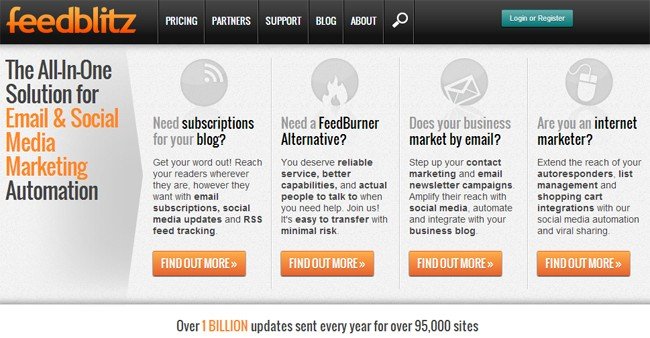 The catch? FeedBlitz isn't free – a nominal monthly fee of $1.49 applies if you don't use it for email (i.e. for RSS feeds only). But there are a lot of benefits, not the least of which is that paying for value establishes a vastly stronger relationship between you and FeedBlitz than a free one where the platform owner doesn't care about you. To help make things as easy and painless as possible, FeedBlitz has a FeedBurner Migration wizard that automates a lot of the hassle involved in switching.
If you're preparing transfer from FeedBurner to FeedBlitz, I give you an exclusive discount: 10% sale off with coupon: NARGA don't miss it!
3. FeedCat
FEEDCAT.NET is mainly dedicated to boosting feeds and also serves as a public catalogue of feeds (RSS and ATOM). You can submit your feeds and use services for free!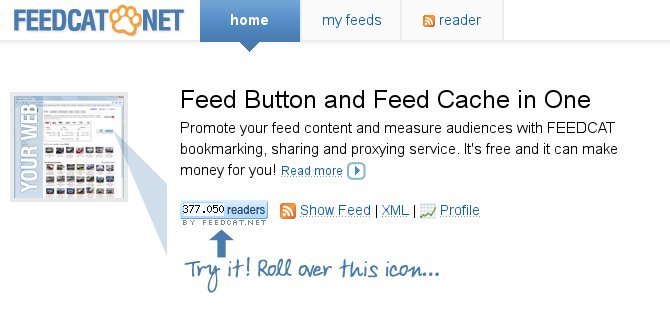 It delivers content in a more user-friendly fashion and provides a button to display the number of unique readers over the last week. Promote your feed content and measure audiences with FEEDCAT bookmarking, sharing and proxy service.
4. Feedity
Feedity is a revolutionary service for creating RSS feeds and generating podcast feeds from webpages. It has support for delivering podcasts to iTunes. Feeds created with Feedity automatically update as new or updated content appears on the source webpage.

Feedity streamline communication between content publishers and readers, and allows news subscribers and content publishers like media agencies, businesses, non-profit organizations and programmers to seamlessly interact with public Web content.
A basic package for Feedity will set you back $6 per month. That allows you up to 20 feeds and 25 items per feed, with content delivered in 4 hour intervals. For evaluation purposes, they offer a Free Trial plan, that includes: 5 feeds, 24 hours update interval, 10 items per feed and ads in feeds.
Nourish is a FREE newsletter service that allows you to convert any RSS feed into an automated email newsletter, it also allows you to manage as many campaigns as you want. Each campaign represents a different newsletter that your readers can subscribe to.
If you don't send over 1,000 emails per month or have the need for custom templates, then it's completely free to use. Wanting more will cost you. You can use Nourish in conjunction with another service that manages your RSS feed or you can just create an RSS feed from scratch and trust Nourish to keep subscribers notified.

RevResponse is willing to pay you to transition from Feedburner. The service offers $100 for every 1,000 subscribers you acquire. Will it pay the bills? Their RSS to Email tool also monetizes your feed effortlessly with magazines, ebooks or white papers that relate to your content and your readers' interests. Preview it for yourself above to gain an idea of what it could look like. Keep in mind everything can be customized to fit your needs.
7. Mediafed
[adsense ad_client=ca-pub-0297902515090400 ad_slot=3999285131 width=336 height=280]
Mediafed works with large, premium online publishers to monetize their RSS feeds with feed advertising. Mediafed also monitors feeds, provides feed metrics, RSS-to-email, and more.
Mediafed cooperates with publishers such as…BBC, Economist, Guardian, Le Monde, Reuters, Axel Springer, Schibsted, Hachette Filipacchi, Prisma Press, Roularta. Bauer, IDG. If your blog is highly trafficked and making money through your blog's feed is important to you, Mediafed might be a great option for you.
RapidFeeds offers two services: FeedManager and FeedEmbed. Their FeedEmbed service provides allows you to convert RSS to HTML whilst their FeedManager service allows you to manage your RSS feed.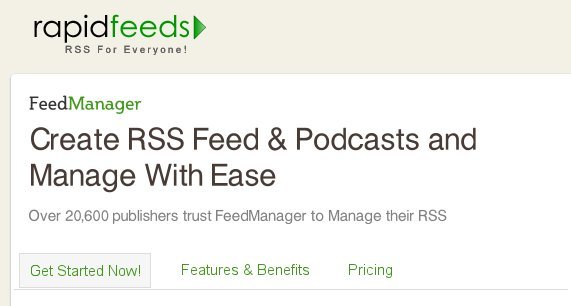 Using RapidFeeds gives you access to feed analytics, scheduling tools, and more. You can also brand your feed URL, which is important to many bloggers. Be sure to visit the link above to view the most recent pricing. A free trial is available, so you can test drive RapidFeeds before you commit to using it.
Simple Feed Stats (SFS) tracks your feeds automatically using a variety of methods, and provides a wealth of tools and options for further configuration and management. Also displays your subscriber count via template tag or shortcode. Fully configurable. Visit the "Simple Feed Stats" settings page for stats, tools, and more info.
Features
Dashboard widget – provides quick overview of your feed stats
Custom feed content – embellish your feed with custom graphics, markup, & text content
Custom feed count – display any number or text for your feed count
Custom CSS – use your own styles to customize your feed stats
Shortcodes and template tags to display daily, total, RSS2, and comment stats
Clear, reset, restore, delete – options to clear the cache, reset your stats, restore default settings, and delete the SFS database table
Tracking methods
Simple Feed Stats provides three four different ways to track your feeds:
Default tracking – tracks directly via feed request
Custom tracking – tracks via embedded post image
Alternate tracking – tracks via embedded feed image
Open tracking – open tracking via embedded image
Collected data
Simple Feed Stats tracks the following data for each feed request:
Feed type
IP address
Referrer
Requested URL
User-agent
Date and more
Feed Statistics is a plugin that tracks statistics for your RSS/Atom feeds, including the number of subscribers, which feed readers they're using, which posts they're viewing and which links they're clicking on.
The plugin also adds a "Feed Statistics" menu to your dashboard. This section has four subsections: Feed Statistics (Options), Feed Readers, Post Views, and click-through.
It will take a few days for the subscriber count to become accurate, so you may want to wait a day or two between installing/activating the plugin and publicly displaying your subscriber count.
10. podPress
podPress adds a lot of features designed to make WordPress the ideal platform for hosting a podcast.
Features
Full featured and automatic feed generation (RSS2, iTunes and ATOM and XSPF playlist)
Podcast Download stats, with graphs.
View MP3 files ID3 tags when your Posting
Control over where the player will display within your post and what it will look like.
Support for various formats, including Video Podcasting
Supports unlimited number of media files.
Automatic Media player for MP3, OGG, OGV, MP4, M4A, M4V, MOV, QT, FLV, ASF, WMA, WMV, AVI, RM, and more, with inline and Popup Window support.
Supports also PDF and EPUB files
Preview image for videos
Support for seperate Category podcasts
Support for Premium Content (Pay Only)
SpecificFeeds is an RSS2Email service. It was founded in 2013 to solve the information overload problem that plagues RSS feed generator technology, which as a consequence detracts potential subscribers from using a publisher's or blogger's RSS feeds. However, it's actually much more: it enables publishers to offer a new subscription option, getting them more readers.



People can tailor it to their needs, for example users with a special interest in wordpress themes can select to only receive stories with the tag "wordpress themes". The service is 100% free and offers many more benefits for publishers in addition to the filtering feature.
If you're using Google Reader to stay up to date on all of your favorite websites and blogs, you're going to want to find another service to do so soon. Check my article about Best Google Reader Alternative Services.
Conclusion
FeedBurner is shutting down. Don't wait until it's gone, let's preparing transfer your FeedBurner URL before too late. I've moved to FeedPress and use my brand Feed URL: http://feeds.narga.net/narga.
I recommend you use your own brand feed url, you won't change it if you change feed service.
If you have any other alternatives to mention or recommend, hit the comments below and I'll add them into the post.
Updated
2014.03.10: Added SpecificFeeds.