Currently, mobile network infrastructure supports for the connection with the Internet from mobile devices such as smartphones, PDA, mobile phone … Mobile (Smart. PDA) phones have become an inevitable tool for communication and keeping up with information. The availability of WAP and regular browsers on mobile phones, a lot of people consume Internet content while on the go. With statistics from the Internet, I saw traffic in these devices is increasing every day. Future, this ratio certainly not less than desktop and laptop. Actually most of the current website does not support them well, readers will find the layout crash, structural distortions, completely different font on the browser device.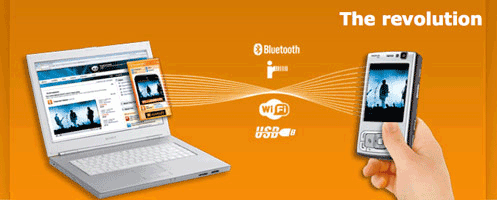 Characteristics of equipment is a small screen, processing capability and memory limitations. So by loading a complete webpage for desktop computers as a positive work overload for the device.
By converting your blog or website to a mobile version, you are sure of getting more visitors and be available for your readers even when they do not have access to a computer.

Below are few online services (third-party solutions) that will make this creation or conversion easier than expected.
Mippin provides a mobile publishing service named Mippin Maker. Using Mippin Maker you can convert your web site or blog into a Mippsite i.e. a mobile version of your site for free. Mippin also allows you to monetize your mobile site through advertisements from AdMob.
Google's Conversion Utility – This is as simple as it gets. Enter the URL of the website and check whether you want pictures included. Click Go and you now have a mobile-optimized version of the site!
MobiSiteGalore – mobiSiteGalore allows you to easily build, publish & share a full-fledged mobile website that is guaranteed to work fine on any mobile phone. Let you build websites that will work consistently across all mobile phones as they 100% comply with W3C's mobile web standards. You can host website wherever you want. This service is completely FREE and is supported by donations.
FreeMobiz allows you to create a mobile compatible website of your own and make your presence felt on the new web – the mobile web. With three affordable packages, we provide options suitable for your budget (or even no budget) to get your mobile website up and running in no time. You can either have a free mobile website based on our URL or buy .mobi domains to directly access your mobile website.
MoFuse – Use your RSS feed to power your mobile blog. Design your mobile blog with WYSIWYG editor. Automatically redirect your mobile visitors to your mobile blog. MoFuse allows for monetizing your mobile mofusewebsite with Google Adsense For Mobile and AdMob. The basic version is free and the Pro version costs $3 per month.
Zinadoo – Using this web service you can easily create, publish and share you mobile website. Besides you can also colour the website, create a page that site visitors can email you from or request that you call/email them back, create a guestbook page, create a comments page and much more. Zinadoo's viral monetizing scheme first comes in with a pay-per-text service, which ended up a moot point as I didn't attempt to use my free credits for phones in Asia, Europe, the Middle East, or the antipodes. Zinadoo craftily subtracted my free credit regardless.
Winksite – Winksite is mobile Website builder that also includes RSS-driven content deployment and mobile-tuned community features such as forum, chat, and polls. The creation process is entirely handled online – there is no need to download or install any software application. Once a site has been created, it is possible monetize it via any of the several contextual advertisers on offer. You also monetize your website with Google Mobile Adsense.
Mobify – Mobify is a free service that makes WordPress, Drupal and other websites mobile-friendly. Supports iPhone, Android, BlackBerry and 4500+ other devices. Through the UI, designers take care of the CSS, while the image resizing, content adaptation, mobile SEO, analytics are taken care of automatically. The site will reside on a URL like m.yoursite.com.
In my experience with these services, I found MoFuse, Mippin and Mobify to be very user friendly and the total process from signing up to conversion of your blog and website into a mobile site will not take more than 10 minutes. There are services using which you can create a new mobile site, convert your existing blog or website into a mobile site and earn money by monetizing your mobile site. Now getting hooked to your website or blog on mobile phone wont be that difficult.