Online printing companies have experienced tremendous growth over these years, thanks to the e-commerce revolution. The growth trend seem to be continuing as surveys have projected sustained growth for many years to come. Surveys from Smithers Pira suggest that digital printing industry will be worth $187.7 billion by the year 2018 with an annual growth of 7.4%. However, ensuring success in such a business has definitely become more challenging that it previously was. Several digital printing companies have mushroomed and in order to succeed, your company need to offer services that are more engaging. The pertinent question is, how to make your t-shirt printing services engaging?
The answer to this question can be many but the most effective way is making the services inclusive. It implies that you can have more number of users flocking your website to get t-shirts printed if you let them create personalized designs. As most online printing websites are developed as an e-commerce platform, WordPress CMS is the most preferable option. Therefore, a custom design software that integrates seamlessly with a WordPress website is a must. We can find many such service providers that let their users upload their own design or allow them to create personalized design using drag & drop options.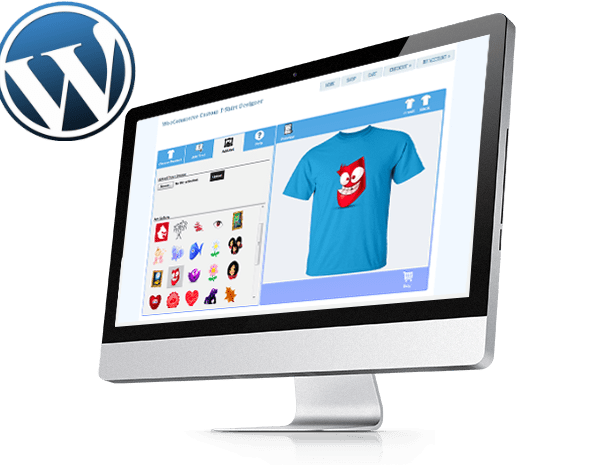 The Need For Personalized T-shirt Design
A plethora of t-shirts are available in the physical markets as well as online fashion portals. However, the charm of a t-shirt that bears a design created by oneself is something different. Moreover, there are organizations, schools, colleges, event organizers etc. that get their t-shirts and other apparels printed. People often love some one-liners, famous movie dialogues, quotable quotes, famous movie or comic characters etc and want them to print on the t-shirts that they wear.
People also love to gift such t-shirts to their friends etc on their birthdays and other occasions. Therefore, the need for personalized t-shirts is real and must be addressed. By providing the end users with an option to create custom designs on a vast range of t-shirts and other apparels, any printing company can enhance its credibility as well as reputation.
How T-shirt Design Software Aid in Custom Designing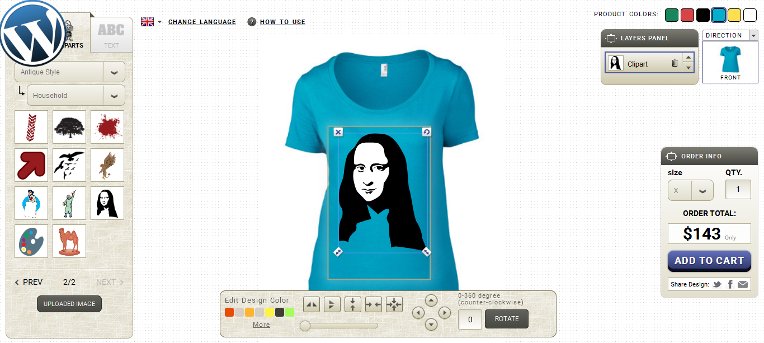 If you wish your end users to participate in the t-shirt design process, you need to provide them a tool that they can use without any hassle. A complex design tool used by the professionals cannot be provided to them. This is where T-shirt design software come to rescue. These tools are simple drag and drop tools that can be integrated to the WordPress e-commerce websites. The admin needs to upload products, t-shirt in this case, from the back-end and the users can create designs on those uploaded t-shirts using images, cliparts, text, colors etc.
The tool becomes even more usable when the end users have the option to either choose the design elements like text effects, images, cliparts, and fonts etc. from the built-in library or upload custom images. The option to add pre-designed templates can also be provided which adds more value to the t-shirt design software.
The best part of using such tools is that people get a feeling that they are able to control each and every nuance of the design. With the customization options like resize, rotate, flip etc, the users are able to create or change the positions of the design elements with ease. Another feature of the tool that aid in custom t-shirt designing is the option that allows the business owner to upload various products including t-shirts using JSON parsing methods or others. The user are therefore, not restricted from creating designs on a limited variety of t-shirts. Also, the users can preview the design and save it for the future reference as well. Most of these tools are responsive and hence, can be used on mobile devices and tablets with utmost ease. As the success of the business is dependent on how well the user is catered, easier the functioning of the tool, better will be the engagement with the users.
Advantages Of T-shirt Designer WordPress Plugin

Being t-shirt designer WordPress plugins, these tools are able to cater a vast user base. It is due to the fact that WordPress is a very popular content management system. It has experienced a transition from being a CMS for blogging websites to an all rounder platform that powers even the e-commerce websites. A t-shirt designer WordPress plugin gets integrated with WordPress e-commerce websites seamlessly and enhance their functionality manifold.
Once integrated, the users can be treated with this tool when they choose a t-shirt from your e-commerce portal. When a user chooses to create a personalized design on a t-shirt of his or her choice, the custom design interface pops up along with the set of features and functionalities. All this contribute to an enhanced user experience that your website can offer when a highly usable t-shirt design tool is offered to the buyers.
InkyRobo T-shirt Design Software WordPress Plugin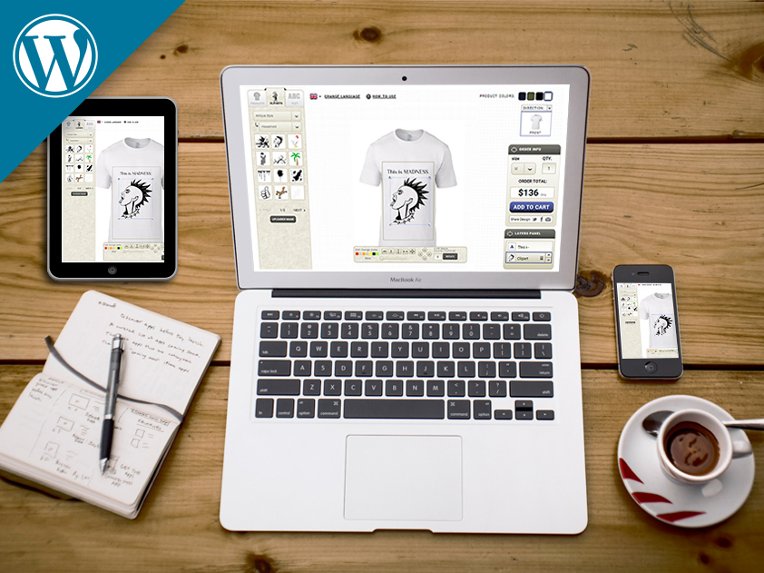 T-shirt designer WordPress plugin is mobile-friendly tool that is packed with several user-friendly features that let the users create awesome designs on variety of t-shirts.
Salient Features of WordPress Powered T-shirt Design Software
Impressive Graphics
WordPress Themes
Top-Notch Performance
Cross-device Compatible
Host of Advance Features
Undo/Redo Feature
Save, Share & Download File
Download for FREE
Live Preview
More Advantages At A Glance
The users are provided with a tool for personalized design creation and this enhances the credibility of the brand in terms of user satisfaction.
As the end users have the liberty to add custom images and cliparts etc to the design, their loyalty towards your brand takes a leap upward.
The social share feature of the tool can come in handy for word to mouth publicity of this t-shirt design customization feature of the website.
The business can build a huge user base of loyal customers if they are able to provide equally good printouts of the designs that the users create.
The tool can also help you secure better rank in the search engine result pages as search for custom design tool may land the users on your website.
Your e-commerce portal will earn the tag of a customer-centric company which will lead to more number of interested users flocking your e-commerce website.
Attributes Of A Remarkable T-shirt Design Software
If you look for a t-shirt design software on search engines, you will come across a slew of such tools, most of them claiming to be the best. However, you need to be very careful while going for the right one. If you own a online fashion portal that has been built using WordPress, you should search for t-shirt designer WordPress plugin. The t-shirt designer software that is under discussion in this post is essentially for the end users and hence, the ease of use of these tools become a major deciding factor. The end users are not aware of the technicalities involved in the design process and they must not be expected to learn a complex tool just to create a t-shirt design. Instead, the design tool should be simplistic enough to be used by all users without making too much effort.
We have compiled a few attributes that must be present in a t-shirt design software to make it the best choice.
The user interface of the tool should be simplistic and should follow a minimalist design approach, squeezing out any complexity from it.
The integration of the plugin to the website should be seamless and there should no issues regarding compatibility with WordPress versions and other factors.
There should be a robust back-end in addition to a user-friendly front-end so that the tool admin is able to upload new products, fonts, images and cliparts etc. to the tool without any hassle.
The end users must have the option to add custom images and predesigned templates for the t-shirt design.
The t-shirt design software must come with a help document, video tutorial etc. for making the users aware of its functionality.
Functionality like rotate, resize, and flip etc. should be included in the tool so that the users are able to come up with personalized designs.
Each design component like images, text, cliparts etc should be added as a layer and efficient layer management should be provided in order to make the process of adding different design components simpler.
From the perspective of business owner, the t-shirt design software must be able to give sharp and accurate printouts.
Closing Thoughts
It is abundantly clear from the post that t-shirt design WordPress plugins can add a lot of value to your online fashion storefront by bringing the end users closer to your business. Taking your users along and including them in the process enhance the loyalty and make your company a popular one. All you need to do is to get a t-shirt design software from a trusted vendor and have it integrated to your WordPress e-commerce website. You will be able to offer a more personalized service and earn valuable customers in the process.