Content marketing lets you establish yourself as a thought leader in your industry. You can build your credibility and become a reliable source of information in your field of work. You generally do this by developing original content and sharing it with your audience. However, this puts a lot of pressure to churn out a large quantity of quality content in a limited time frame.
However, building your credibility as a thought leader and a dependable source of useful information doesn't necessarily require you to constantly create original content. What will work just as well is identifying great content and sharing it with your audience. This will also help build your reputation as a business that really understands their niche.

To this end, your content marketing strategy should incorporate sharing any content relevant to your service/product offerings and your industry in general. You should identify and share content that provides valuable insight to your audience. Identifying and sharing quality content not originally created by you is referred to as content curation.
Original Content vs. Curated Content
Original content is great and it should undoubtedly form a good chunk of your marketing strategy. But, it is not without its drawbacks. While you may be able to publish authoritative white-papers once in a while, creating original content continually demands a lot of time, effort, and resources, and puts a burden on your finances.
On the other hand, curated content helps you share interesting information with your customers, while allowing you to use your time and resources more effectively. Content curation might appear to be the lazy marketer's approach to social media, but that is simply not true. Genuine content curation requires you to identify good content, analyze it, and put some thought into enriching it with your knowledge of the subject. Adding commentary to articles, sharing opinions on relevant research, and partnering with other companies to share and talk about each others' content are all different forms of content curation. You can also do a roundup of the top stories of the week to share with your audience.
How to Leverage Content Curation
There are three ways by which you can leverage curated content:
Email Marketing: You can use email marketing for more than just product promotions. Your mails can provide a lot of engaging content and useful information. Content curation can help you do this. You can direct subscribers to blogs, videos, photos and articles that they will enjoy reading/viewing. You can create a weekly or monthly newsletter talking about the latest news and happenings in your industry. You can create timely reports of the developments within your organization to give your readers greater insight into your operations.

For example, in creating an email newsletter, you can have a section dedicated to industry news, another dedicated to your business' innovations and developments, one for product promotions, and another on humor, DIY projects, or the like. For instance, if your business involves electronics components and/or equipment, you can also suggest simple Do-It-Yourself electronics projects. Instead of plying your subscribers with just product promotions every day, give them information that will keep them engaged. Content curation helps you put together a wide range of content and can help boost your email marketing campaign.
Social Media Marketing: Just as in email marketing, curated content also plays a very important role in social media marketing. In fact, curated content is all but indispensable for marketing on social media platforms. Why? Because unlike your email marketing campaign, which may involving sending one email every once in a while, on social media platforms, your presence has to be felt continuously. You will have to share content several times a day to not just gather more followers but also to retain your current ones.

Yes, part of your posts will be aimed at promoting your products, but not all your posts can be promotional. Curation ensures that your social media campaign doesn't stutter for lack of relevant content.

Influencer Marketing: Content curation can also help you to involve industry influencers and in turn draw a larger audience. If an influencer has mentioned your company/product/ service in a positive light, you can share it on your social media pages as well as in your emails. But, this is not all that you can do.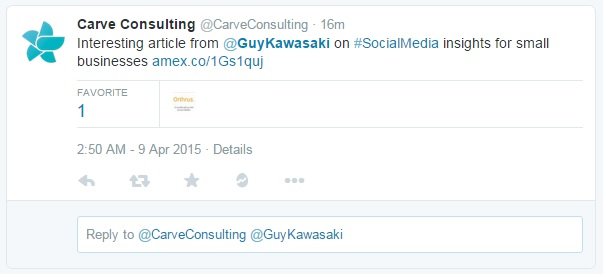 You can post an influencer's interview. You can also share content published by an influencer, that may be relevant to your business ,or the wider industry to which your business belongs. It is a great way to provide truly valuable information to your audience. While sharing such content on your social media pages, you can tag/mention the influencer in your post and this can help you to initiate a conversation with them. Connecting with influencers on social media networks can really boost your business' standing.
Content Curation Tools
The greatest challenge, when it comes to content curation, is identifying relevant content. You have to sift through the web looking for content that will appeal to your audience. But this can take a lot of time. To help overcome this challenge, there are several tools available which can help you gather relevant content of good quality without having to spend hours on end browsing the internet. Additionally, curation tools can also allow you to share the content on multiple social media platforms. Some of the tools you should try are listed below:
DrumUp: DrumUp (a free app) helps you find relevant content and share it on your Facebook and Twitter accounts. The app finds stories based on your input of keywords and "negative keywords". DrumUp searches the web and uses natural language processing algorithms to suggest relevant content for your audience. The tool also allows you to edit a post before you share it and add a custom post to the queue.
Storify: Storify identifies stories based on a topic you choose. It also scours through social media platforms and helps you identify tweets/posts related to your keyword. You can create a "multimedia newspaper" featuring social media posts, images, GIFs, videos, and even URLs. You can then publish this newspaper on your social media account. The tool is available in two options: free and enterprise plan. The enterprise plan provides a number of features to make your newspaper more real-time and ad-free while also integrating it with your Google Analytics dashboard, if you use one.
Scoop.It!: Available in Free, Pro, Business, and Unlimited options, Scoop.It gives you recommendations based on your topic and keywords. The recommendations include articles, users, and related topics. You can create your own newspaper using the content suggestions, which you can publish on your social media pages. The various plans cater to different needs, from personal use (free) to an all-out marketing campaign (unlimited).
The Tweeted Times: This tool, too, helps you create a newspaper with a customized layout to be shared on social media. It digs through the Twitter community and finds popular results on a topic of your choice. You can search through your own twitter feed and find what your friends like, twitter lists of influencers, for instance, or you can specify the hashtags or keywords you want to track. The professional version also enables you to place your own ads on the newspaper and provide an RSS feed.
Feedly: This tool helps you gather content from your favorite sites. You can also search for information by topic and it provides you a list of sites that you can follow as well as a list of articles you should read. It also allows you to search for content on a topic of your choice that contains audio or video clips. It is available in both free and paid (Feedly Pro) versions. The paid version comes with additional search capabilities, and a number of other features including the ability to share content on LinkedIn.
These are just some of the vast number of content curation tools available online. Depending on your needs, you can choose one or more of these tools to effectively implement your content marketing strategy. Different tools work differently and you may have to experiment with them to find the ones that work well for your business.
Content curation is a very important part of your content marketing strategy. Whether you want to promote your business on social media platforms, via emails, or both, curated content can help keep your audience engaged, while giving you the time to work on that great piece of original content. And more importantly, it saves you a lot of time and effort while keeping your marketing campaign on track.