Like most when I was looking to start an online store, I wondered which is the better e-commerce software to start selling online. Nowadays there are many choices when it comes to selling online. If money isn't an issue, you can pay an agency to build your site for you and take all the hassle out of it. But if you're like me, and you want to have more control when it comes to customizing your shop, and don't want to spend thousands of dollars before you make your first sale, you look towards a "do it yourself platform".
I decided to do my research on two of the biggest e-commerce platforms, PrestaShop and WooCommerce then make a small comparison between them.
Now, why would I choose to compare PrestaShop and WooCommerce instead others like OpenCart, Magento ..?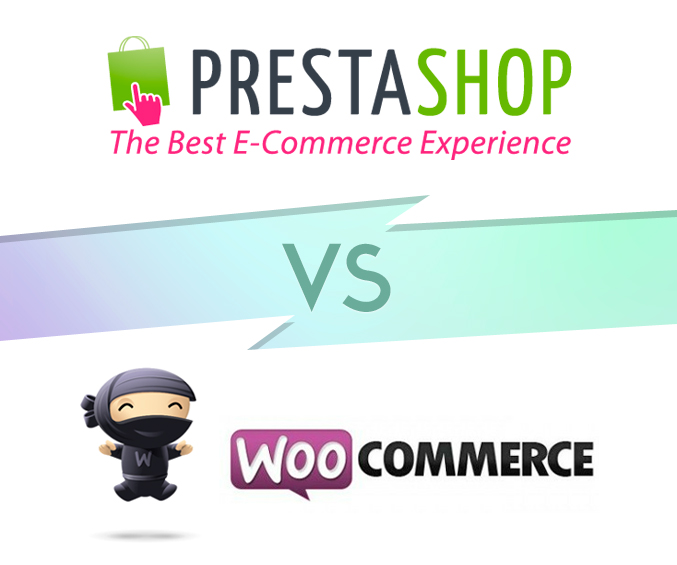 Well to start, PrestaShop has been recognized as one of the best e-commerce softwares, powering over 230,000 online stores, while WooCommerce is the most popular e-commerce plugin on WordPress that transforms a site into a fully functional online store. In this case, I'm using WordPress that's mean WooCommerce is one choice that could be easily integrated. PrestaShop on the other hand offers a more complete e-commerce solutions versus the extension the WooCommerce is. But lets compare both!
Back-End: Functions, Management
Because PrestaShop is a shopping cart and WordPress is just blogging platform then you need WooCommerce plugin to start selling online. They can be used for selling anything, including physical products and virtual items like ebooks, photos, etc…
PrestaShop
PrestaShop offers its users a suite of tools designed to make the process of starting and running an online store easier and more profitable. Their built-in feature set is already impressive, covering all necessary sales tools like cross selling, coupons, etc. The application is integrated with all major carriers including UPS, FedEx and USPS, which allows your customers to choose any one based on their preference. The way that PrestaShop market and support their product is impressive.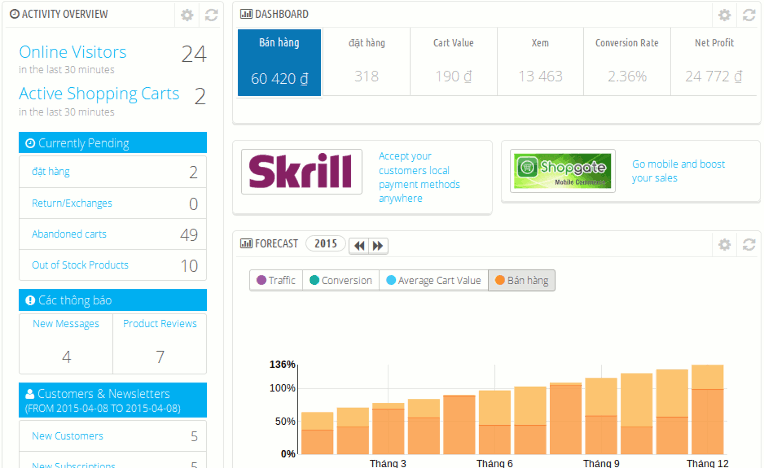 The PrestaShop dashboard isn't text heavy, it provides extensive management statistics and the tools for managing your catalogue and shop settings are generally well laid out and intuitive to use. As for the actual dashboard page, you'll quickly notice how fact and stat driven it is. Graphs and counters are the core focus, and it all looks extremely modern and professional.
In January, they announced the release of PrestaShop Cloud, the industry's first and only free cloud e-commerce platform that enables merchants from around the world to set up an online store in just a few clicks. Ahh, it's awesome, very simple with just 3 steps. You can own an online store with Presta Cloud like a blog on WordPress.com then start selling without learning how to install it. This e-commerce hosted solution removes the financial and technical barriers for retailers who want to launch an e-commerce business.
I would generally recommend larger business to use PrestaShop simply because the tools on offer here make it much easier to manage your business effectively without the need for additional Business Management software.
WordPress WooCommerce plugin
WordPress has an advantage just because it has a big community behind the WordPress platform. User can install many extension like themes, plugins very easy through WordPress Repository that built-in WordPress Dashboard. That's why WooCommerce has been improved the market share like that. With the freedom of WordPress's platform, creating a personalized and efficient online store is easy. The advantage WordPress gives you is not in its e-commerce capabilities, but instead in the flexibility you need to get started quickly.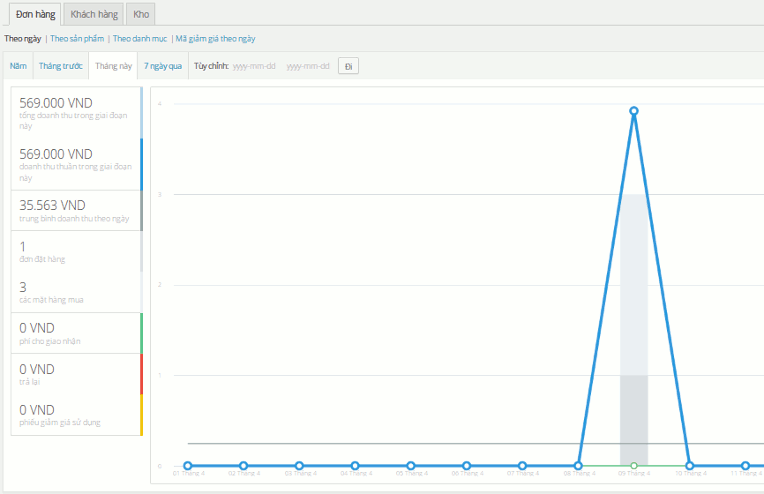 WooCommerce isn't an e-commerce platform. This means that retailers who are considering using WooCommerce must first have a WordPress website, and you'll also need to have a configured WordPress site, hosting package, and SSL in place before you can start selling.
Liked PrestaShop, WooCommerce also lets its users create marketing campaigns, implementing coupons, sales and other promotions easily to drive business. As WooCommerce resides on WordPress, it allows you to use the familiar WordPress editing tools to add products, it is quite easy to get order details, comment actions, sales reports, and the overall store performance. Extremely user-friendly – setup requires no programming knowledge and the interface is modern and intuitive. It also has a large number of extensions, among which some are free and some are not. But you need to pay for some advanced features like Color & Photo Variation, Brand, …. which are built-in PrestaShop for free.
WooCommerce is one of my personal favorites and I have already written quite a number of articles about WooCommerce previously for NARGA. If you're already familiar with WordPress then learning WooCommerce is a breeze, as it incorporates WordPress's best practice usability.
Who's winner?
In my opinion, PrestaShop wins this section on back-end management. While both offer the basic needed functions, it's PrestaShop who pulls away with its backend of stats and advanced features that WooCommerce just does not offer.
Storefront: Themes & Styles, Easy to Use
Storefront is a theme designed to help you get the most out of WooCommerce and PrestaShop. The front-office experience is largely influenced by the theme/branding which you apply to your shop and so it is similar across both platforms.
PrestaShop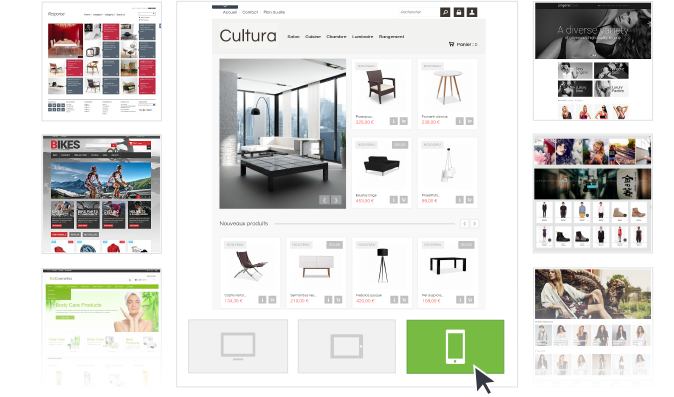 PrestaShop offer numerous storefront enhancements which have played a big role in sprucing up the front end design options for their users. PrestaShop has large categories of extensions including advanced modules and premium responsive templates which not only beautify the site design, but also enhance the functionality in admin, SEO, security, ordering, filters, and many more. PrestaShop's template options are extensive and high quality. I find interesting the "Quick View" functionality for all listed products. The feature brings up a "Quick View" button whenever customers hover over a product, which in turn opens up a lightbox presenting key product information, images, pricing, social sharing buttons, and so forth.
After setting a few things up in the back-end the front-end; the result is also rather nice. You can have a great online store that's easy to navigate and that makes it easy for someone to come to your site and order from.
However, the smarty website template system is not every coder's cup of tea. Perhaps the most useful front end feature though, is the fact that you can edit colors, fonts, CSS and much more with just a few clicks using the Live Template Edit feature.
The default theme that included in PrestaShop is great for a default template. It has a very modern look and is also fully responsive for all screen sizes something that is not found when you install WooCommerce. The platform is intuitive and easy to navigate/use from both backend and storefront. As a result it's easy for you to manage your store and your customers get a positive shopping experience.
WooCommerce
WooCommerce offers a superior front-office experience since it is built upon the WordPress platform and for the same reason it is also ideal if you want to add e-commerce functionality to your existing WordPress website. It is possibly the best customer checkout experience although again this is heavily theme-dependant and to be honest there is not a lot of difference between them.
Obviously the benefits I can mention here of using WooCommerce are huge ecosystem, plenty of available developers, many free themes and plugins, extremely easy to install and use, regular updates, search engine friendly and can run on lower-end hosting,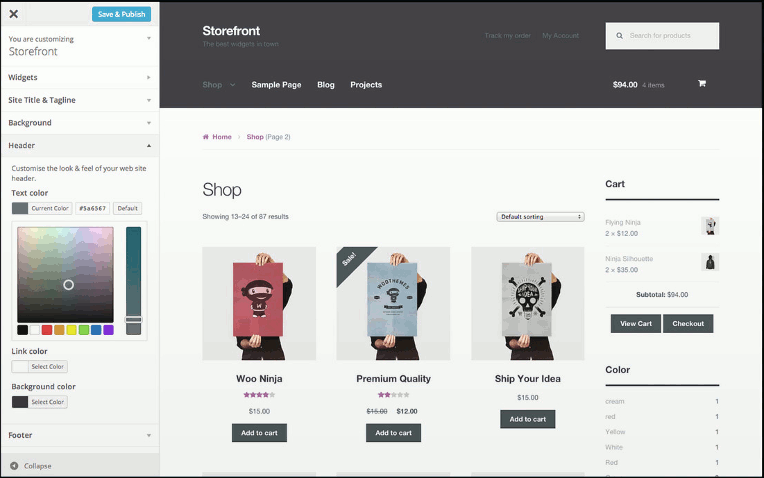 The most problem with WooCommerce Front Store is the WordPress theme. If it's supported for WooCommerce, you will have a beautiful and perfect store. But if the current WordPress theme is not support WooCommerce, it's a nightmare or you must change to others.
Who's winner?
Both WooCommerce & PrestaShop are winners here. It really depends what you are looking for. If you already have a WordPress site, and just want to use your same layout, then WooCommerce would work, but if you are starting from scratch, PrestaShop has a great storefront.
Documents, Support & Help
WooCommerce
WooCommerce has good documentation section on the WooThemes site but they don't provide free Help & Support.
Unlike most of the other WordPress e-commerce plugins, WooCommerce is almost error and bug free. The solution is well maintained, new versions are often released even though the platform exists little bit more than a year. This solution is followed with a large community, new versions come out continually to improve the experience.
PrestaShop
There is a large quantity of documentation available from the PrestaShop website, which provides help and support concerning the platform's different features and functions. PrestaShop also has customer service reps on call if you need to speak with someone. For support they also offer training courses and paid support plans if that's something you need. I personally like the forum, where there are over 700k members and basically every question you have can be answered on there. PrestaShop is not a newcomer to the e-commerce market, and their online community stretches far and wide as a result.
Prestashop or WooCommerce – Which is better e-commerce software?
Compared to its competitor, WooCommerce is a little bit limited in built-in features. So if you need a complex store, you'd better go for PrestaShop, because it is principally designed for use as an e-commerce platform.
But I wouldn't say one is a definitive winner over the other. It really all depends on your needs as a store owner. For example:
PrestaShop is recommended for people who want to focus on selling products only without managing a site for other purposes like a forum and photography site. If you need a pure online store with a full range of e-commerce features, then it is better definitely choose PrestaShop.
If you need a blog or a website with special features that go beyond simple store, WordPress + WooCommerce is the perfect option.
Always keep in mind that switching platforms is a nightmare, so make sure that your decision takes into account your future direction. Please feel free to share below what your favorite shopping cart.