Since July 29, 2011 Google announced Page Speed Service is an online service that automatically speeds up loading of your web pages. Until Aug 2012, Google only accept you using their service by invitation request but now, we can register for free by filling this form. But keep in mind, Google will eventually start to charge for the service – plus they aren't yet disclosing how much. Google does promise the "pricing will be competitive" and they will give you 30 days to decide once they announce the pricing. There's no rumor on how long this free trial blessing from Google will last.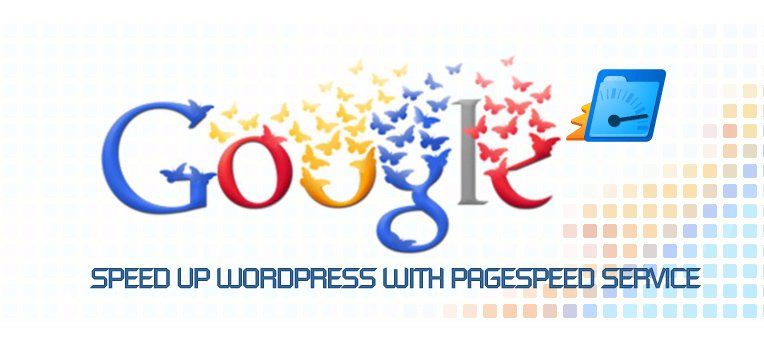 PageSpeed Service benefits:
Dynamically rewrites webpages – applies performance best practices
Serves optimized content via Google servers – reduces load on your servers
Reduced perceived page load time – prioritizing portions of content which get served first, so you visitors have better user experience browsing your website
Security – your website gets security of Google servers
Parallel fetch – fewer requests and lower round-trip times
Made by Google – works well, good support and expect lots of improvement updates
Google has launched a web service call webpagespeed, which you can use to test how faster your pages will load after enable their service on your website. They claim that Page Speed Service's features can make sites between 25 and 60 percent faster.
How to setting PageSpeed Service
Setting up Google PageSpeed Service is very easy. There are some DNS records to be renamed and it's all easily done through 3-step process. Not all sites will be eligible, however; configurations that use "bare" DNS names (no "www." in their Web addresses), SSL, or various other complex features can't use Page Speed Service.
After receive accept email from Google, you need to sign in with your Google account and you'll be presented with a Google Console, where you control every API including Page Speed Service.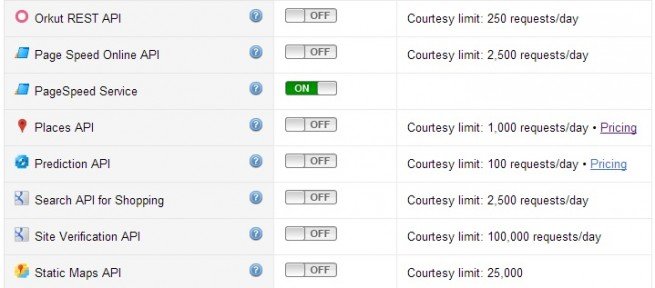 First step: We will add new domain, remember it's must be www.domain.com

After that, if you not config domain's DNS record, Google will tell you that it's Not Ready

Next step, we will config the serving domain, it's very simply by change CNAME record of your domain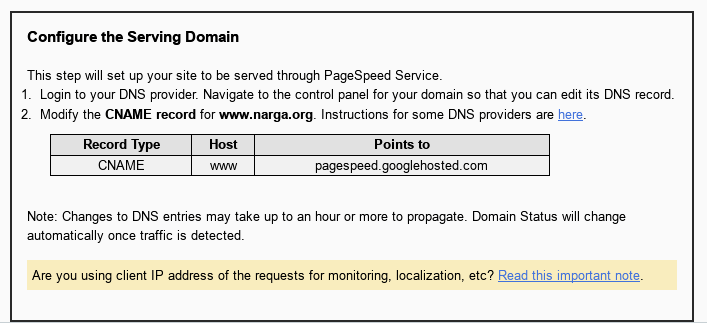 Wait for your domain's record update then Google will be tell you Enabled .
If you using Apache as server, Google also has an Apache plugin to perform many of the same optimizations within the Web server itself.
Here is a screenshot of www.narga.net after running the test: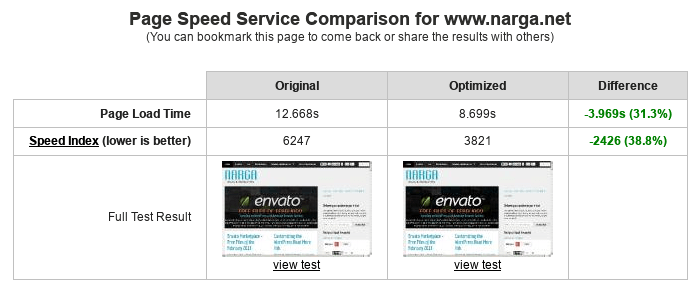 Conclusion
Google has always been a consumer-focused company and Page Speed Service is a proof. By optimizing the loading time of Web sites, Google is helping the users cut down on wait time and leaving them with more time to use the Web effectively.